How to Download Embedded You-Tube and Other Files in FireFox - without Using any Plug-ins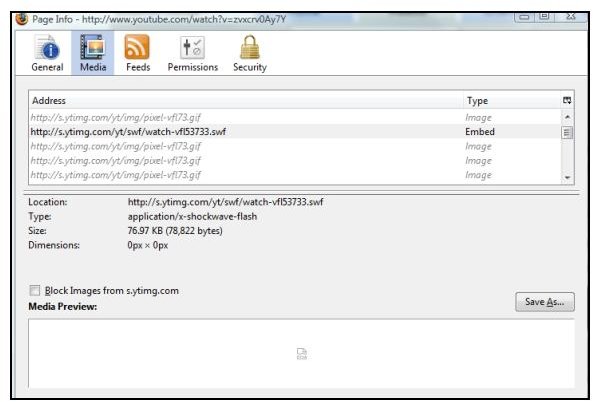 Firefox 3 "broke" several of the YouTube video download plug-ins. Fortunately, it's not hard to identify media files in a page's properties and then download them locally. This tip works for both Firefox 2 and 3.
Start by going to the YouTube video that you want to save and begin to watch it. Keep an eye on the download progress indicator and pause the video when the indicator is all the way to the right.
Then right-click on an open space on the page and select "View Page Info."
In the next dialog, click on the "Media" tab.
Looking under the "Type" column, scroll down if necessary, and look for the item listed as type "Embed." That's the YouTube video file. Since this is YouTube, the embedded file ends in .swf. Click "Save As" and select your destination. Because the file is already in your cache on your hard drive, it will copy to the new location very quickly.
This technique works with other sites that are similar to YouTube, too.
Here's what it looks like with a YouTube video highlighted.
Page Properties
What about other embedded media? What about music?
Streaming music sites often convert the tracks you request into MP3 format for streaming.This technique requires you to see your network activity (so you know when the track has finished downloading) and then identify and rename the music file in your browser cache.
Of course, the music sites don't want you to think about getting files from their service. They want you to see it as streaming. Some of it actually is, of course. You can identify these because they arrive in a steady small stream instead of a big lump. For our purposes, the lump is better. We can retrieve those.
First let's look at monitoring network activity. I like an unobtrusive little "thank-you-ware" application called Bitmeter.
Less handy, because it stays on top and takes up a lot of screen real estate, but still workable, is using Windows built-in Task Manager.In Vista or Windows XP, right-click a blank area on the Windows toolbar and select "Task Manager." Then click the Networking tab.
Next, you'll need to know which folder contains your cache. This is easy. Using either Firefox 2 or 3, in the URL bar, type
about:cache
and press Enter. On the resulting page, find "Disk cache device." Under it will be "Disk cache directory," and that's the location of the cache folder. Double-click on "Computer" or "My Computer" and navigate your way to that cache folder.Click View to change to detail view, and then click "Date Modified" to put the most recent files on the top.
Then, in Firefox, click to play the song you've selected. Look at your network activity, and then, when the song finishes downloading, look back at your cache folder. Your target file will probably be two to four megabytes, maybe a bit larger, and should appear right at the top of the list. It won't have the extension .mp3. In fact, it may not have any extension at all, and Windows may show it as type "File." That's fine.
Right-click the file and using either "Rename" or "Properties," add .mp3 on the end of the filename.
Then try playing it!
Note that this technique also works with websites that have an all-Flash web page, won't let you right-click and select "View Page Info."
So that's two relatively easy methods for saving embedded files that Firefox does identify as media (like .swf files from YouTube) and those it does not.
Here's a tip. If you plan to peer in your cache folder often, click "back" in your cache folder, right-click the "Cache" folder icon, and select "Send to Desktop." That will create a shortcut allowing you to open it quickly.
Further Reading
How to Burn DivX- or Xvid-encoded Media to DVD - Have you downloaded a movie or TV show encoded in DivX or Xvid format and want to burn the file to DVD for playing on the TV? This article tells you how.
Top Free Music Discovery Websites (and Why We Should be Listening Now While We Still Can) - Are you still listening to the same music that you did when you were a teenager or young adult? If you've bought the same Eagles album on 8-track tape, cassette tape, CD, and from iTunes, it's time to give some new music a try. This article is for you.
Alternate Media Players for Vista - Are you having problems playing files downloaded from the Internet on your Vista PC? This article looks at free alternate video players that run under Vista and that can often overcome the "missing codec" problem frequently encountered in Vista Media Center.
The Calculator and the Scrapbook - Super Note-Taker Evernote is Everywhere - Do you wish you could keep notes about everything? Wish you could save the events and images that you experience each day? Evernote can help. The latest version has a web interface as well as PC version, and they all interconnect to share your data. It even works with your smart phone.