Windows 7 Tweaks - Get Better Speed and Increased Performance by Tweaking Windows 7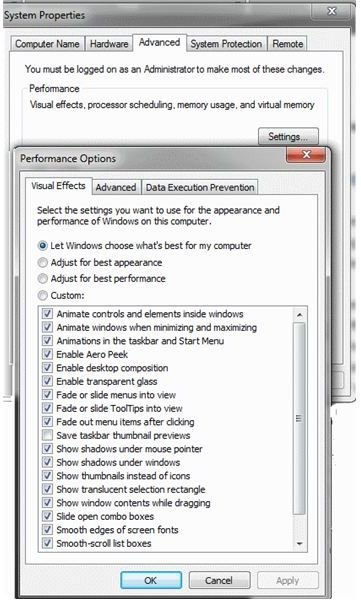 Quick and Simple Windows 7 Tweaks
There are plenty of Windows 7 tweaks around to give you better performance when using the system. I thought I would collate some of them here into a nice, usable reference guide to save you having to trawl the 'net looking for them.
There is no doubt that Windows 7 is much more efficient than Vista, and much prettier than XP. That comes at a price though, and that price is resources. The more Windows does, the more resources it needs to do it. XP was basic but it was very resource efficient, after SP2 anyway.
How would you like to combine the efficiency of XP with the eye candy of Vista and 7? Read on.
The first modification to make it to turn off transparency. It makes the desktop look good, but is the biggest resource hog in Windows. Right click on your desktop and click on Personalize, then click the Window Color link at the bottom and uncheck the Enable Transparency box in the next window.
While we're paring down the visuals, go to Control Panel, System and Security, System, Advanced System Settings, Advanced tab and click the Settings button in the Performance section. Select Adjust for best performance and apply it. (Click any image for a larger view.)
The next biggest Windows 7 tweak is to pare down the Services. Windows has always erred on the side of caution and enables almost everything by default. The average user isn't going to use most of the options available to them, but the services are going to use resources while they run. So either disabling or turning many of them to manual will save a lot of those resources.
Read BlackViper's page for the definitive services guide. It is the best on the internet by far. Check it out to learn what you can and can't turn off. Once you have a good idea of what you're after, type "services.msc" into the run menu and get started. Each computer user has different needs, so it's best to do your own research into this rather than just doing what I suggest.
After sorting out your services, the next Windows 7 tweak is to slim down the start programs. This should be done once the system is running exactly as you want it, with all the programs and utilities installed that you need. Then type "msconfig" into the start menu. A little window should appear, look on the top for the Startup tab. Open that and have a look at what starts up with Windows.
Many of them aren't really necessary like Google Updater, AcroTray, Java Updater and others. Uncheck the box next to the ones you don't need and press apply.
The last tweak we're going to discuss here is disabling Windows features. As I mentioned, most features are enabled by default, but we won't use half of them. Go to Control Panel, Programs and Features, then click Turn Windows features on or off in the left menu. Another window should appear after a short loading time and list everything that Windows has enabled.
Go through these and decide which ones you don't really need and uncheck them. There will be some you don't need and others you can't do without.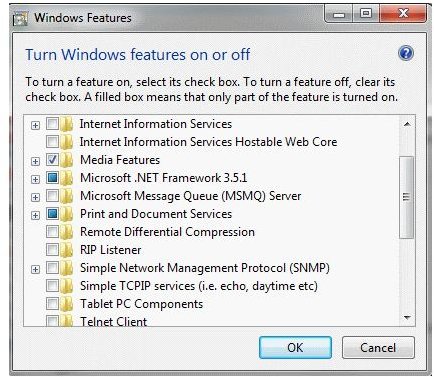 Many of these tweaks can be as brutal or as gentle as you like. It's entirely up to you how far you go, as long as you have a good idea how to revert back if something goes wrong.