Microsoft Online Storage | Best Online Storage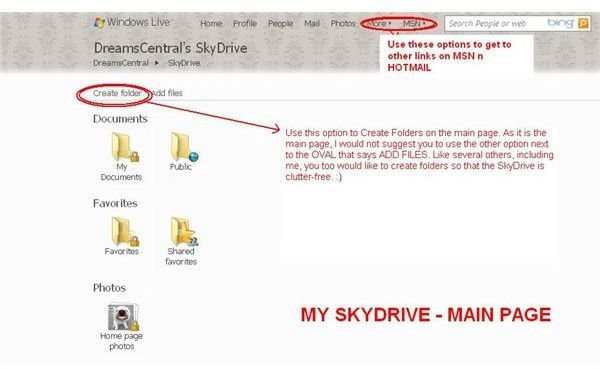 Microsoft Online Storage – MSN SkyDrive, the Best Online Storage
The best of Microsoft online storage services is MSN SkyDrive. SkyDrive is the best online storage when it comes to unmanaged online services. Second to MSN SkyDrive, Google has Google Docs. Both MSN SkyDrive and Google Docs are unmanaged remote backup services. Unlike managed remote backup services, Microsoft online storage requires manual uploads.
Nevertheless, MSN SkyDrive (with 25 GB of FREE space on offer) is the choice of many when it comes to sharing photos, documents, and songs. People also use MSN SkyDrive to store the latest copies of important files. For example, I have all my important image files on the SkyDrive. I even post screenshots to the public folder when I want to share it with others while discussing something on different forums.
MSN SkyDrive is easily accessible from your personalized MSN page or from the Hotmail page. You can also type in SkyDrive.live.com to reach the login page. You do not need a different login ID for accessing SkyDrive if you have a Windows Live ID. You get four folders when you first visit MSN SkyDrive. "Shared Favorites" and "Public" are where you place files/images that you wish to share with everyone. The other two are simply "Favorites" and "Documents" for personal files.
You can create as many folders in the main page (see fig 1 below), under folders and sub-folders. You can upload as many files as you wish. You have a link for each document and each folder that you wish to share, making it easy to share. The second figure shows other options to download files and to delete files that you do not need anymore.
TIP: As most of the unmanaged remote backup, including Microsoft online storage works on HTTP protocol, it may be frustrating to upload files. To speed up upload process, Microsoft offers "RichUploadForWindowsLive.msi." The link to this msi file appears when you upload your first file.
Image References to my MSN SkyDrive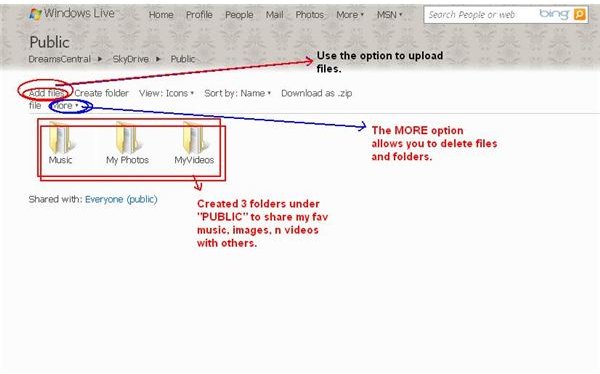 Microsoft Online Storage – Office Live WorkSpace
Another best of Microsoft online storage is the Office Live Workspace. Though online storage, remote backup, or a place to collaborate and brainstorm on one or more projects at a time, is still in beta, MS has already found several takers for the storage. As with MSN SkyDrive, you get 25GB of FREE space to store your Office files: Word files, PowerPoint, and Excel points. You can also upload other types, including Notepad and MS Paint files.
Office Live Workspace lets you create different workspaces for different projects. It scans each file for viruses as you or any member of your team uploads them. You can share a file with a maximum of 100 people. After creating a workspace, you can upload different files in a project. As each workspace and each file within the workspace is a separate entity, you have full control over sharing.
For example, if I am writing a book on MSE, I will create a workspace. Then, I will create a main file wherein I note down the points I intend to cover and timeline for completing the project. I will create a file for each topic and share it with one or more writers. This way, others cannot peek into the main project file and none knows what the other is writing.
You can strategically decide what files to share and with whom. This makes sure that the right person gets the right file and none gets the entire thing. If you wish, you may share all files. We have a more detailed article on Office Live Workspace on Bright Hub that may further help you.
NOTE:
You also get a free website when you opt for Office Live, one of the best Microsoft Online Storage.
Help for Office Live is readily available on Twitter. Address your tweets to @Office_Live.
Important Update
It appears that Microsoft is discontinuing the Office Live service. When you login into Office Live WorkSpace, you are told that your workspaces will be transferred to Windows SkyDrive as folders. However, so far Microsoft has not said anything about discontinuing the Office Live service. Its Twitter account and Facebook pages are still there and so are the help files for using Office Live. Windows SkyDrive is a great service with Free Office Web Apps that let you create and use Office files without the need for a local copy of MS Office. For details on using SkyDrive, please read our article: SkyDrive Tutorial.
This post is part of the series: Microsoft Cloud Computing
Microsoft Cloud Computing Services are aplenty. The company offers a range of services. This series on Microsoft Cloud Computing discusses some of the best cloud computing services including Office Live Workspace, Office Web Apps, and BPOS.