Opera Web Browser - A Good Alternative To Internet Explorer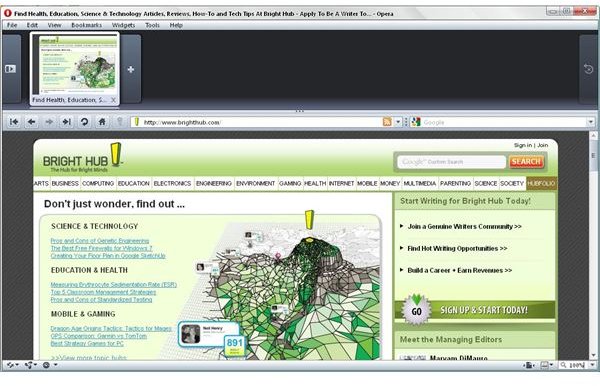 Opera - An Alternative Browser
If you're using the Internet Explorer browser that comes with your Windows PC, you might have decided that it runs too slowly, or you just find it a bit clunky and difficult to use.
Several software groups have attempted to provide browsers to supplant Microsoft's Internet Explorer browser – in Europe Microsoft are unable to ship Windows with the browser installed due to anti-competition rules, which has seen Mozilla Firefox gain a greater share of users.
As a result, alternative browsers are gaining in popularity across all versions of the Windows operating system. Firefox isn't the only option – along with Google Chrome and Apple's Safari browser, you can also use the Opera web browser for Windows.
Download Opera Browser
The Opera browser is a great choice for Windows users – whether you've got Internet Explorer or Firefox already, you might also like to try Opera.
Like Firefox, Opera can be downloaded and used for free and this browser has a few neat tricks up its sleeve.
The latest version of the Opera web browser for Windows can be downloaded from www.opera.com – the download file is just over 11 MB.
After installation, the Opera web browser is ready to roll – it will automatically import your favorites from your current default browser, allowing you to start browsing without the hassle of importing your bookmarks.
Get to Grips with Opera Web Browser for Windows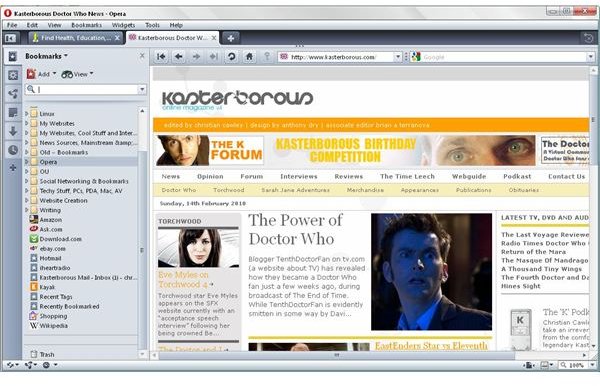 All of the usual browser features are found in Opera, but they're presented in quite an interesting new way.
Panels
Accessible via the small arrow next to the tabs (more on those later), the Panels include Bookmarks (favorites) and your recent browsing History as well as access to Opera's Unite service, a method of streaming your own content directly from your web browser. Widgets can also be accessed via the Panels, notes can be kept and downloads can be monitored.
Tabs
Like most of the alternatives, the Opera web browser for Windows offers tabbed browsing. What is different about Opera is the presentation – if you drag down the bar below the tabs, Opera displays thumbnails of each of the open pages. This is a great way to quickly check your open pages and jump to the one you want!
Accessibility
Opera also enables a quick an easy way to view parts of a web page that might be difficult to some users, such as small text. Drawing from its success creating web browsers for mobile devices that feature a zoom function, Opera web browser for Windows includes an option to zoom to up to 1000% of the current page resolution. While graphics suffer, text is suitably resized to make reading easy.
Speed dial
Available when you open a new tab or new window in Opera (via the File menu or by clicking CTRL + T for a new tab and CTRL + N for a new window), speed dial features a list of your most favorite websites. The default speed dial features 5 of the available 9 favorites already populated – all you have to do is click one of the empty boxes to enter your own speed dial favorite!
Standard Features in Opera Web Browser for Windows
As with all browsers, the Opera web browser features the conventional toolbar buttons (back, forward, home, refresh), the Address bar for inputting website addresses and the now popular Search bar. The Search bar comes with default search engines such as Google, Ask and Yahoo, as well as Wikipedia, eBay, Amazon and several others.
Opera is a great browser, available for free and extremely functional - why not try it today?