How to Activate Windows 7 After Installing It: Options to Use for Fully Activating Windows 7 After the Initial Install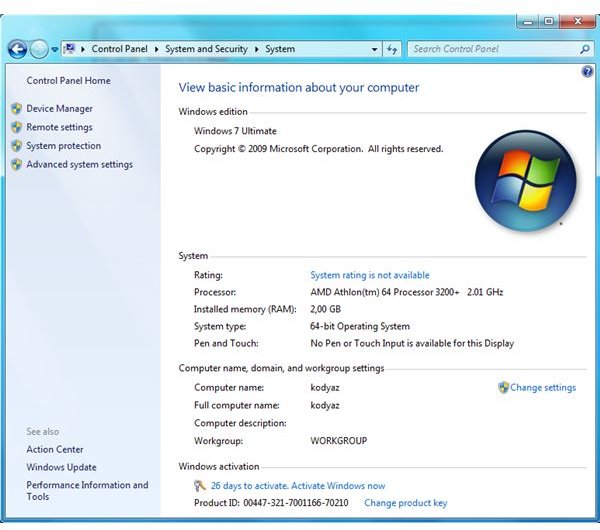 Installing Windows 7 May Not Activate It
You may have noticed that during your installation of Windows 7 there was an option to activate your product automatically if you had internet access. If you chose this option, you would have been prompted to enter your product key. Even if you entered the product key, this does not necessarily mean that your version of Windows 7 has been activated. If you are not sure and need to double check, check the step directly below. If you need to enter your product key in order to activate Windows 7, you will want the second step.
Activating Windows 7 with the Product Key Already Entered
You will first need to access your System Properties. To do this, right-click Computer from your Start menu. Then, choose the bottom option, which reads Properties. What this does is displays information about your computer: its CPU, RAM, the type of operating system (32-bit or 64-bit), and if there is pen or touch input. Scroll to the bottom of the window, and you will see the Windows activation section. Under that, it will show you how many days you have left to activate, followed by the Product ID (Note that this is not your actual product key; this number will not do much for you if you try to use it).
Clicking on Activate Windows Now will prompt you to activate via internet. You will then be given the option to either activate online now, or to wait until later. Waiting is not a bad idea if you are not sure whether you want to continue using the product. However, since we are here and we want to activate Windows, Activate Windows online now is the option to click on. It will take a little bit for the product key to be verified, as Microsoft is checking to see whether your copy of Windows 7 is genuine.
Manually Activating Windows 7 After Installing It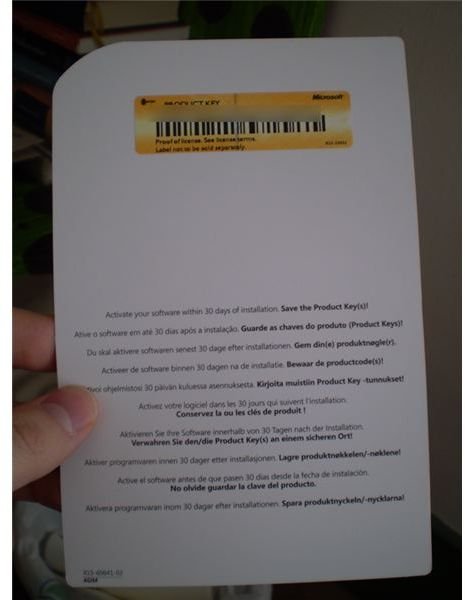 The steps for activating Windows 7 are similar to what is mentioned above. You will still need to access your system's Properties (you can access it by right-clicking Computer in your Start menu), and will have to scroll down to the Windows activation section. However, when you choose to activate Windows, you will need to enter your product key. So, make sure you have that handy. If you have a retail boxed version, the product key will be on an insert. So double-check and make sure you actually have a product key. If you do not, you must get the item exchanged or returned as soon as you can.
Type in your product key exactly as it is displayed on your insert. Then click Next to continue through the activation. Windows will verify that the product key is valid. Then you will be set to go.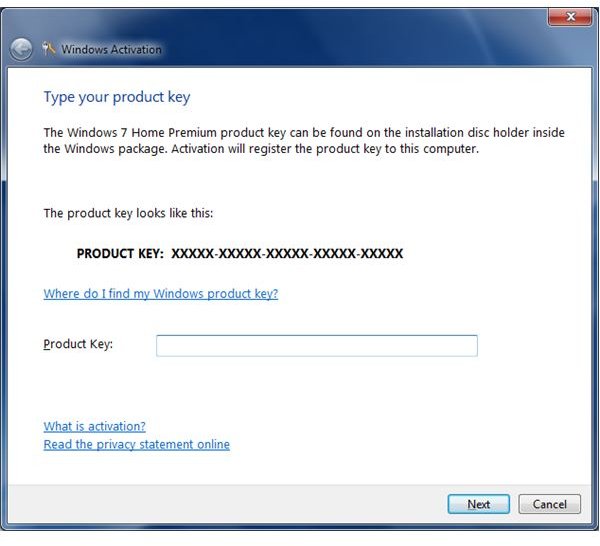 Store Your Product Key!
This may go without saying, but you need to make sure that you do not discard your product key. You may have to reinstall Windows 7 at some point. On the other hand, perhaps you want to remove it from the computer you have currently installed it on so you can install it on another machine (which you will not be able to do if you purchased an OEM version). Just make sure that you completely remove your Windows 7 installation (either by formatting the hard drive, or installing another operating system over it) before installing it on a different computer.
Related Articles
Read How Do I Know if My Copy Of Windows 7 is a Genuine Retail Copy? for more information on your Windows 7 software.