How to Disable System Warnings in Windows 7 - UAC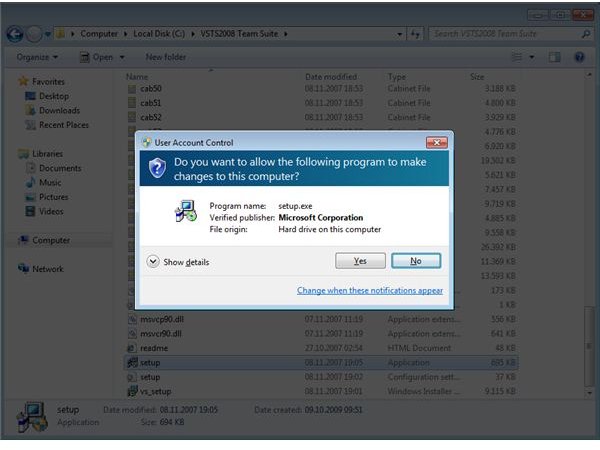 Tone Down or Turn Off
The User Access Control (or UAC) in Windows 7 is milder than Windows Vista by default. Nonetheless, it can be a bit of a nuisance to users who are trying to use their PC with minimal interruption. One way to change the settings to the UAC is by going through the Control Panel, but there are some quicker ways of accessing these settings.
When Next Prompted
The quickest way to make changes is when you are prompted to allow or deny a certain action. On the bottom-right of every warning message (see image to the left), you will see a link which reads Change When These Notifications Appear. Clicking on that will take you directly to your User Access Control Settings where you can make your changes.
Alternatively, typing UAC into your Start menu's search bar also brings this menu up, which should read Change User Access Control Settings.
Changing the Settings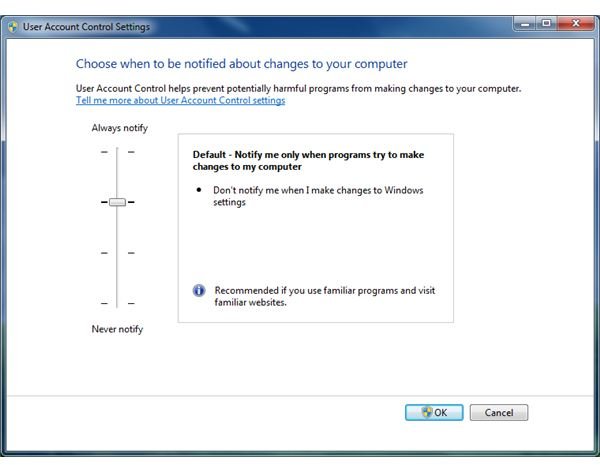 By default, the cursor should be at the second-highest option (which is bolded as the recommended setting). If you wish Windows to give you more notifications when changes are being made to your computer, you can move the cursor to the highest possible setting. The highest setting is what Windows Vista had equipped with it. If you're a former Vista user who preferred having the high UAC alerts, this setting may apply to you.
Moving the cursor to the second-lowest setting will still give you the same amount of warnings as on the default setting, but your desktop just will not be dimmed. It's not a bad choice if you don't mind the current UAC setting, but don't want to have to deal with the drama of having your screen dim every time a message prompts you.
To disable UAC entirely, move the slider to the option at the very bottom. Windows of course does not recommend that you choose this setting, as this can leave your computer open for a potential attack. However, the majority of programs most users have on their computer were downloaded from the internet. Every time you try to run a program you have just downloaded, you will be prompted by default from that web browser whether or not you want to run the program. If you have that security, you may not need UAC messages.
Once you've chosen the option you want, click OK. Windows will then tell you that the settings will take place once you restart your computer.
Are you at risk?
Users are curious as to whether or not they are really leaving their system vulnerable by disabling UAC. Generally speaking, users tend to find UAC far more annoying than helpful. If you have antivirus software running on your computer (and you really, really should), then UAC warnings may not be that helpful to you. However, if you do not have any antivirus protection at all, and are just running with Windows Defender, then it would be best to leave UAC intact until you get antivirus software running. Don't want to have to spend money on antivirus software? Fortunately, Bright Hub has compiled a list of the best free antivirus software available. For a more comprehensive list of what is available for Windows 7, there is this article, too.