How to Uninstall Safari 5 from Windows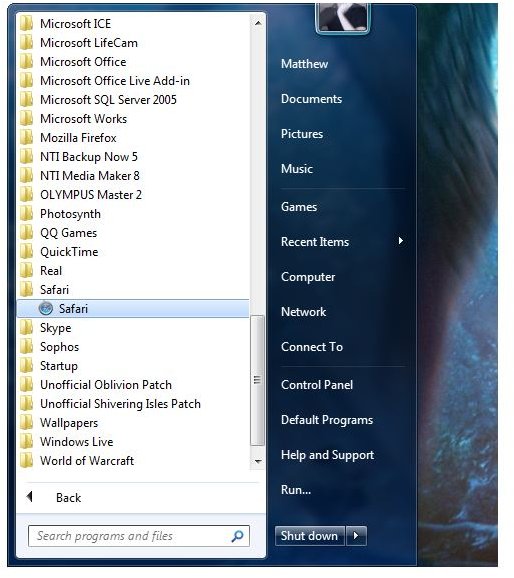 How'd it even get there?
Some users, mostly those who use iTunes or QuickTime, are baffled when they've found that Apple has managed to install its own web browser (Safari). This may have happened when updating either iTunes or QuickTime. Safari may have sneaked in as its own individual installation. Now the question is: how do you uninstall Safari 4 from Windows? Better yet, how do you keep it from installing on your computer again? What this guide will do is show you how to uninstall Safari (steps provided for XP, Vista, and 7 users), and how to keep Safari from making its way onto your computer again.
Control Panel
You may have noticed that while browsing through available programs in your Start menu there is no option to uninstall Safari 5. What you will have to do is access your Control Panel from the Start menu. From there, in Windows Vista or Windows 7, click on the bottom-left option, Uninstall a Program (It's the subcategory under the Programs section). In Windows XP, you will want the option Add or Remove Programs.
Wait for Windows to update the programs on your computer. This may take a few seconds. Scroll down until you find Safari (the list is alphabetized). If you don't feel like scanning through each individual file, just use your search bar on the top-right of the window (this feature is only available in Windows Vista and Windows 7). Double-click on the program to start uninstalling it. If you are asked whether you want to continue, click Yes. From that point on, Windows Installer will take over and uninstall Safari 5 from your computer.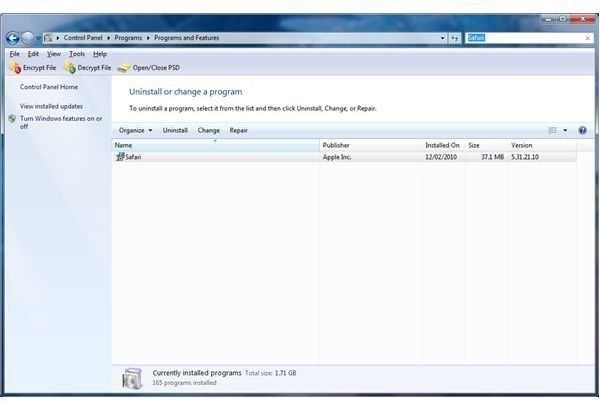 Preventing Future Installations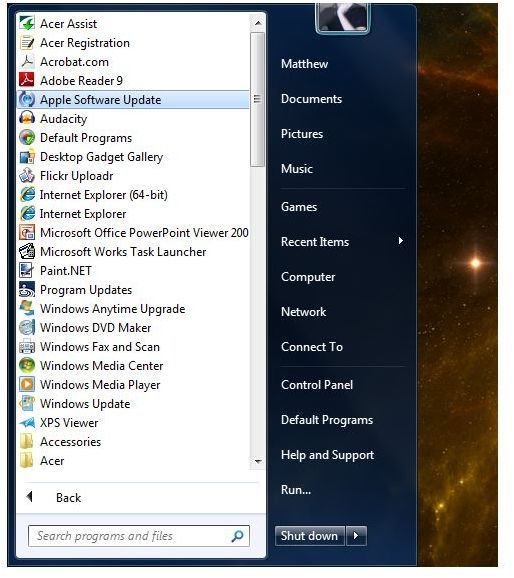 Chances are, if you had no idea how Safari had installed itself on your desktop it may have been included when you were updating older versions of QuickTime or iTunes. Any time you update one of those programs (assuming you use either one), you will have to update them through Apple Software Update. Safari is included as optional software and you may have installed it without wanting to. There is a way to prevent Safari from installing on your computer again. In your list of programs under your Start menu, look for Apple Software Update.
As soon as you load it, the program will search for software updates or new software for you to install. Lo and behold, there's Safari 5 listed under New Software. If you don't want this update anymore, make sure the box is checked, and then click on Tools. Scroll down to the option Ignore Selected Updates and the program will vanish from the list.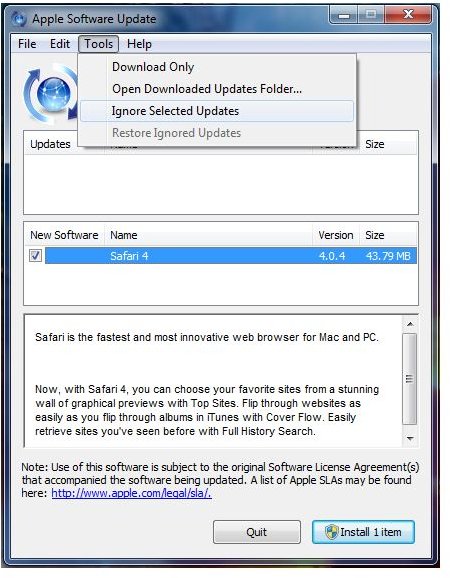 If you want to restore the program at some point in the future, you can select Restore Ignored Updates, also under Tools.
After completing these steps, Safari should now be both gone from your computer, and should not be offered as an option from Apple from whenever you decide to run Apple Software Update.
Related Articles
To find out more about Safari for Windows, read Safari Web Browser for Windows Review and How to Erase Your History and Cache from Safari - A Detailed Guide.