How to Open Windows ISO File By Mounting It with Magic Disk or Extracting the File Using WinRAR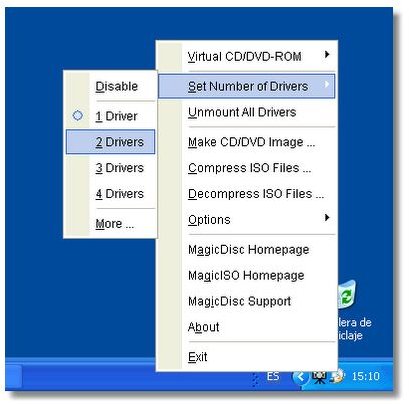 Option 1: Mount it!
To mount an ISO Image means creating a virtual CD-Rom Drive inside the operating system itself, and then cheating the system to believe you have just inserted a CD into your Optical Drive. When you are able to perform such a beauty of a cheat to your Windows 7 unfriendly environment to older software, you will have access to the content of your cherished ISO files.
Daemon Tools used to work well on Windows Vista, but this Virtual Optical Drive software, which is free, seems to not have completely come to terms with the new Windows 7 … yet.
Magic Disc is the perfect solution: A freeware software that delivers with no problems at all in Windows 7.
Instructions for Magic Disc
Download it [here](https://www.magiciso.com/tutorials/miso-magicdisc-overview.htm).

Install it and run it.
Right-click the Magic Disc icon at the bottom left hand corner of your desktop. (If if its hidden, simply click "Show Hidden Icons" and you will see it.)
After right-clicking the Magic Disc icon, a menu will display. Click on "Set Number of Drives". Select "1 Drive" (which is all you need for the task at hand).
After the software finishes installing the Virtual Drive in your system, right-click the Magic Disc icon again and, at its menu, click on "Virtual CD/DVD-ROM".
Hovering over the Virtual Drive you have just created, click on "Mount".
According to the drive letter the system assigned to the Virtual Drive, you will find the contents of your ISO File available to you at My Computer, as a physical drive.
Option 2: Extract it!
This should be the easier solution, but it does consume more time and resources.
Winrar is a widely known shareware software, which is capable of extracting a variety of compact files. ISO files are exactly that, compact files. By using Winrar to open and extract your ISO Images, you will have access to their contents.
Instructions for WinRAR
Download it here.

Install it and run it.

At the installation Setup, you will be asked to configure your personal settings. Check to open the files of the "ISO" kind.

If you already have Winrar Archiver installed in your system, just click Start, and on the "Search Programs and Files". Type: "Winrar" and press Enter. Double-click on the "Winrar.lnk" result and open the software. Go to Options, Settings, Integration, and make sure ISO is selected. Click OK, and Close.

Find the ISO File in your system and right-click on it.

Winrar will be already integrated in the shell of your operating system, so simply choose the Winrar option from the menu over the ISO File, and click "Extract".

You will then have the choice of choosing a folder to where all the contents of the ISO Image will be extracted.
These are the two simple options on how to open windows ISO files, but there are more out there. The limitations of a brand-new operating system - or the new version of a pioneer - usually last until the release of a new Service Pack, or general automatic updates.