Microsoft Works Vs. Word: Which Fits Your Needs?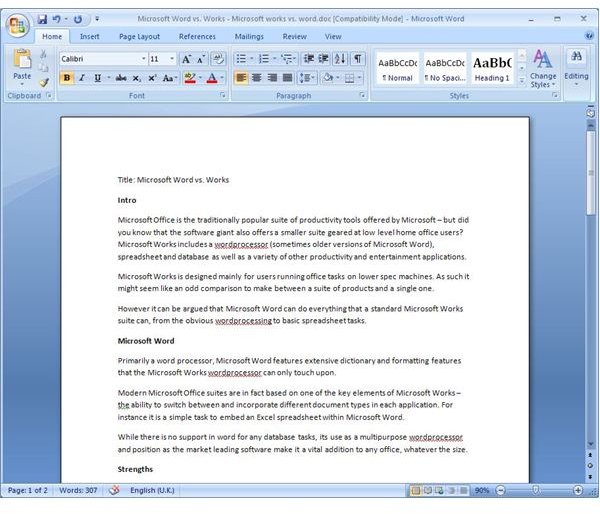 Which Is Best - Microsoft Works vs. Word?
Microsoft Office is the traditionally popular suite of productivity tools offered by Microsoft – but did you know that the software giant also offers a smaller suite geared at low level home office users? Microsoft Works includes a wordprocessor (sometimes older versions of Microsoft Word), spreadsheet and database as well as a variety of other productivity and entertainment applications.
Microsoft Works is designed mainly for users running office tasks on lower spec machines. As such it might seem like an odd comparison to make between a suite of products and a single one.
However, it can be argued that Microsoft Word can do everything that a standard Microsoft Works suite can, from the obvious wordprocessing to basic spreadsheet tasks.
Comparing Microsoft Word
Primarily a word processor, Microsoft Word features extensive dictionary and formatting features that the Microsoft Works wordprocessor can only touch upon.
Modern Microsoft Office suites are in fact based on one of the key elements of Microsoft Works – the ability to switch between and incorporate different document types in each application. For instance, it is a simple task to embed an Excel spreadsheet within Microsoft Word.
While there is no support in Word for any database tasks, its use as a multipurpose wordprocessor and position as the market leading software make it a vital addition to any office, whatever the size.
Strengths

Recognisable, universal formats
Can embed other Microsoft Office files
Very easy to use

Weaknesses

Expensive
Recent versions are unsuitable for older machines
Comparing Microsoft Works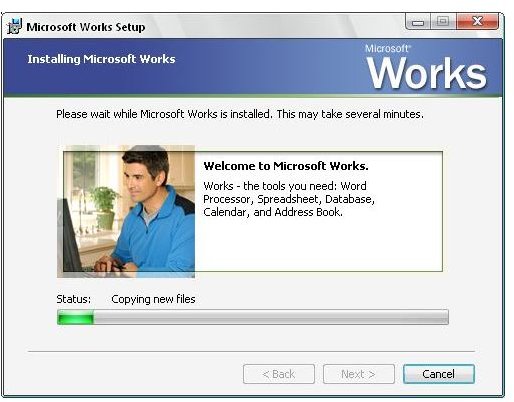 Microsoft Works is effectively a stripped down, basic office suite. Featuring word processing, spreadsheet, database and calendar applications, Works is designed for any small office whose requirements don't involve building ornate posters, complex spreadsheet calculations, multi-table databases and email/calendar synchronization.
As such, Microsoft Works is priced lower than Office - Microsoft Works 9 retails for around $70 (£40) which is cheaper than Word itself ($100 or £60) while Microsoft Office might set you back anything from $100 or more depending on the edition.
Bearing in mind that Microsoft Works is aimed at any office setup that doesn't require advanced features, it is clear to see how it can prove to be a perfectly good alternative to Microsoft Office and Word. Given that Works includes a word processor that features all of the modern basics (including the spell checking facility) the only thing that is really missing from the day to day use of Word is the facility to apply stylistic enhancements such as titles, subheadings and so forth.
Strengths

Low price
Designed for use on older, lower spec machines
No bells and whistles – a stripped down suite that isn't packed with extras that won't be used.
Wordprocessor has a spell check facility and can open Word .doc and .docx files.

Weaknesses

Unusual .wps file formats that can only be opened natively by MS Office or Works itself
The wordprocessor is basic compared to Word
Which Is More Suited to Me?
As with any comparison of quite different software, when comparing Microsoft Works vs. Word the question shouldn't be "which is best?" - it should be "which is more suited to me?"
While you will need to consider budget, file format requirements, the spec of your PC and possibly even the amount of use or number of users, the real test is when you try the software out.
Any retailer selling both of these products should be able to provide you with a PC with one or both of Microsoft Word and Microsoft Works installed in order for you to test them and see how each meets your needs. With this knowledge, you should then be able to see which is best - for you.