Office Live Workspace - How to Use Microsoft Word Online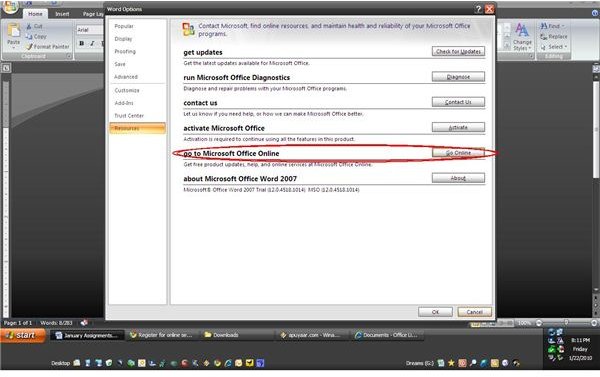 Setting up Microsoft Live Workspace
To use Microsoft Word online, you need a Workspace on the servers of Microsoft. You can upload your documents and view or edit them from anywhere. The Microsoft Live Workspace is a place like that, along with some extras that can ease some common operations. Best of all, you can access your workspace directly from any of a number of Microsoft applications.
To use the online version of MS Word from your desktop, you can click the Office button and then again Word Options. Under Resources, click Go Online (Fig 1 towards end of the article). This action takes you to Office Live Workspace. You need to create a personal workspace if you are using it for the first time. You have the choice to create a blank workspace or use from a list pre-existing formats (Fig 2). You can select one based on your requirements. I would recommend you create a blank workspace and customize is as and when required.
Before you can create the a workspace, you need to login into Office Live. If you do not have a Microsoft .NET Passport, you can sign up at Hotmail or MSN Live to get an ID for free. You can use this ID, often referred to as .NET Passport to access all web applications of Microsoft: Hotmail, Live, Messenger and many more.
Once you have your Microsoft Office Live Workspace ready, you need to give it a name and description, so that others can understand what the workspace is about. The term "Others" refer to people with whom you will be sharing your documents for collaboration: viewing, editing, saving, and printing a local copy etc.
You can always create more than one Workspaces to share them with different people. To create a new Workspace, just click the "plus" sign on the left side of your current Workspace (Fig 3).
NOTE:
You need Internet Explorer 6 or later to access Office Live Workspace. Other browsers may not work with Office Live.
You will also need Microsoft Silverlight.
Features Available with Office Live Workspace
Using the workspaces, you can create a new, blank Word document. Select the "New" drop down list. In the list, select Word Document. This will present you with a blank document. You can also upload documents directly from your disk to share and for collaborative work. You have options to upload single or multiple documents.
When you click Upload Documents, the Open File dialog opens (Fig 4). Select the documents that you wish to upload and click Open in the dialog. You will get a status dialog showing files being uploaded. After the files are uploaded, you can see them in your Workspace.
Once the files are uploaded, you can use Word's online editing, saving, and sharing features. To edit a document, click on the name of the document and it opens up for viewing. To edit the Word document, click on Edit (Fig 5). This opens up the document in MS Word. Among other buttons available are Save As and Share. Save As stores a local copy of the online Word document. The Share option helps you share the document with others. The Activity command shows you recent activity on the Workspace so that you know who else has accessed the Office Live Workspace. To remove an online document, just select the checkbox against it and click on Delete.
In short, it is very easy to use Microsoft Word online. Once you start using it online, you'll know that it is the most convenient way to handle, share, and work on projects that involve more than one person (For example, ebooks - you can distribute sections to different people and also share it with a proof-reader).
Note: It appears that Microsoft is discontinuing the service. When you login into Office Live WorkSpace, you are told that your workspaces will be transferred to Windows SkyDrive as folders. Other than this, Microsoft has not said anything about discontinuing the Office Live service. Its Twitter account and Facebook pages are still there and so are the help files for using Office Live. Windows SkyDrive is a great service with Free Office Web Apps that let you create and use Office files without the need for a local copy of MS Office. For details on using SkyDrive, please read our article: SkyDrive Tutorial.
Image References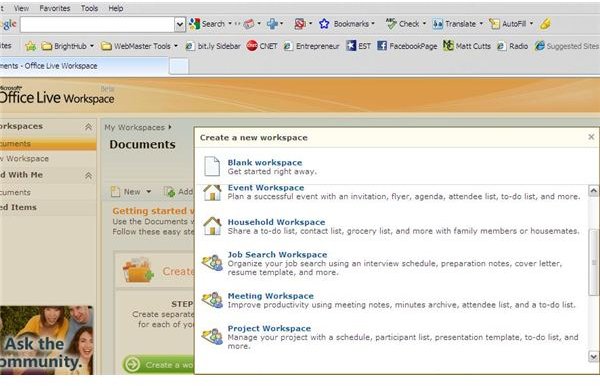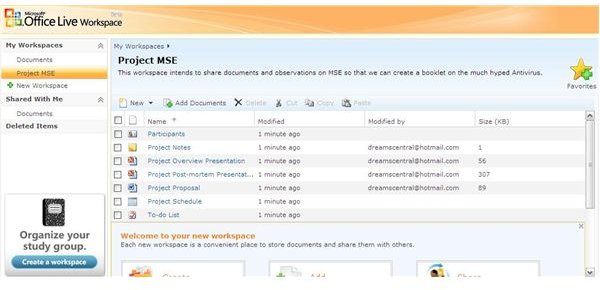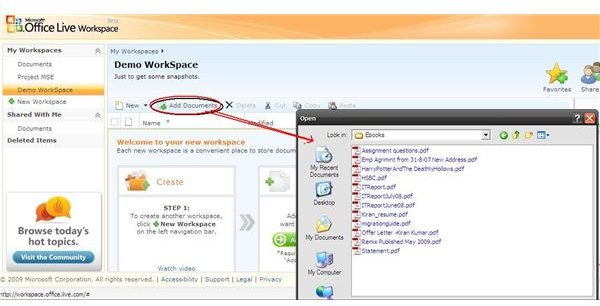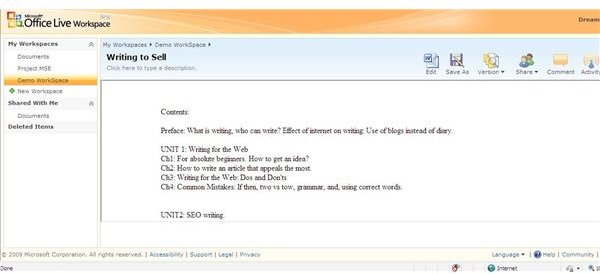 References
Images from Office Live Workspaces
Microsoft Office Knowledgebase, https://www.microsoft.com/office/sbs/Office_Live_Workspace.aspx
This post is part of the series: Microsoft Cloud Computing
Microsoft Cloud Computing Services are aplenty. The company offers a range of services. This series on Microsoft Cloud Computing discusses some of the best cloud computing services including Office Live Workspace, Office Web Apps, and BPOS.