Windows XP Guide - How To Backup Windows XP Registry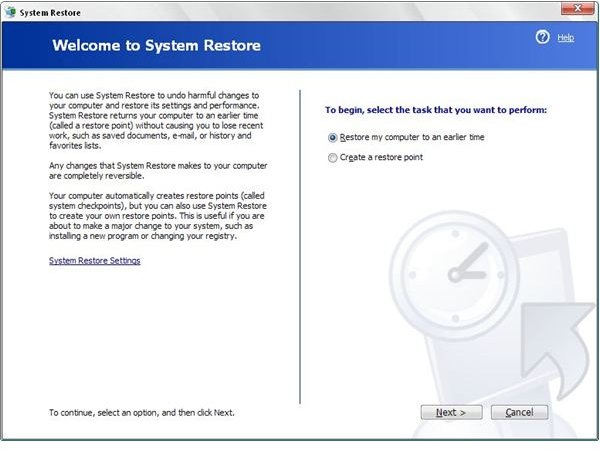 The Windows Registry Explained
If you plan to make changes to your Windows registry for whatever purpose, it is vital that you take the time to backup the Windows system registry before proceeding.
Within the registry are a series of values and keys that tell various applications and Windows itself how to behave in a given situation.
A good example of such a situation is how Windows uses the registry to open a Browse dialogue at a particular place. By using a specific entry in the registry, a piece of software can instruct Windows to open the Browse window at a particular folder rather than the default My Computer view.
This is just a basic example of the importance of the registry – which is why it is a good idea to create a backup before proceeding with any adjustments.
How To Backup Windows XP Registry with System Restore
A manual backup can be performed quickly and easily in Windows XP using the System Restore Tool.
Go to Start > Run and at the insertion point type or copy from here: %SystemRoot%\system32\restore\rstrui.exe - then click OK
This takes you to the System Restore page – select Create a restore point, then click Next to give the restore point a name. Click Create, and once the restore point is created, click Close.
Restoring a Restore Point can easily be done by selecting Restore my computer to an earlier time in the System Restore page – simply select the restore point and confirm, but note that software installed since the time the Restore Point was made may not work correctly.
How To Backup Windows XP Registry by Exporting
An alternative to using System Restore is to export the portion of the registry you plan to make changes to. This is an excellent alternative that is not just quicker; it also allows you to easily manage the backup and save it wherever you need it to be.
To do this, go to Start > Run and at the insertion point type regedit – then click OK
When you have found the entry you wish to edit, go to File > Export and select a location to save the .reg files.
Should you need to restore the settings from this backup, simply double click the .reg file to reapply the registry keys.
How To Backup Windows XP Registry from the Command Line
Windows features a Console Registry Tool, accessible via the command prompt, which allows specific keys and sub-keys to be exported.
To try this, go to Start > Run and enter cmd, then click OK.
From here you can get help (type reg /? and tap Enter) or get on with the job of exporting keys.
For instance, to export a key for X,to the root of C: type:
reg export KEYNAME c:\
So – three ways to easily and confidently backup the Windows XP registry!