How to Troubleshoot Images Not Displaying in Internet Explorer 8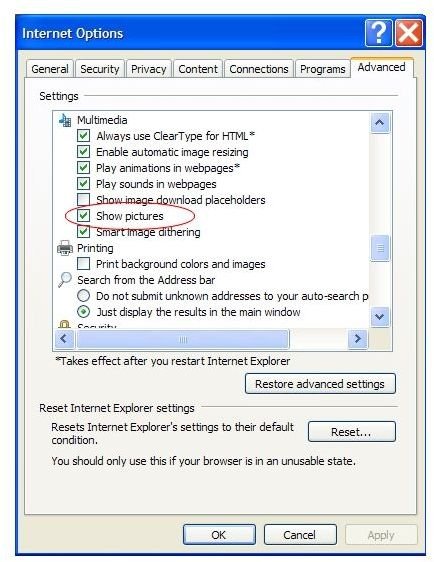 Content rich web pages often display many elements including text, images, Flash animations, videos, and a host of other media. Some Internet users prefer to turn images on and off at will to speed up their browsing experience and increase security. If IE8 is not displaying images, learn how to turn them back on so web pages will display as their creator intended.
Why Turn off Images in Internet Explorer 8?
Some people pay for their Internet connection by the amount of bandwidth they use in a month. Problem occurs when these individuals are forced to download images on a web page that don't help the user find what they are looking for. By turning images off in IE8, these users can save money and also significantly speed up their browsing experience.
Other users turn off images in IE8 to protect themselves against viruses. Some viruses can be carried to the user's computers through picture files such as the PNG image file format.
Still others are unaware that images have been set to not display in Internet Explorer 8 and don't know how to turn them back on. Continue reading to learn the trick to troubleshoot and force IE8 to display images each time a web page is displayed.
Show Images in IE8
Forcing IE8 to display images is the default setting after installing the browser. If your images are not displaying in your browser for whatever reason, use this tip to turn them back on.
First, click on TOOLS on the toolbar and then click on INTERNET OPTIONS. The INTERNET OPTIONS window should now be open. Click on the ADVANCED TAB and scroll down to the MULTIMEDIA SECTION. There, locate a setting called SHOW PICTURES. Make sure this setting is checked (see Figure). Click OK and refresh the web page using the REFRESH button on the toolbar. Images should now display in your IE8 web browser.
If, for whatever reason, you decide to stop IE8 from displaying images, you may wish to consider turning on another option right above the SHOW PICTURES setting. By setting SHOW IMAGE DOWNLOAD PLACEHOLDERS on, you will at least know where an image would have been had you set IE8 to display pictures. In addition, you can show pictures that have not yet been downloaded by IE8 by right clicking on any placeholder and selecting SHOW PICTURE from the menu. This way you can choose which images to view and which to avoid downloading to your computer.
Conclusion
For a variety of reasons, some Internet Explorer 8 users have decided to stop IE8 from displaying web page images. Some do it for speed, others to save money, and still others to increase their computer's security. If your images have been accidentally set to not display in IE8, the steps in this article will restore that option to the default setting of showing all images on the web pages you visit.