How to Backup Your Favorites in Internet Explorer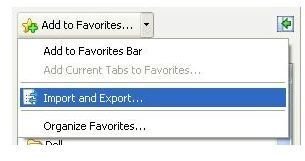 Protect Your Favorites
If you're planning to upgrade Windows, move to a new PC, changing your main browser or simply want to make sure your favorite websites remain accessible to you at all times in Internet Explorer, making a backup of your Favorites (Bookmarks) is easily done.
Internet Explorer saves favorites as an HTML file (that can incidentally be edited) and this use of a universal standard means that favorites from the Microsoft web browser can also be easily imported into other browsers such as Firefox or Opera. It also means that favorites can easily be organized into folders. If you have a lot of websites that you regularly visit or wish to keep handy, organizing favorites before backing them up might be a good idea.
To backup favorites in Internet Explorer, all you need are a few favorite websites stored in your browser and somewhere to backup to! What you then do with your saved bookmarks is up to you.
Backup Favorites in Internet Explorer
To backup your favorites, open Internet Explorer and go to Favorites > Drop Down Menu > Import and Export… (the exact menu path here depends on your version of Internet Explorer - this guide is written for IE 8).
In Internet Explorer 8 you will be given three options:
Import from another browser
Import from a file
Export to a file
To backup favorites in Internet Explorer, select Export to a file.
Upon clicking Next, you will be given a further choice, this time of what to export. To backup your Favorites, ensure the box is checked – you might also opt to save your RSS/Atom Feeds and even Cookies. Click Next to continue.
The following screen allows you to select which folder of your Favorites you want to backup. If you have previously organized your favorite website bookmarks, this will allow you to either choose all or a subset of these sites.
Continue by clicking Next; you will then be able to save your bookmark.htm backup file to any location. You can even change the name of the backup. Depending on the number of favorites stored on your computer, this will take from a few seconds to a few minutes.
Using Your Internet Explorer Favorites Backup
With your backup made, there are a number of things you can to with the saved websites.
For instance, you can store them away safely until you need to add them to a new Internet Explorer installation. Following the instructions above, you should choose Import from a file and then browse to a location the favorites backup can be read from – this will import your bookmarks into a new installation of Internet Explorer. (Note that upgrading Internet Explorer should not require making a backup of your favorites – however it is good practice to backup vital files.)
The resulting bookmarks backup can also be imported into another browser such as Firefox or Opera, but if you're someone who adds a lot of bookmarks to their Favorites list, you might find that you're backing up more and more – and this can prove impractical.
Luckily there are online tools that can synchronize and store your Favorites, meaning you never have to backup again. Everytime you add or remove from your favorite bookmarks, this information is synched and stored by one of these online tools.
A good example of this is www.bookit.com – this is a free service that not only synchronizes your favorites it also allows you to synch them with any computer, extremely useful for anyone using multiple PCs and laptops!