Which Version Of Internet Explorer Do I Have? How to Learn The Version Of Any Software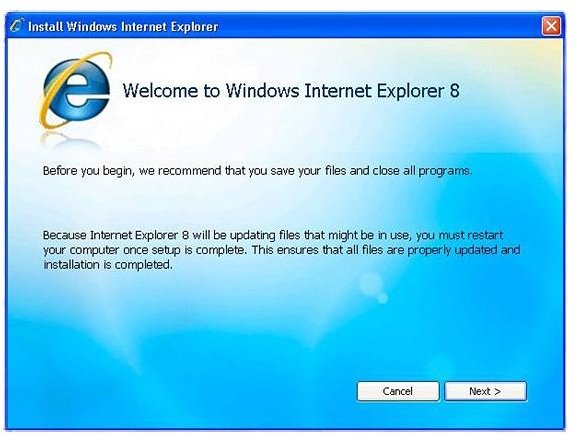 Locating Program Versions in Windows
What version of Internet Explorer do I have? Which version of MS Paint am I using? What is the version of my Download Manager?
If you wish to know the version of any Windows-based application, it is easy to find out. You know that almost all Windows based applications carry similar GUI. There is a Help menu in even third-party applications such as Winamp. Exceptions are rare when you are working on Windows. So why are we talking about Help menu here? The Help menu contains About as the last option in all Windows based applications. This About option has the answer to your question on versions of any program.
To find out the version, open the application, click on the Help menu and select About. This will give you the version of Internet Explorer as well as any other application.
Few applications deviate from the standard GUI of Windows. For example, Office 2007 has a Ribbon Interface so you will not find the Help tab there. Some other applications too do not follow the standard Windows GUI.
In such cases, if you wish to know the version number, right-click the icon of the program and select Properties. In the General tab, locate the button Find Target and click it. A folder with open with the corresponding program selected. Right click on the exe file and again select Properties. Another dialog box opens containing a tab named Version. This answers your question. In some cases, the version is displayed in the General tab of the exe file's Properties box.
Which is the Best Version of Internet Explorer?
You may be surprised to know that the Microsoft team did not code the original Internet Explorer, but rather a smalltime company named Spyglass created it. Spyglass entered an agreement with Microsoft, only to later lose their IE license to the software giant.
Though IE debuted with version 1 for Windows and 1.5 for Windows NT, it was not until Internet Explorer 4.5 that Microsoft paid attention to security features. Internet Explorer 4.5 came out with Windows 95 with 128-bit SSL encryption, around 1997. This was the first browser that used SSL encryption. The previous versions for NT used some 68-bit TLS encryption that was not very protective. Internet Explorer 4 was the best version of Internet Explorer until IE 5.5 came out with Win 98SE.
A series of releases from IE 5 to IE 6 debuted with Windows XP. IE version 6 was considered the best version of Internet Explorer and is still shipped with XP SP2 installations. Very soon, it became public that IE6 also had several security loopholes. This forced MS to work on Internet Explorer 7, a much more secure browser.
Although, with the Windows XP release, Microsoft announced that new versions of IE would be released ONLY with new versions of Windows, they had to release IE 7 for XP even before Vista came out. This was due to the same old fact that hackers found several loopholes in IE6. Though IE7 was a hit among users, it required XP SP2 and later Windows OS.
IE8 offered several new features. It has its share of problems too and hence the divide of opinion on the best version of Internet Explorer. It is easy to repair Internet Explorer 8 problems on XP with the range of articles on Bright Hub. Check out how to speed up Internet Explorer 8. It also contains a list of IE8 problems and details how to repair Internet Explorer.
As of now, the best version is Internet Explorer 9. It is the best browser from Microsoft so far, both in speed and security.
References
Screenshot of IE8 Installation by Author
Based on Author's own experience
This post is part of the series: Which is the Best Browser from Microsoft?
Which is the best browser from Microsoft? Certainly, the latest version of Internet Explorer is the best browser. However people are divided on the question. This series deals with IE, helps you determine the best browser from MSFT, helps you reinstall Internet Explorer in Windows 7, and more.