The Reliability and Performance Monitor in Vista and Windows 7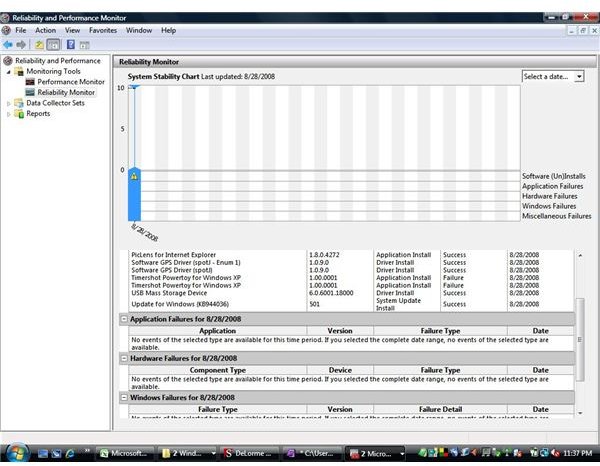 Windows Vista and Windows 7 Tools
Windows Vista and Windows 7 Reliability and Performance Monitor is a tool that aids computer health maintenance. With considerable advantages over its Windows 2000 and Windows XP predecessors, Vista and 7 comes preconfigured with enhanced graphs of CPU issues, Disk management, Networking and Processor/Memory.
In today's world of computing and the many different software packages that can be installed, the Reliability and Performance Monitor is an excellent resource and tool to use when troubleshooting your computer. It can also be used to monitor a computer that is sharing resources in a network. This tool is often overlooked by many computer users.
Areas that can be monitored
By selecting one of the four primary areas a detailed view of each item is readily available and itemized by each resource.
CPU offers an image of programs running, it's PID, description and number of threads read. Current CPU readings are updated instantly along with the average CPU usage. By clicking on the title bar of each area, you can sort the information ascending or descending. High CPU utilization can indicate the need for more memory or the prioritizing of running programs.
Physical hard disk monitoring offers the image, PID, individual file usage, the read/write (b/min), the input output priority and response time in milliseconds.
Memory resource gives a breakdown of usage for each program along with the PID, hard faults per minute, committed memory in kilobytes, working set, shareable memory and private memory. This breakdown allows for system administrators to best utilize memory and determine whether more memory is needed for the unique use of an individual system.
Network monitor shows the network traffic traveling in and out of your nic card. Windows Vista gives a better look at the services being used on your network. During my research, I watched the connections (broadcast) going from a network printer, a mapped network drive and to DNS servers.
These four resources give a great overall profile of your system. One of the key components to watch on your system is system memory. Research shows that most computers lack system memory. One of the biggest problems with end users using Vista is memory. Adequate CPU and hard drive space are important but system memory prevents hard drive thrashing. Thrashing is a term used to describe the virtual memory on a hard drive being accessed.
Reliability Monitor Uses
The Reliability Monitor keeps an eye on your PC by monitoring systems, software stalls or crashes. The system stability chart gives a visual outline of the systems overall rating. An exclamation point indicates an error logged by the system. In the picture below, you can see XP rated software that fails to run on Vista and has created an error. This monitor, found under the control panel also has a customizable performance monitor, data collector sets and reports that include system and user definitions.
All in all, the Reliability and Performance Monitor is an excellent tool to look at the overall health of your system. When troubleshooting a system, an administrator or a help desk technician needs to utilize this tool to properly analyze a system before taking action.
RPM
Performance Monitor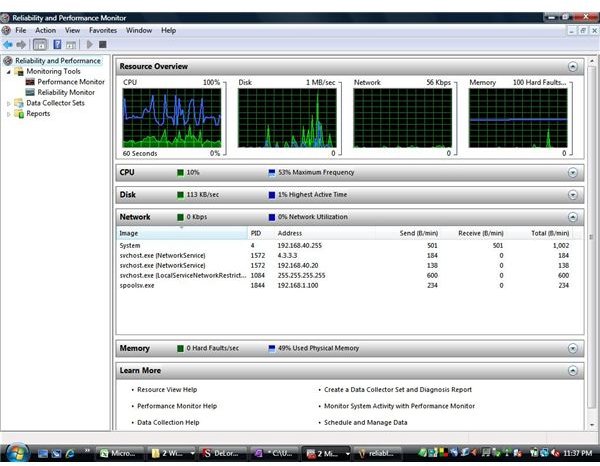 Related Reading
>» PC Pitstop Optimize 2.0: A Great All-In-One PC Tuneup Solution (Part I)
>» Setting Up Hands-free Incremental Backup in Vista
>» Explaining Windows memory requirements
>» Windows Vista: Should you upgrade your tablet?