Top 10 Microsoft Word 2007 Free Downloads and Add-Ins - Freeware for MS Office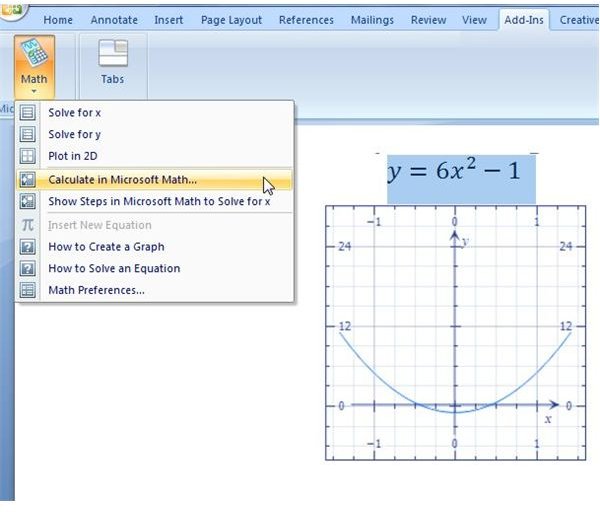 Microsoft Word Free Downloads and Add-Ins
There are quite a number of add-ins available for Word 2007, both from Microsoft and from third-party developers. However, many of these so-called free downloads aren't so free once you read the fine print – instead, they're trial versions or demos that will only function for a limited amount of time before you need to purchase a registration key.
On the other hand, there are some Word add-ins that really are true freeware that you can safely use without worrying about an expiration date. This list will cover ten of these utilities that offer excellent functionality and are well worth taking the time to download.
1. Microsoft Math
One of the most useful free add-ins for Word 2007 is Microsoft Math. This utility, available at the Microsoft Download Center, works with Word's equation editor to create graphs and solve equations.
Using the add-in is fairly straightforward. After entering a mathematical expression, you can select it and choose to plot it on a 2D or 3D graph, solve for one of the variables, or calculate the expression. The tool also includes a built-in help system that explains how to use all of its features.
2. Saavvii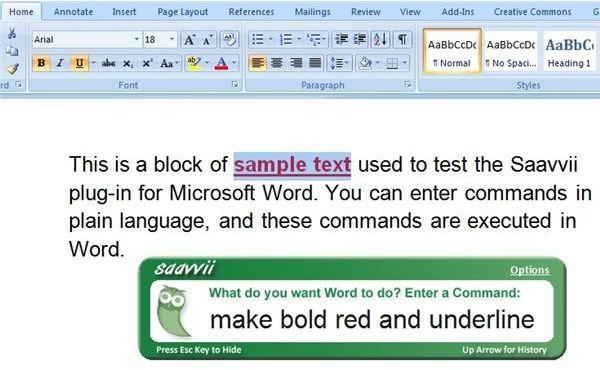 If you find yourself having trouble locating commands in Word 2007, you may want to download and try out Saavvii – a free plug-in that lets you type a Word formatting command and then instructs Word to execute it.
Using the application is easy. Simply highlight the text that you want to format in your Word document and then hit the shortcut key that you assigned to the plug-in during installation. From here, you just have to type what you want Word to do. As an example, you can type "make bold red and underline" into the command box. After hitting enter, the command will be executed and the selected text will be modified.
3. Save as PDF/XPS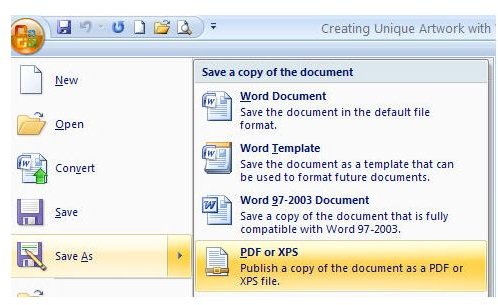 When Word 2007 was released, many were surprised that it did not have the built-in capability to save a Word document as a PDF or XPS file. Microsoft has corrected this oversight with the release of the Save as PDF/XPS add-in.
Once the add-in is installed, you will see PDF or XPS as a new Save As option when you click on the Office button in Word. After choosing this option, you will be able to specify further settings, depending on the type of document that you want to create.
4. Word Addin Tabs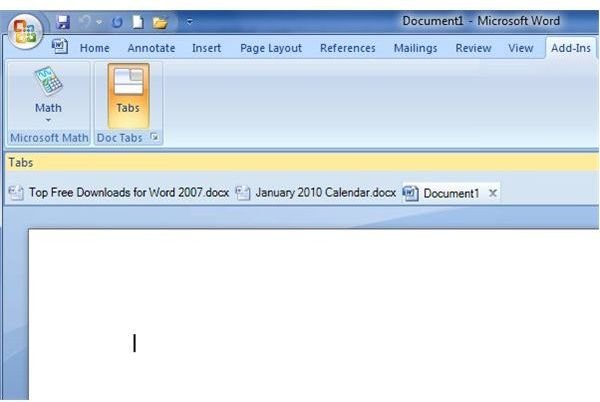 Another highly functional free add-in for Word 2007 is Word Addin Tabs. This tool lets you view multiple documents as tabs in a single interface rather than in completely separate instances of Word. If you regularly have multiple Word documents open at the same time, this is one add-in that you don't want to miss.
The tabbing feature can easily be toggled on and off without disabling the add-in. So, if there are times when you would prefer your documents to be open in separate windows instead of just in different tabs, you can turn off the feature with just a click of a button.
5. Creative Commons License Add-In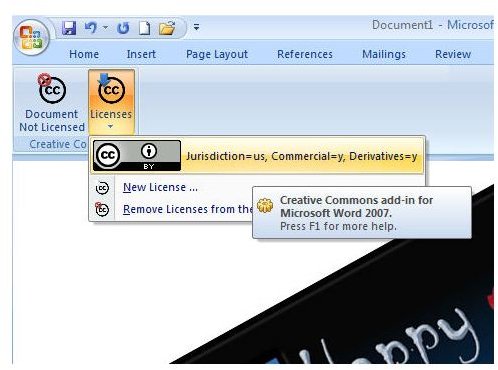 If you create documents that you distribute via email or publish online, you may want to include a Creative Commons License with those works. This add-in, released by Microsoft and available at the MS Download Center, lets you embed such a license directly into a Word 2007 document.
Along with Word, this tool also functions with Excel and PowerPoint. There is also a separate version of the add-in compatible with Office 2003 and Office XP.
6. Annotate for Word 2007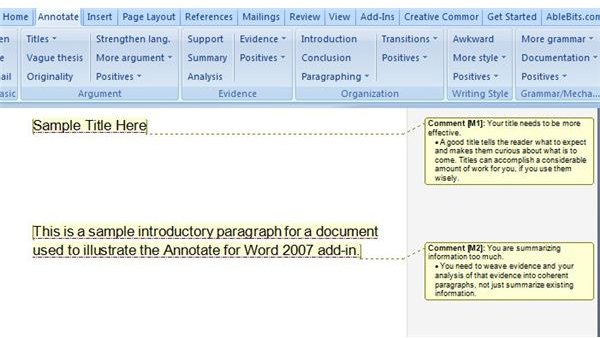 If you're a teacher, proof-reader, or just a user who regularly makes notes on Word documents, Annotate for Word 2007 is well worth checking out. With this utility, you can quickly and easily add comments and suggestions to documents.
This add-in has both a free version and a paid pro version. If you're a power user, you may want to invest in the pro version for its additional features, but the free version is true freeware and you can use it for as long as you like without worrying about it expiring.
7. Get Started Tab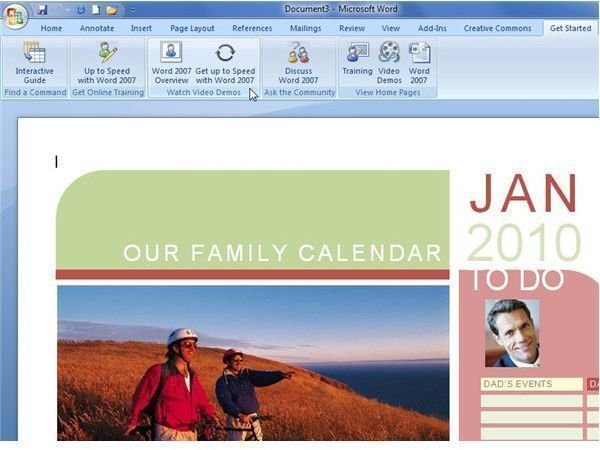 The Get Started Tab is an add-in released by Microsoft that helps new users get up to speed with the features and functions of Word 2007. It's also a great resource for users of older versions of Word who want to learn more about the new ribbon user interface found in the 2007 release of the product.
This add-in inserts a new tab (labeled Get Started) on the Word ribbon that contains links to a number of training modules, including video demos and an interactive guide that helps you find the location of a command in Word 2007.
Similar versions of this add-in are also available for other products in the Office Suite, including a Get Started Tab for PowerPoint 2007.
8. Apose.Words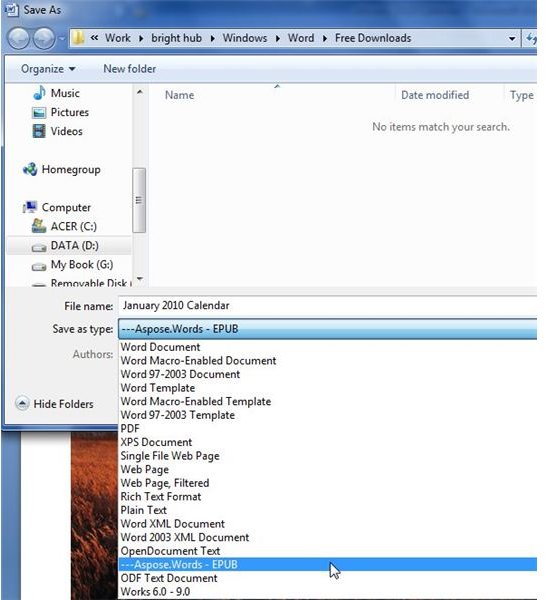 If you have an e-book reader that supports the EPUB format, the Apose.Words for Microsoft Word add-in is a must-have.This tool lets you convert Word 2007 documents to the EPUB format, so that they can be transferred and read on compatible e-readers.
Once the add-in is installed, the EPUB saving option becomes available from the Save as type drop down list, as shown in the figure to the right. (Click on any image for a larger view.) After the document has been saved in this format, you can distribute the new file as you wish.
9. Sun ODF Plugin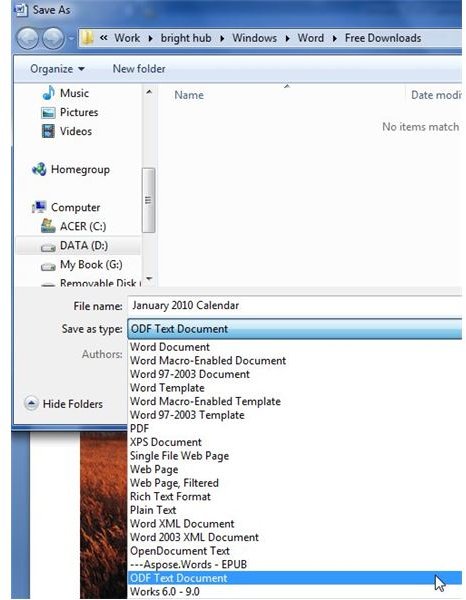 The Sun ODF Plugin for Microsoft Office is another free add-in that opens up new file compatibility options for Word 2007. This utility is a good bit bulkier than most of the other add-ins on this list, but if you regularly work with ODF documents (or work with others who do), the Sun ODF Plugin is practically indispensable.
In addition to Word 2007, the plugin also provides ODF support for Excel and PowerPoint. Not only does the tool allow you to view ODF files, but it also lets you edit and save these files through the Save as option in Word 2007.
10. Document Hyperlink Checker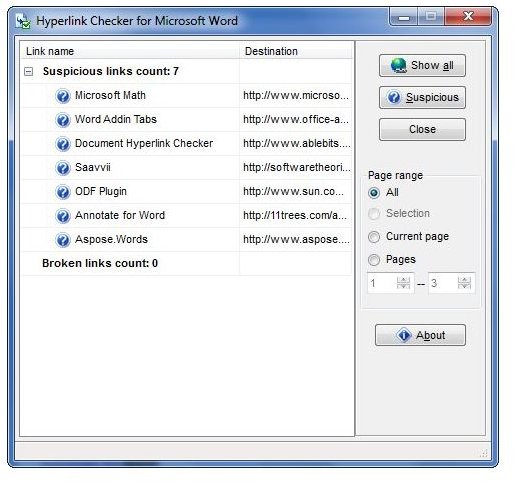 With AbleBits' Document Hyperlink Checker, you can quickly check all links in a Word 2007 document with just a click of the button. The add-in is also compatible with older versions of Word – namely Word 2003, XP, and 2000.
Once the utility is installed, a new tab (labeled AbleBits.com) will be created on the Word 2007 ribbon. From this tab, you can access the add-in with a single click and make sure that all links in your document are valid.