Guide to Reinstall Internet Explorer 7 in XP and Vista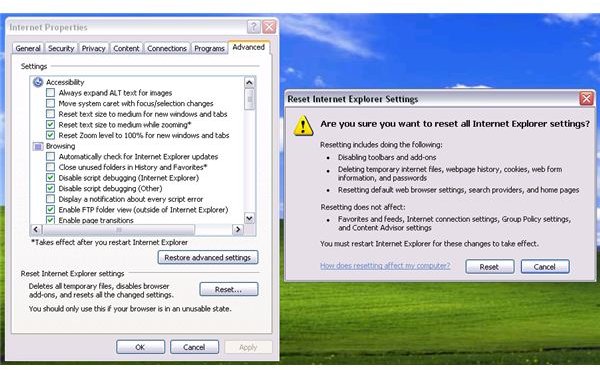 Overview
Internet Explorer 7 is the first browser by Microsoft with tabbed browsing and enhanced security options. It supports Windows XP with Service Pack 2 or later and Windows 2003 Server with SP1. IE7 is included in Windows Vista but not in Windows 7 for it has the newer version of the browser, IE8. If you ever have to this browser, you can follow the following methods below.
How to Reinstall Internet Explorer 7?
Before trying to reinstall Internet Explorer 7, it is recommended to determine if any add-on is causing the problem. You will only launch IE7 No Add Ons mode from Start Menu > All Programs > Accessories > System Tools > Internet Explorer (no add ons). You can also start No add ons mode by creating a shortcut that will point to "C:\Program Files\Internet Explorer\iexplore.exe" -extoff.
If there are no add-ons present or when the browser continues to show problems after removing them, try resetting or repairing the browser by using the built-in reset tool.
To reset Internet Explorer 7: Open the Internet Options to select the Advanced tab. You will find the reset function. Below are screenshots of the reset option and what to expect when you proceed to resetting: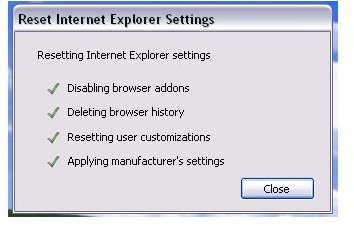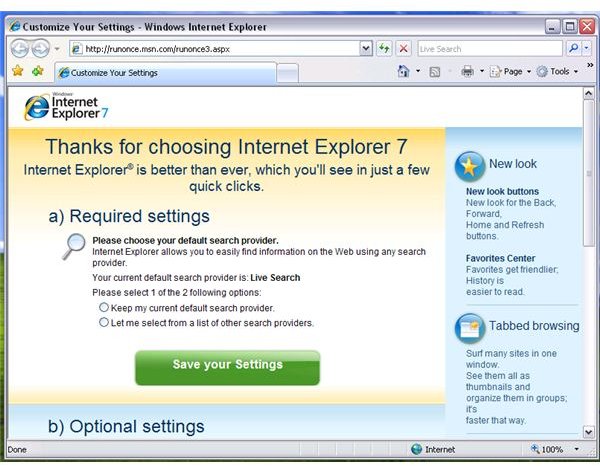 If resetting will not fix the issue, you could try fixing using the third-party utility, Fix IE Utility by Windows Vista Club. Windows Vista end-users should note that IE7 is part of the system files which means you should also try running SFC /SCANNOW using System File Checker Utility in Vista.
If any of the above methods will not help, you will need to reinstall by downloading the setup file from the Microsoft Download Center website or by installing the latest service pack for Windows XP. Proceed to reinstall IE7 by executing the IE7-WindowsXP-x86-enu.exe file. Please remember that you cannot begin reinstalling IE7, if you don't have XP SP2.
Another option to reinstall is to install Service Pack 3 for XP (that is if you are still using an earlier service pack for XP). Note that if you've installed Windows XP SP3 after installing IE7, you cannot remove IE7 until the service pack has been removed.
Remember to use the above steps to reinstall in XP, Vista or Server 2003 if you cannot surf the Internet using IE7, you experience slow performance or slow browsing, when seeing unexpected behavior of the browser, or if you are experiencing file corruption issues and if you've done a thorough scan using up-to-date anti-malware or anti-virus program.
You should also visit the Microsoft Update website to install the necessary and important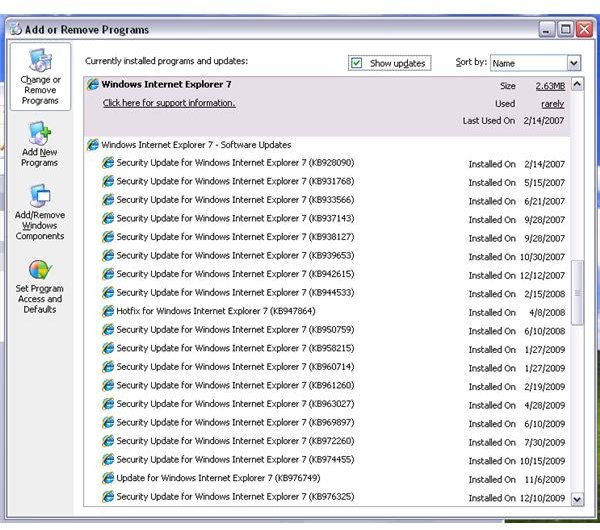 when you have finished reinstalling Internet Explorer 7.