Using the Tasks Applications in Microsoft Outlook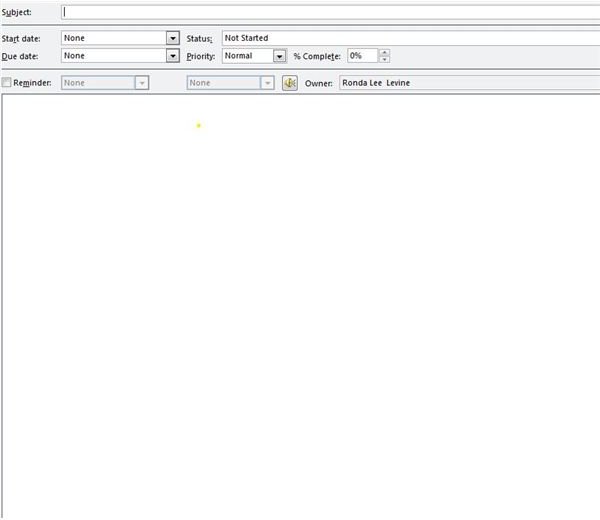 The Basics of Outlook's Tasks
The tasks folder isn't too hard to navigate. Click on it. To create a new task you can either hit Control +N in the Tasks folder or when your cursor is on the to-do bar or you can press control+shift+k to create a new task. When the new task opens, there are three taps - four if you run the program as an administrator. These tabs are:
Task
Insert
Format Text
Developer
Each task also has two pages. The first page allows you to enter in the name of the task, the start date and due date, the status of the task (Not Started, In Progress, Completed, Waiting on Someone Else, Deferred), priority of the task, percentage complete, and a reminder alarm and an area to outline the task. The second page allows you to track the time spent on a task, the date completed, mileage, billing information, and company.
Now that you've had an overview, it's time to find out how you can best use Outlook's tasks to help you manage your action items (and ultimately be more productive.)
Getting Ready to Take Care of Business - Figuring Out What Needs to be Done
The first thing you should do, before beginning to track your tasks in Outlook, is perform a complete brain dump. Write down everything that you feel you need to accomplish - from the minute to the grand. You can do this two ways - you can either create a new note in Outlook to catch all of your thoughts about what needs doing, or you can enter each in as a task - uncategorized. There are also two ways to do this: You can enter the tasks in on the "To Do Bar" underneath your calendar on the right hand side of the screen. Simply enter in each item and hit "enter. Alternatively, in the tasks folder, you can enter each item individually and hit enter. Wait until you've entered all tasks before moving on to the next step.
Once you've emptied your brain - at least for now - into Outlook, and assuming you also use Outlook to manage your email, go through your emails to see if there are any tasks there you need to complete. There are a number of ways to track email tasks, but here are the two most efficient:
Hand key in the task in the "to-do bar" if you don't need any additional information from the email.
Right click on the email, select "move to folder" and select your tasks folder.
Complete this for all mail and RSS feed items before moving on to the next step. It may take a while to complete these first steps, but once you do, it will be well-worth your time. Additionally, you should go through your voice mail and your paper inbox to clear up any other tasks you may have forgotten. Don't forget to include due dates for anything that has a deadline.
As a final word of advice before moving on, anything you find that will take under two minutes to complete, go ahead and complete these. It's amazing how many quick tasks there are that will whittle your tasks down..
Thanks Ronda, I have 100 Things To-Do - Now What?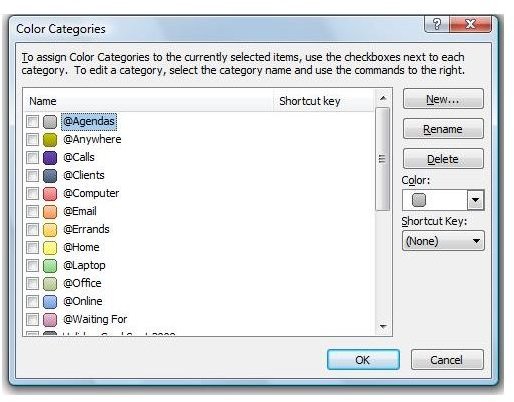 You are going to organize your tasks. Before beginning this project, think of categories of tasks. You will create categories in Outlook to help you manage tasks. To create a category in Outlook, you can either right click on an item and select "category" or on the main tool bar you can select "Actions" then "Categories" from the drop down menu. From here, you will select "All categories." Now, select a color and click "rename." Give the color a name that resonates with the types of categories you will need. Perhaps you will wish to categorize by client, project, or type of task.
As you can see in the picture to the left, my categories include:
@Anywhere
@Calls
@Clients - I use this category mark client meetings and tasks I need to work on with a client present
@Computer
@Email
@Errands
@ Home
@Laptop
@Online
@ Waiting for - tasks that require action for someone else. I'll assign this task when I've sent an email or letter or left a message or need some other form of follow up before preceding on a project (Tip: I also create an @waiting for for every invoice I'm waiting to receive payment on, so this way I can follow up as soon as I know payment is late.)
Why categorize your tasks this way? I used to categorize by project - but then I found if I grouped actions by the tools I would need to execute the tasks, I could be more productive. Why make a call, then work on a document, then email someone, then call someone, then send another email? Instead, categorizing tasks this way allows me to complete tasks in batches. I.e. I can assign a time when all calls will be made, all emails responded to, all errands run, etc.
Defer When You Can

While you categorize your tasks, you will find many tasks only you can complete - but you may also find several tasks that you can defer to someone else. When you can, defer. You can send a task completion request via email. Here's how:
Open the task by double clicking it on your list.
Assign the task to the "Waiting for" or "Deferred" category (I recommend you have one, it will help you keep track of when you need to follow up on things.)
Now, click in the ribbon tool bar item titled "Assign Task."
Make sure a start date and a due date have been assigned.
Fill in the details for completing this task.
Assign a priority
Determine whether you want to keep a copy of this task and whether you want a status report when the task has been completed
Enter the email address of the new task owner and send.
This can help you hack down many of those 100 things you have to do.
Beware of Projects Masked as Tasks
Sometimes you will find groups of tasks that are all related to obtaining one result. Other times, you will find that your tasks require many steps to be completed. In both cases, you can use project tasks to track these. You can assign a separate category (or two) to these - work projects and personal projects. Give each project a title, and break the projects down into their component tasks. Tip: To keep yourself from becoming overwhelmed only the very next actionable item should be assigned as a task.
Recurring Tasks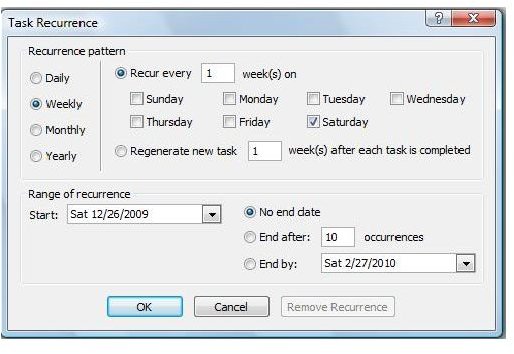 Now that your task list is starting to look more manageable, you may find that you have many tasks that will need to recur on a daily, weekly, or monthly basis. This is easy to manage in Outlook. Open the task in your list (or create a new task) and take the following steps:
Click on the recurrence button in the task ribbon
Determine how often you'd like the task to recur (daily, weekly, monthly, yearly) and enter a number in the box.
Alternatively, you can select when the task should regenerate
Select the day (s) the task should occur on
Enter a range for recurrence of the task
Attach Documents and Outlook Items to Tasks

You may find that you are better organized if you keep your journal entries, Word, Excel, OneNote, and Access documents all linked to your Microsoft Outlook tasks - and this is easy to do. If you want to have all of your work items pertaining to a task in one place, click on the "Insert" tab. Select "Attach Item" or "Attach File," then select the file or item to be attached. A small icon with a hyperlink to the item will then appear in your task body.
You can also insert tables, pictures, and more into your task files. Tables are useful for those project-tasks I mentioned. If you create a table, you can keep track of the action items and due dates for all tasks involved.
Schedule Tasks for Success
Now your task list is looking like it's close to complete. Be sure that you schedule tasks for completion. Even if the task doesn't have an imposed deadline, if you want it to be completed, you will need to assign the task. Also, select a reminder for the task - for important deadlines, it might be good to set this reminder ahead of when you will need to have the task completed.
Custom Task Forms
Before you go and complete those pressing tasks you have neatly organized using Outlook, you should be aware of at least one other great feature of Microsoft Outlook - the ability to create your own forms. This allows you to create task forms that meet your needs. To do this, click on "Developer" and "Design this form." You can then add other fields like "Project" or "Contact Person" to the form. There are many fields available to choose from, or you can click "New" to design your own to meet your needs. Save the form - you can even have it appear on your menu of forms.
This post is part of the series: Microsoft Outlook Study Guides
This series covers the different features Microsoft Outlook offers users. Find out tips on using your email effectively, how to manage tasks and small projects, and how to keep on top of your contacts in Outlook 2007.