SharePoint 2010 – What's New?

Overview
Microsoft's popular collaboration platform SharePoint will be getting a major facelift in 2010. SharePoint 2010 will be Microsoft's fourth revision meaning a lot of the earlier bugs and user interface issues should be ironed out. This article will explore some of the major new features to be introduced or expanded upon in SharePoint 2010.
User Interface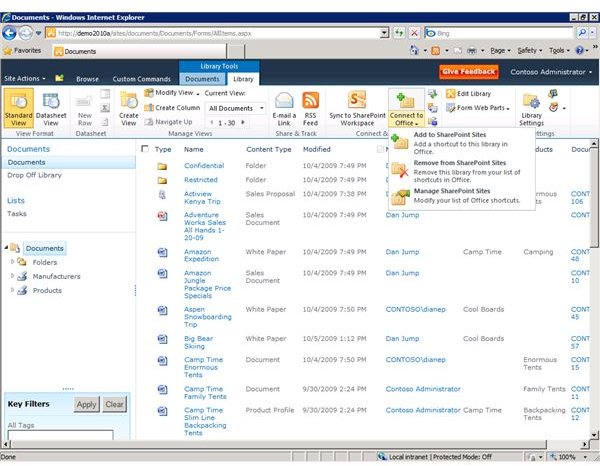 One of the biggest user interface changes is that Microsoft has implemented the Office Ribbon User Interface. This should make it easier for end users to find their way around as the tool layout will mirror the look and feel of other Office applications. Major improvements to the UI will allow for things such as the ability to check out multiple documents without going through a page refresh and the ability to easily upload photos without need to upload to a separate library first. These two examples may seem simplistic, but these are just a few items that will make SharePoint more accessible and user friendly.
Microsoft also spent a lot of time helping out those that create and customize sites by allowing you to do a lot of things previously only possible to do in SharePoint designer, now possible to do within the site itself. Examples of this are changing the title page font, and editing text on the site in a WYSIWYG interface with live preview.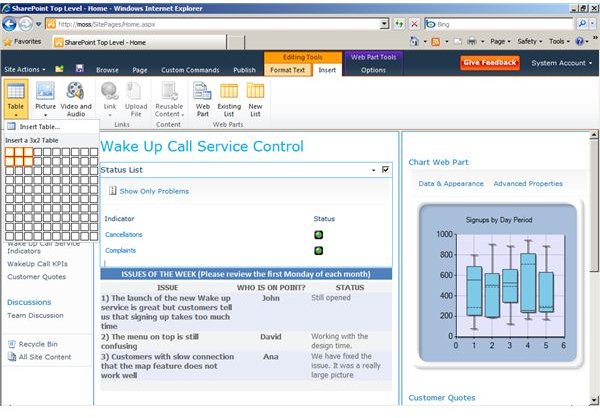 For those who like customizing their sites, SharePoint 2010's Rich Themes will be welcome. Themes in 2007 were limited to a handful of pre built themes or if you wanted something fancier, you needed to create a custom theme. 2010 allows you to import PowerPoint themes or to build your own, customizing the colors for everything from links to the fonts and background colors used.
Architecture
Although the basic architecture will remain the same, making the move from 2007 to SharePoitn 2010 simpler than the move from 2003 to 2007, Microsoft is requiring SharePoint be installed on a 64-bit OS and 64-bit SQL (either 2005 or 2008). It was tough to accept Microsoft's requirement of a 64-bit OS when migrating from Exchange 2003 to 2007, but now you need a new OS and SQL. This will likely be a big show stopper and slow adoption of an otherwise worthy successor to the SharePoint name. Here's hoping that performance will see a noticeable increase.
One positive note is that SharePoint will now be web standards based so full compatibility with FireFox and Apple's Safari is expected.
The previous Business Catalog allowed administrators to set up read-only views of data stored in other databases. SharePoint 2010 improves on this (now called Business Connectivity Services) by allowing for both read and write operations.
Pricing and Editions
SharePoint will be sold in similar configurations to earlier versions, but Microsoft has recognized the usefulness of utilizing SharePoint in an Internet\Extranet environment. In addition to the normal Enterprise and Standard versions for intranets (and corresponding Client Access Licenses), Microsoft is releasing both Standard and Enterprise editions of "SharePoint 2010 for Internet Sites". Pricing and final release details haven't been released at this point, but speculation points towards a 1st half of 2010 release.
This post is part of the series: Microsoft Office 2010 - Products, Features and Editions
This series will take a look at the upcoming Microsoft Office 2010 suite of products, including the basics of Word, Excel, PowerPoint, Access, Outlook and two of the upcoming server editions of Exchange and SharePoint. I'll also discuss the new editions and the biggest features coming to Office.