Using Journal and Notes in Outlook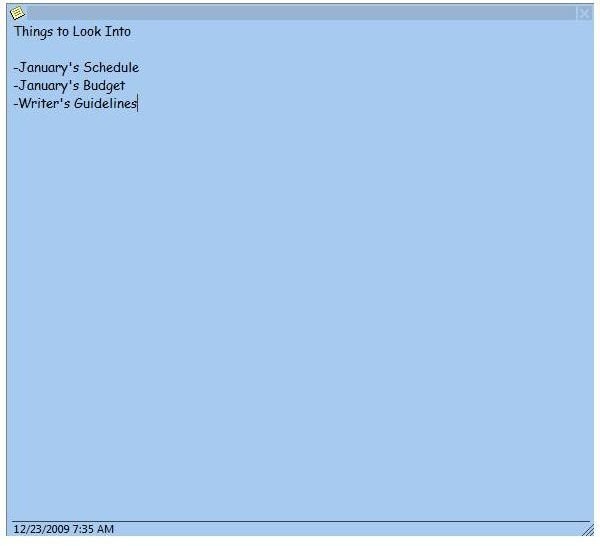 Journal and Notes - I See Them, But What Do I Do with Them?
Perhaps you've been using Microsoft Outlook for years to manage your email. Maybe you've even used the program to manage your tasks, appointments, and contacts. But Outlook's journal and notes have gone unused. What do you do with these two applications within the Outlook program? Here are some ideas.
Using Outlook's Notes to Stay Organized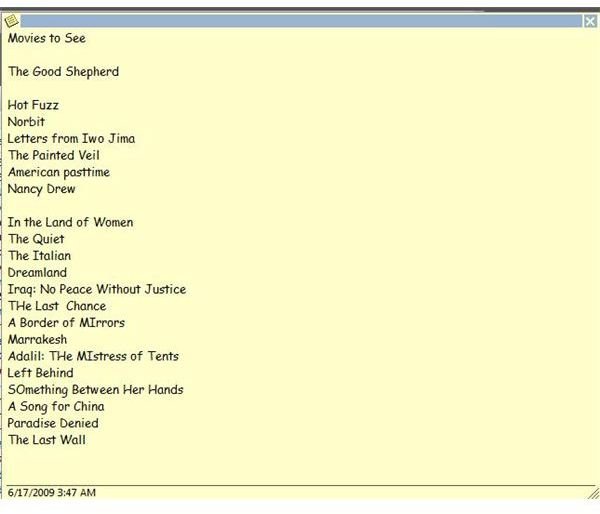 Outlook notes can help you to get organized. You can use them for a variety of activities. Many people use them much like you would use sticky notes - to organize all the thoughts floating around in your head. To create a new note press control+shift+n. This will open an empty note. The first line of the note will always be the note's title. You can then categorize the note (i.e. if the note goes with a specific contact or a specific project). Then, write away. Here are some ideas on what to use your notes for:
Books to read
Movies to see
Your "Bucket" list - those things you want to do before the end
Someday type projects
Vacation Ideas
Inspirational phrases
Favorite quotes
Ideas for products, papers, articles, stories, etc.
Grocery lists
Gift list
Aside from categorizing your notes, you may wish to create a separate folder for each type of note. You can also customize your notes to be different colors for different types of notes. To do this, click on the notepad in the upper left hand corner of the opened note. You can then make selections from there. Alternatively, you can change your default settings to permanently change the color of all notes. You can also forward notes to others. Click on the notepad, select "forward." This will then attach the note to an email - a great option if you are using your notes to keep track of things you want as gifts.
Using Outlook's Journal to Track Time on Projects
Outlook's Journal is another oft-overlooked feature that can help with your productivity. Outlook's journal feature can be used to track time spent on phone calls, meetings, emails, tasks, and more. This program can help keep you on track when you need help focusing to get jobs done. You can also set journal to automatically document everything you do in Microsoft Office. This can be helpful if you spend a lot of billable time on computer tasks.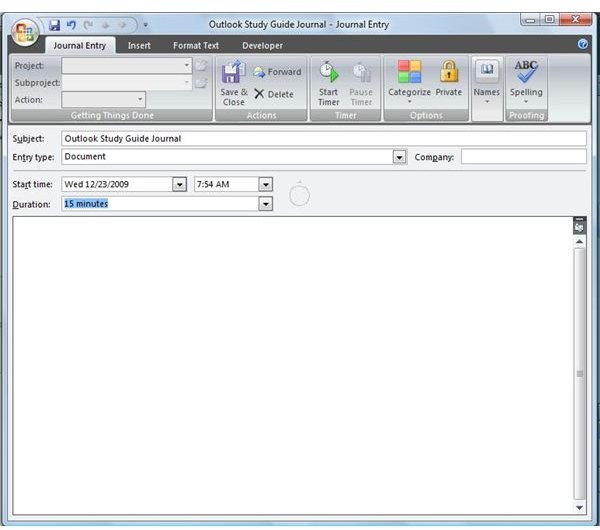 Open a new journal, and give the journal a title. For example, to the left, you will see that I titled the journal "Outlook Study Guide Journal." Then, you can select what type of activity you will be performing. Here, I selected "Document." If you have different companies or clients you work for (or a project name) enter it in where it says "Company." I often use the journal function during business phone calls - this way I can take notes in Outlook where I keep the contact's information, and if needed I can copy and paste into a word or OneNote page.
You can also forward journal entries - meaning that if you need to document time spent on a project for a client, you can forward your journal entries and notes.
Finally, you can attach items to Journal in order to track them. If you were working on a document in Word, simply attach the document to the journal. This way, you keep track of documents while using Journal.
This post is part of the series: Microsoft Outlook Study Guides
This series covers the different features Microsoft Outlook offers users. Find out tips on using your email effectively, how to manage tasks and small projects, and how to keep on top of your contacts in Outlook 2007.