Digital Notepads and OneNote: Are They Compatible?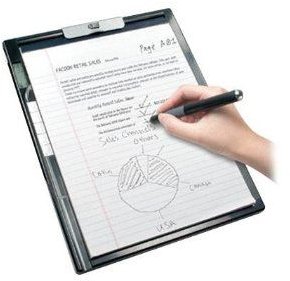 What is a Digital Notepad?
In case you haven't seen these super cool office tools, you've been missing out. Digital notepads combine what you love about taking notes on standard paper with the computing super-world. Whatever you write or draw on the digital notepad can be transferred to your computer. It's like having a tablet PC - except the digital notepad is way more portable and way less expensive. There are a variety of digital notepads available:
There are many other brands of digital notepads available. What's important is that you find a notepad that works well for you and your budget. If you want to use your digital notepad with OneNote, you will also want to make sure that it's compatible.
Using Your Digital Notepad with Microsoft's OneNote
So you've taken your notes and you've sent them to your computer. Now, organize your notes using Microsoft OneNote. OneNote allows you to sort, categorize, comment on, share, and search your notes (yes, even the handwritten ones). OneNote also allows you to make tasks from items and send those tasks to Microsoft Outlook. This is sounding pretty good right about now huh?
Well, there's one caveat - in order to import your digital notes you have two options. You can "print" your digital notes to OneNote from the digital notepad's program or you can import to OneNote. There's one more thing to keep in mind when using a digital notepad with OneNote: In order for your computer to have any clue as to what to do with your handwriting when you search it, you will need to optimize it to read handwriting. There are a few ways to do that. You can either make sure you have Windows XP Tablet PC version (if you have XP on your machine) or you can adjust your Tablet PC features in Vista Home Premium or above. If neither of these options is preferable to you, then you can always download a plug-in application. Be careful to do background research before downloading any programs from the internet - it would be a tragedy to obtain a virus while trying to make your digital handwriting searchable.