What is Windows 7? A Look at Microsoft's Latest Operating System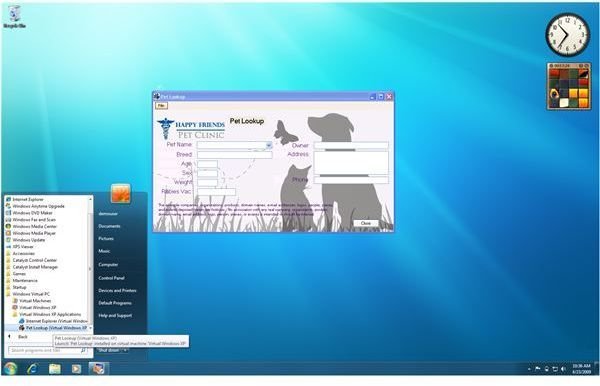 Overview
Everyone is familiar with Windows Vista in some form or another. Whether or not everyone has had the chance to use the operating system, there have been many frustrating experiences reported from users. Hardware wasn't working under it, XP programs weren't running under it, system resources (CPU and RAM) from new computers that came with Vista even had difficulties running it. Most users who purchased a new computer even downgraded back to XP because of all the problems regarding Windows Vista. Overall, even though Microsoft has patched Vista with different Service Packs over the past couple of years, it wasn't enough to change the general impression it had left with this operating system.
What's new?
What makes Windows 7 so different? Some users may be cringing considering that Windows 7 is based on the Vista code, so the look and feel is similar. But one of the biggest improvements that Microsoft is telling users is that Windows 7 is faster and leaner. It boots and shuts down much faster. A lot of issues that users have been having with Vista performance-wise won't have the same problems with 7. There is even some extended driver support. Because 7 has a similar setting as Vista, most Vista drivers will be compatible with 7 out of the box. But users need to remember that it is up to the manufacturer to provide compatible drivers with a specific operating system, and not the responsibility of Microsoft itself. In addition, Windows 7 went through an extended Beta and Release Candidate period. Everyday-users and even technology enthusiasts were able to download a version of Windows 7 in its testing stages to help work out the bugs. Even in its Release Candidate form (essentially out of its Beta period, but not quite polished enough to be a final release) turned in a positive response from users just trying out the operating system.
Windows 7 comes with a series of tweaks and performance enhancements. For one, the taskbar has been dramatically altered into what they call the "Superbar." Essentially, it is a like a mix between the taskbar and the Quick Launch bar. There is the "Snap" feature which allows you to look at two Windows side by side by just dragging the windows to either side of the screen (left or right). There are many other features, but these are some of the key ones. Additionally, if you use a laptop, there are even some performance improvements that help extend your battery's charge.
Upgrading
For upgrading current Windows versions, what options are there? Fortunately, for Vista users, an upgrade is simple, as all of your files and programs will be retained. However, it will run a compatibility scanner and let you know which programs may not run well after upgrading. It's a little bit harder for XP users, since the only way to upgrade to Windows 7 is through a clean installation. You will have to save your files on a separate storage unit like an external hard drive, or USB stick. However, using Windows Easy Transfer, it will provide you a list with the programs you had while running XP, so you know what you will have to re-install. If you upgrade to Professional or Ultimate versions of Windows 7, you can run what's called "Windows XP Mode." It is essentially a Virtual PC that you can use to run older programs designed for XP that may have difficulties running on Windows 7.
Overall
To summarize, Windows 7 is a much faster, leaner, and much more functional "version" of Windows Vista. It has undergone considerable testing, has stronger driver support, and provides an overall better Windows experience, particularly for frustrated Vista users. It even gives XP users a reason to upgrade, because remember that XP support is ending in 2014. It is definitely worth a look for Vista users, and something XP users should start thinking about as well, particularly if you are looking to purchase a new PC in the next little while.