Using Outlook's Email Applications Efficiently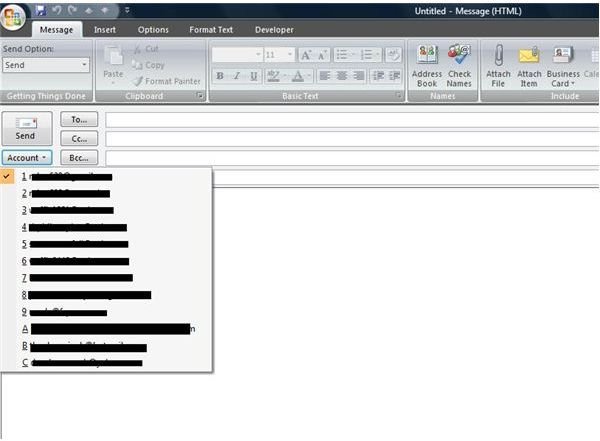 Outlook 2007 Email Features
Once you have set up Microsoft Outlook 2007 and familiarized yourself with how to get started using Outlook 2007, you are probably ready for some more advanced email techniques. Here are some basic tips to get you started using Outlook 2007 like a pro:
Understand the different types of protocols Outlook uses. STMP/POP3 is one of the most common protocols. STMP stands for Simple Mail Transport Protocol and is standards based to transport messages through Outlook. POP3 stands for Post Office Protocol, and is what Outlook uses to download your email from web-based mail. IMAP, another popular email type stands for Internet Message Access Protocol. Whereas STMP/POP3 downloads your email, IMAP allows you to access your email as a remote user (meaning you do not actually download the messages and you can access them from other computers if necessary.) TIP: If you use POP3, configure Outlook to leave messages on the server. This way if you need access to an email on a different computer, it's available.
Understand the security features on Outlook 2007. One of the most important features, you may not be aware of, is something called protection against web beacons. You may have seen emails you have received in Outlook containing red "x"s. This is what's known as a web beacon - a special html code sent to verify your email address, used by Spammers to ensure someone is on the receiving end of the email. Outlook also automatically filters your junk email. TIP: Scan your junk box before emptying it. While most of the mail in there is, indeed, junk, every once in a while an important email will get filtered in there that looks like junk. Solve this problem by right-clicking on the email and selecting "Junk Email." You can then select the appropriate option. Likewise, if your filter misses something in your inbox, you can flag it as junk email the same way by choosing to block sender.
Encrypt email messages with sensitive data. Technically, this is a security feature, but it deserves its own bullet point. By encrypting your email and requiring the recipient to have a key to unlock the encryption, you can keep secure data secure.Tip: Any time you send financial data or private data, encrypt it for security (if you must send sensitive data). Even better, find an alternative means of communicating this data.
Managing Multiple Email Accounts
You may have a work email and a personal email. Some people use additional emails when they run their own businesses - for example an "info" email, a work email, and a newsletter email. Sometimes you use a particular email for subscribing for emails. No matter how many different email addresses you have, you can manage them all in Outlook. When you setup your accounts, simply follow the directions for each type of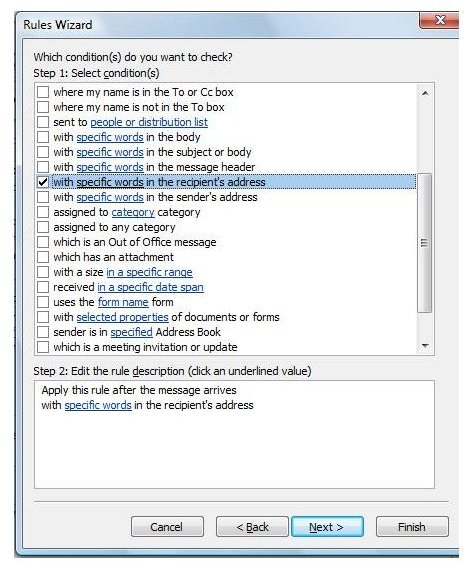 email account to set it up. Tip: Specify your default account or Outlook may do it for you. Make sure the email address set to default is the one most commonly worked with. To send an email with a different account, click "Account" in the upper left hand corner of the email box as pictured to the left, and select the account you would like to send your email from.
Also, if you would like your emails to be sorted by email account, you can set up a rule for this. Select "Rules and Alerts" in the Tools drop-down menu. On the rules and alerts menu, select "Create New Rule." From here select "Blank Rule" and then select "with specific words in the recipient's address." From here, specify whether you would like the email to appear in a folder you specify, to be flagged, to sound an alarm etc. Tip: Create folders for each client and presort your client email to be super-organized.
Continue finding tips for Email in Outlook on Page 2!
CC vs. BCC How to Send Copies of an Email to Multiple Recipients
Carbon Copies (CC) and Blind Carbon Copies (BCC) are not the same. Carbon copies send copies to multiple email recipients and allow the recipients to see who has received the email. You would use a BCC when you want to send a copy of an email to someone and not show the other recipients. Tip: To send an email to multiple recipients in a way so all recipients are kept confidential type all email addresses in the BCC field.
Indicating Sensitivity and Priority of Your Emails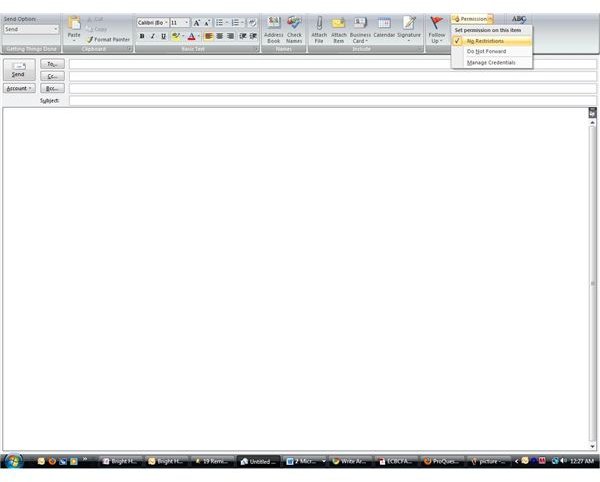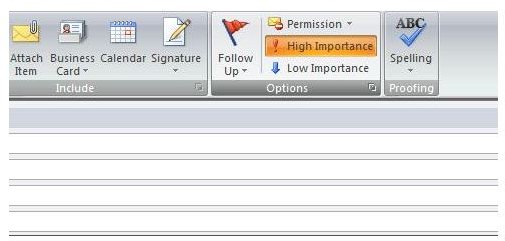 Sometimes you will want to send emails with highly sensitive information and sometimes you will want to send emails that need to be dealt with ASAP. Outlook 2007 features tools to help you deal with this. In your email, you can select "Permission" to determine how sensitive information is, and select "Do Not Forward" in order to keep sensitive info from falling into the wrong hands.
Underneath "Permission," you can select the priority of your email - either "High Importance" or "Low Importance." You can also select "Follow Up" or flag for recipients if it is a vital issue that you need a response on immediately. Tip: you can set a reminder time to follow up on the email, so an alarm will sound making you aware that it's time to follow up on that high importance email you sent yesterday.
Controlling When Your Messages Are Sent and Other Options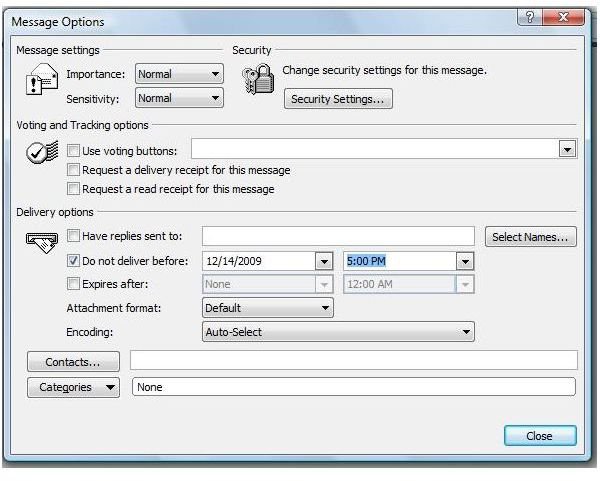 Sometimes you don't want others to know when you wrote an email - for example, you may not wish for others to realize you wrote a business email at 11pm. Or, you want to send an email when it won't distract employees from their work. In these cases, it is best for you to set a time for your email messages to be sent. To set this up, click on "Options" in your email, then click on "Delay Delivery." When this opens, you will see a group of options for your email. You can use voting buttons in Outlook, request delivery receipts, read receipts and more. But the most important things you can do on this screen are control the delivery time and declare what email address responses to your email are sent to.
To control the delivery time for your email, check the box "Do not deliver before…" and select the date and time for the delivery. Then, when it is that date and that time, Outlook will send the email. Tip: Create birthday and anniversary emails for contacts and use "Do not deliver before" option at the beginning of each month to ensure that you never forget to well-wish contacts again.
If you use multiple email addresses, or if you work for someone else, you may wish to have the replies to an email directed to another email address. If this is the case, on this options screen, check the box "Have Replies Sent To:" and fill in the email address for replies.
Find more Outlook emailing tips on page 3 of this article.
Avoiding Replied-To and Forwarded Email Mayhem
When you reply to or forward emails, often you will have copies of both the original and the replied to email in your Outlook. You can manage options for both of these emailing activities in Outlook. By default, Outlook will include a copy of the initial message in your response. If you do not want Outlook to do this, specify it by clicking on "Tools" and then "Options" from the drop down menu. On the menu that appears, click on "Email Options," and select the option that works best for you. Tip: While in the email options menu, click on "Advanced Options" and de-select the notifications Outlook produces when you receive email for a more productive work session. Then, schedule time in your calendar each day to process email.
Organizing Your Email Messages With Folders and Categories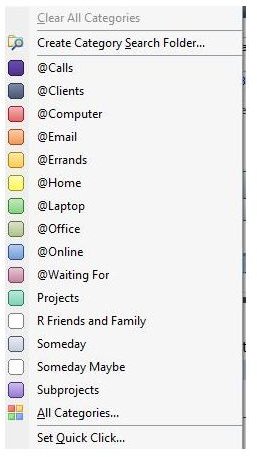 One great way to organize email messages in Outlook is to use multiple folders. Determine how you wish to organize your email (by client, project, home vs. office, etc.). Make a list of these categories. Perhaps you want to cross-categorize using client folders and project categories (or action categories). Now, you will create your folders. To create a new folder, click "new" and select folder from the drop-down menu. Give the folder a descriptive name. Now, create a rule that will tell Outlook what email messages you want to go into that folder. Next, create custom categories in Outlook. Click on "Actions" and select "Categories." From here, click on "All categories." In this screen, you can then select a color and associate a category with it. You can use multiple categories for the same color. Tip: Go to "Tools" and select "organize" from the drop down menu. This will open a tool that allows you to color-code email and move email from one file to another to help organize everything.
RSS Feeds
Finally, RSS Feeds (Really Simple Syndication Feeds) allow you to download headlines from newspapers and blogs to read later. Some project management software includes the ability to track updates using RSS feeds. Whatever your reason is for using an RSS feed in Outlook, you can keep all of those things you wish to keep track of in one place. Some RSS feeds you can add by clicking on the websites RSS feed button, others, you will need to copy the RSS feed address and paste it into the right place. To do this, go to "Tools" and then "Accounts." Under accounts, click on the "RSS" tab. Click "Create New Feed" and paste the feed address into the window. Outlook will then configure to that and you will begin receiving RSS messages. Tip: Rather than automatically download any content for all RSS feeds (which can quickly eat your memory), only download content for the RSS messages you wish to read.
This post is part of the series: Microsoft Outlook Study Guides
This series covers the different features Microsoft Outlook offers users. Find out tips on using your email effectively, how to manage tasks and small projects, and how to keep on top of your contacts in Outlook 2007.