Troubleshooting Browser High CPU Utilization in Firefox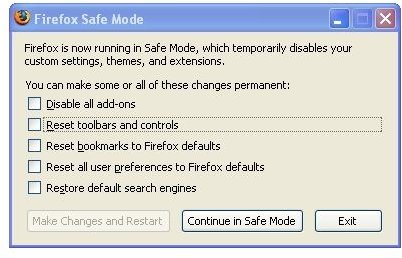 Overview
Generally, these issues can be caused by one of a few things – troublesome extensions or themes, a corrupt user profile or 3rd party conflict. I'll walk you through troubleshooting each type of issue – hopefully one of the proposed resolutions will help you out!
Troubleshooting Extensions and Themes
The most likely cause of the high CPU usage will be a problematic extension or theme. Luckily it's pretty easy to troubleshoot this. You'll want to start Firefox up in Safe mode. If you can't reproduce the issue of high CPU, you've likely found your culprit.
To start Firefox in safe mode, go to Start, Run and type the path to the Firefox.exe along with "-safe-mode". If you installed Firefox in the default location, you'd run : "C:\Program Files\Mozilla Firefox\firefox.exe" -safe-mode.
When Firefox starts, you will want to press the "Continue in safe mode" button (Figure 1). Once you determine what the issue is, you can make a permanent change using the checkboxes on the Safe Mode startup screen.
If the issue persists, you'll want to continue on with the rest of this article. If the issue is resolved, you'll want to start by disabling all add-ons and use a default theme.
Corrupt Profiles
The next likely cause of high CPU usage is that of a corrupt user profile. You'll want to create a new profile to determine if it resolves the issue.
Make sure Firefox is closed. Go to Start, Run and enter "firefox.exe –ProfileManager" to start the Profile Manager.
Click Create Profile
In the Profile Wizard, click Next
Enter a name for the new profile (Figure 2) and click Finish
Back at the Profile Manager, select the new profile and click Start Firefox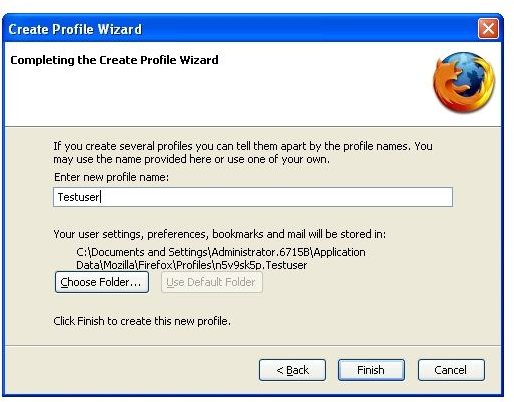 Try to reproduce the problem. If the issue is no longer occurring, you can transfer bookmarks and other profile information from your old profile by following directions from Mozilla's Firefox site - here. If the problem isn't resolved, keep reading.
Other Ideas
If the above ideas fail to resolve your problem, there are still a few things you can do to try to resolve the issue.
Update Firefox – This may seem obvious, but if you're running an older version of Firefox, it's probably best you update – not only to get any performance benefits, but to plug any known security holes. You can always find the latest version of Firefox on the Firefox web site.
If you notice the problem occurs when you are running a flash video, you may try updating the Adobe Flash player for Firefox. You can find this here.
Another possible issue is interference with another program running – one possible culprit is your anti-virus application. You may try disabling the real-time scanning to see if the issue still occurs. If disabling the scanner fixes the issue, check for an update with your antivirus vendor.
The last step would be to completely remove and reinstall Firefox. Be sure to start with a new profile as outlined above.
Hopefully one of these tips will help you out!