Set Up Microsoft Outlook in Windows XP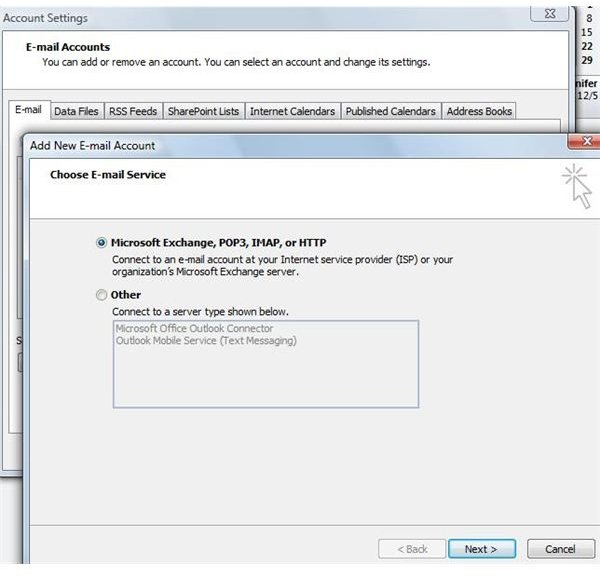 Installing MS Outlook in Windows XP
There are three possibilities if you are installing MS Outlook on a PC running Windows XP. First, you may be installing the program by the traditional means - through an optical drive. Second, you may be installing the program on a netbook or other computer lacking a optical drive from a networked computer.
Installing Through Traditional Means
Insert the CD-Rom into your optical drive. It will automatically take you to the setup screen.
Enter your Product Key when prompted.
Follow the on-screen directions to install the program.
Installing Without an Optical Drive
1. There are two methods to installing MS Outlook on an XP computer that lacks an optical drive. You can either download the trial version from the Microsoft Office Website and then enter the product key for the version you already own, or you can install the program from another optical drive on your network.
2. Go into the computer with the optical drive. You are going to put the optical drive on your network. If your other computer is Vista, simply drag the optical drive into the networking folder. If your other computer runs Windows XP, go to "My Network Places," in one folder, open another folder, then copy the optical drive into the network places folder to share the drive.
3. Once the drive has been shared on the network, insert the Outlook disk into the optical drive. Go to the computer you are installing to, open "My Network Places." You will then see the computer, and the optical drive available. Click on the optical drive. You will now have the option to install the program through setup.exe. Follow the instructions to complete the setup.
No matter which method you used to install MS Outlook, you should now restart your computer.
Setting Up Your Mail Folders in Windows XP
Once installed, you can set up your mail folders and accounts in Outlook 2007. Some accounts will allow you to add them without configuration - but others will require special configurations. Please note that unless you are using Yahoo's Mail Plus, you will not be able to use MS Outlook with Yahoo. Gmail is one of the accounts you will have to configure for while using MS Outlook 2007.
After having setup your email, you can set up your mail folders and create rules to organize your emails. This is where you can get as specific or general as you like. Perhaps you only need to set up the folders "Business," "Family," and "Friends." If you are a freelancer, or you work with multiple clients, you may setup a folder for each client.
Setting up Other Things in Outlook
Other things you might want to set up in Microsoft Outlook 2007 are your categories, your tasks, your contacts, and your appointments. Start with creating categories that are meaningful to you. This way, you can organize all of your tasks, appointments and emails. You may want to look at the list of tips for using Microsoft Outlook 2007 for more ideas.