What is Microsoft Security Essentials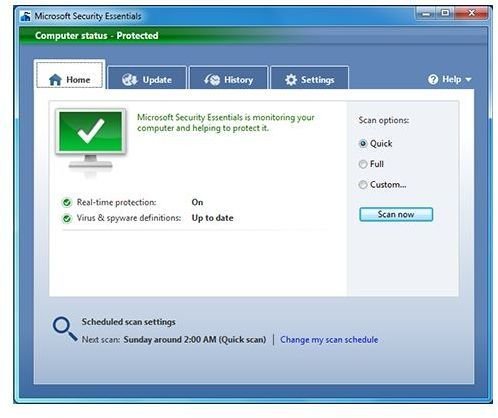 Overview and Features
Released in September of 2009, Microsoft Security Essentials is a product that combines the malware protection of Windows Defender with the virus protection of the commercial product Windows Live OneCare – all for free.
Security Essentials is just that – basic protection for your computer that is deemed essential by today's standards. Security Essentials includes the following features:
Automatic Updates – definition updates are automatically downloaded and updated on a regular basis.
Schedule Scans
Real-Time protection – Security Essentials performs scans in real-time looking for malicious files as you access files on your computer.
Whitelist – allows you to specify programs as known "clean" or not malicious that Security Essentials initially reports as malicious.
SpyNet – collects information regarding the actions of members – noting which potential threats are getting through, which are typically marked "clean" or malicious, this only improves the protection of computers using Security Essentials.
Security Essentials?
So why would Microsoft release such a tool for free? At this point, Antivirus solutions are a commodity – there are several dozen antivirus application vendors out there and not much to differentiate between the basic need to scan, update, detect and remove malicious software. For this reason, antivirus vendors have started to add on extra complementary features.
Microsoft's stance is that quality antivirus software should be available free of charge to all computer users. I don't think it's a completely altruistic deed – I have a feeling Microsoft's Live OneCare got lost in the shuffle of all the competing products out there. If you think about it, it's in Microsoft's best interest to keep computers protected from viruses and other malicious software – since LiveOnecare didn't take off and Defender only did half of the protection, Microsoft thought it best to combine the products and release it for free.
Security Essentials covers the essentials, and it is definitely a step up from the basic Windows Defender, but again, you aren't going to find all the bells and whistles needed for advanced computer protection (firewall, web filtering, etc.), nor are you going to find business related features such as centralized administration, deployment and management. It's called Microsoft Security Essentials for a reason.