Top Text to Speech Software Programs: Making Computers Talk to Help Make Reading Easier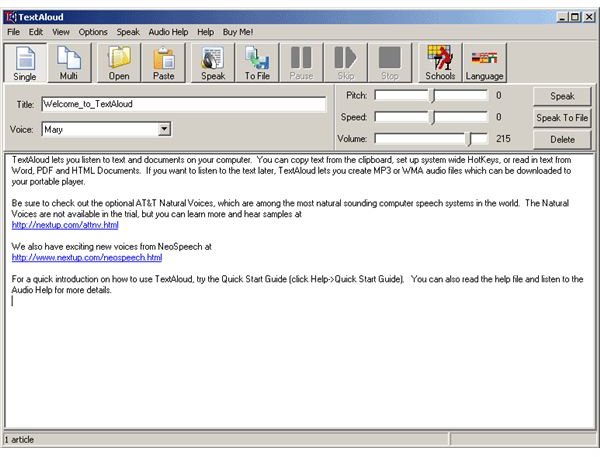 Text Aloud
Text Aloud is a text to speech software designed by NextUp Technologies. It uses voice synthesis to convert text into the spoken audio. You can listen to most text articles on the web, e-mail and textual software programs (including PDF, HTML and Word). A cool feature is that there are premium voices available for accents and multiple languages. Voices can be adjusted for volume, pitch and speed. You can also convert all audio translated material into MP3/WMA files for use on portable devices such as an iPod. However, it cannot do any translation from one language to another.
Text Aloud is easy to use with a simple interface. Simply highlight the text and click the "speak" button. Text Aloud 2 has a Windows and the Mac version. It is compatible with Windows XP/Vista/2000 that has a .Net Framework of 3.0 and above. As of 2010, you can purchase the Text Aloud 2 version from NextUp.com for $29.95. Text Aloud 3 is currently in beta format.
IVONA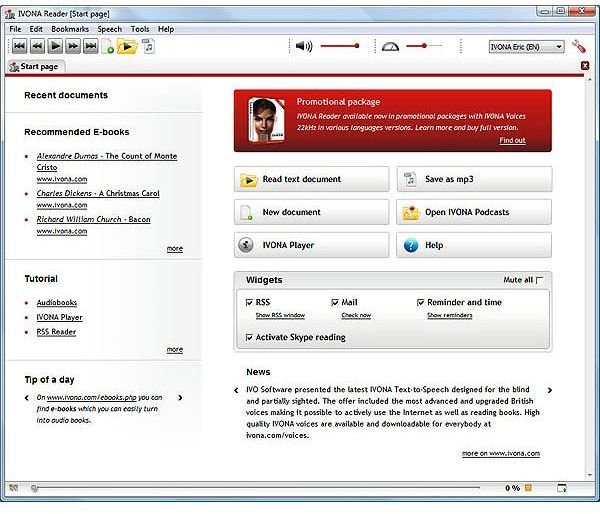 IVONA is one of the top text to speech programs because it can convert RSS, e-books, web pages, Microsoft Outlook/Word and e-mail text to audio with natural sounding voices. It also has the ability to convert these audio translations to MP3 files. It can adjust reading speed, pitch and pronunciation. It works with Microsoft Outlook, Internet Explorer, Mozilla Firefox, iTunes and Skype.
What will you need to run the IVONA software on your PC? It requires a PC with an Intel Pentium 1 GHz processor or better, a Windows XP/Vista/7 operating system, 40 MB of hard drive space and a sound card.
When you purchase the software, it comes with one or two voice options. You can buy additional text to speech voices for IVONA, but it will require 70 to 900 MB of free hard drive space. IVONA.com offers program packages for $79 with a choice of British or American English voices.
Flamereader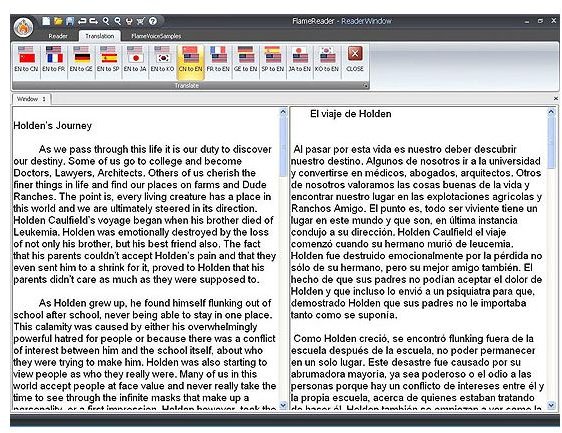 Another top text to speech software program is Flamereader. Not only can this software verbalize text, it can translate foreign languages. This includes English to French, Spanish, German, Chinese and Korean (and vice versa). You can also convert it to MP3 files for use in portable audio devices.
Flamereader is easy to use. When the program is active, you just need to highlight the text and click the "read" button. The software highlights text as it is reading it. The premium edition of this software has a Typing Echo feature that is also useful for people with learning disabilities like dyslexia.
System requirements: Microsoft Windows 2000/2003/XP/Vista. You also need a Pentium CPU of 1.2 GHz or Athlon XP equivalent, 512 MB of RAM, 300 MB of hard drive space and a Microsoft windows 2000/XP soundcard. As of 2010, the newest version of this product is Flamereader 4.6. You can purchase the standard version from Flamereader.com for $49.95 which includes two natural sounding voices. A free 10 day trial is also available.