What's New in Access 2007: Tabbed Menus

Where did everything go?
Microsoft Office 2007 added a common "ribbon" interface to all of its applications. MS Access, Word, Excel, and PowerPoint now have an array of tabbed ribbons at the top of their windows along with the common "Office Button" in the top left for better integration in the office suite. This article will briefly demonstrate the four tabbed ribbons divided into their various function groups where MS Access 2007 presents its user interface in a far more robust and user-friendly interface than in previous versions.
The tabs are Home, Create, External Data, and Database Tools. Click on each tab to expose the individual menu groups. The revised interface can be somewhat daunting to the new user because of the sheer number of items that were once located in the more familiar drop-down menus of Access 2003.
The Basic Menu Tabs in Microsoft Access 2007
1 - Home. Click on this tab to access basic formatting, spell checking, filtering and finding existing records.
2 - Create. Go to this tab to build your new database objects: tables, forms, reports and queries.

3 - External Data. Import and export data from other applications. Use the Create E-mail Wizard in the Collect Data group to solicit information that can be incorporated directly into your database. Fully integrate your database into Microsoft's SharePoint for full workgroup integration.

4 - Database Tools. Access the Visual Basic core of your database. Go to this tab to establish table relationships, analyze your database objects and move your data to an SQL server. The Database Tools group of this tab (last on the right) helps you link up your tables, create a switchboard, add a password and make an ACCDE (read-only database shell) file from your database.

Where Everything Went - An Alphabetical List of Access 2007 Menus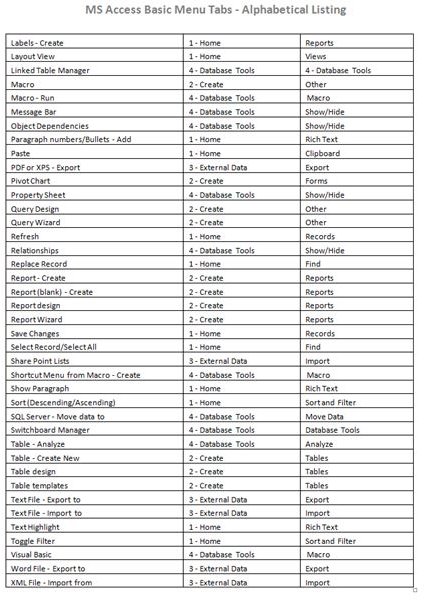 More information on What's New in Access 2007
Additional information from Microsoft Office:
Microsoft Office Online - What's new in Microsoft Access 2007
Command your database: The Ribbon
This post is part of the series: Microsoft Access 2007: What's New and Where to Find the Familiar
The new look of Microsoft Access 2007 includes a closer integration with Microsoft Office applications, as well as a new array of menu "ribbons." This series describes the new array of tabbed menus along with pointers toward finding familiar items of Access 2007.