Microsoft Excel Has Encountered a Problem and Needs to Close
Three Ways to Fix
The Microsoft Excel error "Microsoft Excel Has Encountered a Problem and Needs to Close" can be quite frustrating – it's one of those non-specific errors that say something quite portentous but then fail to follow it up with anything meaningful, leaving you struggling to trace the cause
As such, you can be left without a clue as to what has caused the problem and how it can be avoided in future.
While Microsoft Excel should recover any documents you were working on at the time of the crash, this is an issue that is more of an inconvenience than a threat to your documents.
There are three approaches to resolving this task.
The first is to consider the document – is it using macros or pivot tables, or is it of a quite large size?
Second, we can look at using Excel itself to find and repair the fault.
As a final solution, we can uninstall and reinstall Microsoft Excel.
Each of these methods is explained in more detail in the following paragraphs.
Fix the Document
Before proceeding, you should disable macros in Excel. To do this you will need to open Excel without loading a document.
In Excel 2003, go to Tools > Macros > Security and disable macros.
In Excel 2007, go to the Office button > Excel Options > Trust Center > Trust Center Settings… > Macro Settings and select Disable all macros without notification.
Restart Excel and attempt to open your document. Often this approach will resolve the issue, allowing you to track the fault to one of your macros.
If you are using pivot tables, try copying the data in your Excel spreadsheet into a new document and saving this – memory issues can result in the "Microsoft Excel Has Encountered a Problem and Needs to Close" error, and this is a good way to lose any unneeded empty cells.
Detect and Repair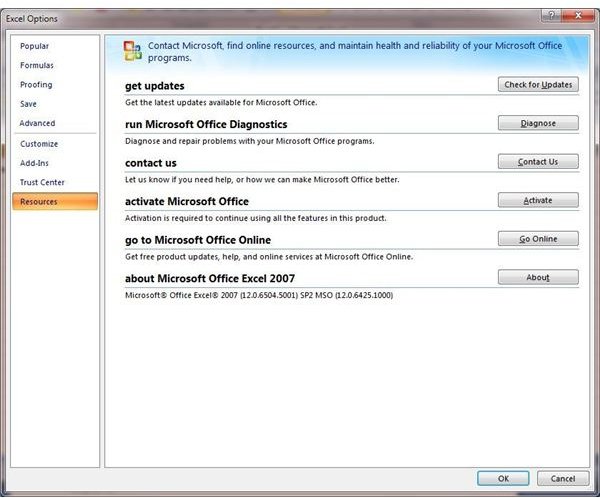 A powerful way to resolve issues in Microsoft Excel is to use the Detect and Repair function.
This tool scans the installation and looks for errors, which it will then repair using either temporary installation files placed on your computer when installed or the installer disc – so make sure you have this to hand.
Using Detect and Repair in Microsoft Excel 2003:
Go to Help > Detect and Repair
Using Detect and Repair in Microsoft Excel 2007:
Go to the Office button > Resources > run Microsoft Office Diagnostics > Diagnose. Click Continue on the first screen, then Run Diagnostics.
Take care to follow all on-screen instructions.
Reinstall Excel
Finally, you can opt to reinstall Microsoft Excel. For this, you will require the disc or installation source. Insert the disc or launch the Office installer and select uninstall from the installation options screen.
Once the uninstall process is complete, reboot your system and then reinstall Microsoft Excel.
By following each of these three methods above in turn, you should find that the error "Microsoft Excel Has Encountered a Problem and Needs to Close" is resolved.
More Excel Help
For more Excel tips, tutorials and troubleshooting steps, read Problems with Excel: When Charts Go Wrong, How to Fix a Greyed Out or Missing Excel Standard Toolbar and Where Can I Find Free Excel 2007 Training and Tutorials?