Desktop Organizer Software for Vista: How Do You Organize Your Desktop to be More Productive?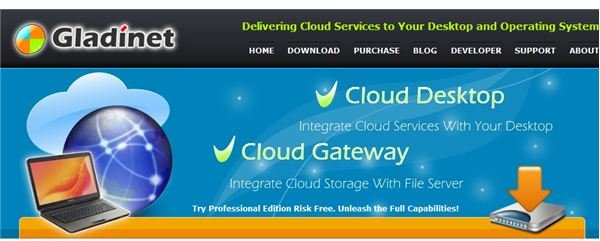 Introduction
The desktop is the most important user interface on the PC, and Microsoft and Apple have been vying to get the public's attention and declare theirs is best. Regardless of your taste and preferences, there are operations that neither has done. Hence we find the rise of third party software that will do to enhance the desktop. The next several programs do offer a variety of improvements to the user interface.
Gladinet Cloud Desktop
What is Gladinet? Simply it is a tool that will help you organize your scattered files. Windows 7 has this with Libraries. But if you don't have Windows 7, you can use this utility.
Problem: Your files are in multiple locations, stored online, or scattered on multiple PCs. If you are looking for a specific file, it may take you a while to locate it.
Solution: Gladinet connects all your PCs together. So you can access folders on multiple PCs. You can also use remote access solutions such as RDP or VNC among them. With Gladinet, your files are placed on your Windows Desktop for local files or your Online Desktop for online files.
Shareware
Platform: Windows XP, Vista, Windows 7, Windows 2003/2008
BumpTop
A fun, intuitive 3D desktop that keeps you organized and makes you more productive
Your desktop doesn't have to be listless and unimaginative. Use BumpTop to create the desktop that suits your needs and style.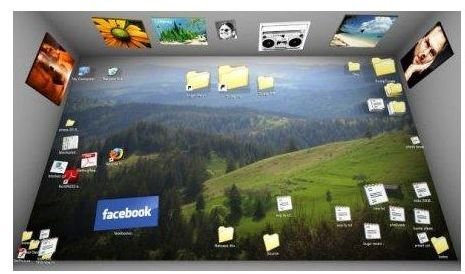 New Features
Immersive 3D & Physics
BumpTop makes pixels come to life. The flat desktop will pop with BumpTop's 3D visuals and new organization possibilities.

Touchscreen or Tablet computer enhancements
If you have a touchscreen or tablet computer, BumpTop's physical effects move under your finger like they would in the real world.

Powerful Gestures
Reduce keystrokes with BumpTop's system. Gesture in any direction with the dynamic Pie Menu to instantly invoke a command, eyes free.

Zooming Photo Slideshows
Slideshow to view your images smoothly zooms from one photo to the next.
https://bumptop.com/download.php
Freeware
Platform: Windows XP, Windows Vista or Windows 7(32-bit or 64-bit).
RedNotebook 0.8.6
RedBook is an application that gives you the ability to organize your projects. It is a desktop diary, and it allows you to keep track of the work you do and the thoughts you have.
Here are some of the key features:
Enter text for individual days and navigate using a calendar
· Add Categories to days and fill them with small content
· Search for Day Content
· Edited days are automatically marked
· Calendar Navigation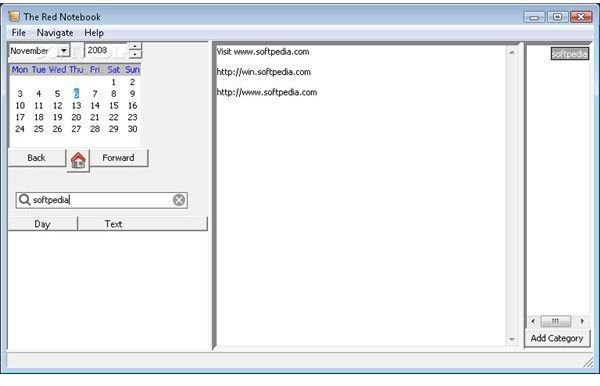 https://sourceforge.net/projects/rednotebook/
Freeware
Platform, Windows, Linux, BSD, Solaris
Rebel Organizer 1.0.3
This program is easy to use and with it, you can keep
to-do lists,
meetings,
deadlines,
special events
You can even keep contact list and link people or companies from that list to events and all of this with amazing ease.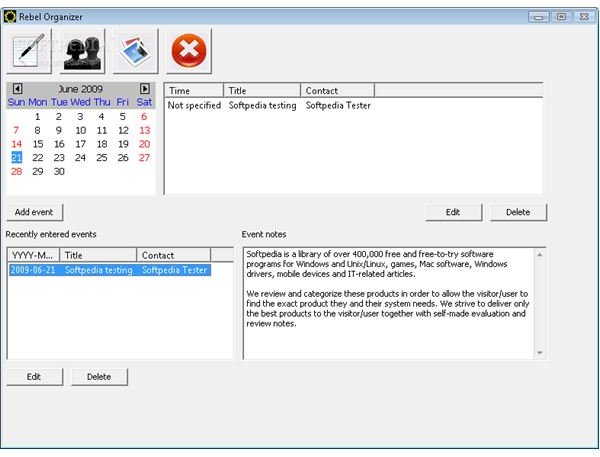 https://rebelscripts.com/apps.html
Freeware: Windows and Linux versions
Berokyo
This organizer has features that others are lacking.
Organize

All frequently used applications, documents, files, folders and webpages, are organized in multi-shelf cabinets, categories and subcategories.

Quick Search

Quickly search the web using the main search providers.

Personalize

You can modify the look and feel of the patterns and colors used to fill the cabinets and shelves you can personalize everything as you like.

Incremental Find

As you type possible matches are found and immediately presented to you.

https://www.berokyo.com/win/en/index.html
Shareware
Platform: Windows XP, Vista, Windows7
Stick
The idea behind Stick is to put Screen Tabs which are windows that dock to the edges of your screen.
It will put useful utilities like a text editor, file manager, web browser and other applications on those tabs. These customizable tab-shaped windows let you access commonly used utilities quickly and easily.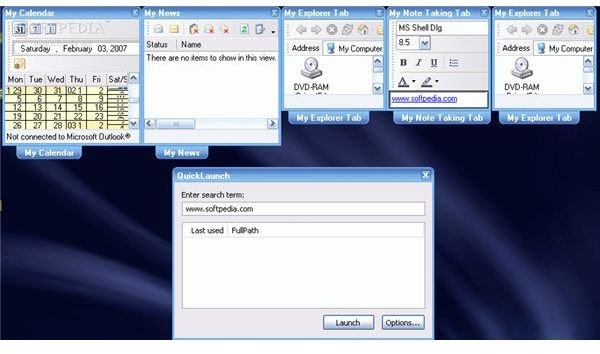 Freeware
Platform: Windows XP, Vista
Desktop Organizers
The organizers presented in this post offer a different focus and different method to the problem of organizing the common user interface. The operating systems that they sit on have not been concerned with how to manage the applications except with a few new features. Windows 7 and IMac go further than previous versions of each OS did, but the vacuum exists, and this is where these third party programs will fit in and make their mark.