Zoho vs. Google Docs - Which is the Better Online Office Suite?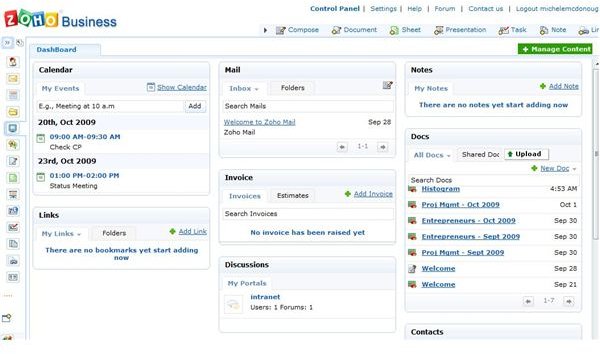 Zoho vs. Google Docs
Almost everyone is familiar with Google Docs to some degree, even if they haven't used the services themselves. So, when trying to explain to someone what Zoho is, it seems natural to start out by saying that Zoho is an online office suite similar to Google Docs. However, this comparison isn't quite fair to Zoho for a number of reasons.
To begin with, Google Docs only consists of four core office applications: a word processor, a spreadsheet application, a presentation creator, and a form maker. Along with these four applications, Google does have other utilities such as Gmail, Picasa for photo sharing, and a web site creation tool – just to name a few. However, these additional offerings are somewhat disconnected from one another in the sense that there's no centralized dashboard that links all of these applications together.
The Beauty of Dashboards
While most desktop office suites, such as Microsoft Office and WordPerfect Office, don't currently include centralized dashboards that let you see all work in progress with a single glance, that will probably be changing in the near future. One of the key selling points of office bundles is integrability and interoperability between the applications in the suite, so a common dashboard just makes sense.
Even though Google Docs does include a sidebar panel where you can select and categorize all available files, no matter which application they're associated with, this isn't quite the same as a central dashboard – and it's certainly not of the same quality as Zoho's offering in this area. The customizable dashboard in Zoho helps you manage your entire work-flow, calling attention to items that need to be dealt with along with organizing all files in an easily accessible format. This is a certainly a boon to individual users, especially power users, but it's almost a necessity to business users, especially in today's world where the problem isn't availability of information, but being able to access and use information without overloading.
Comparing the Applications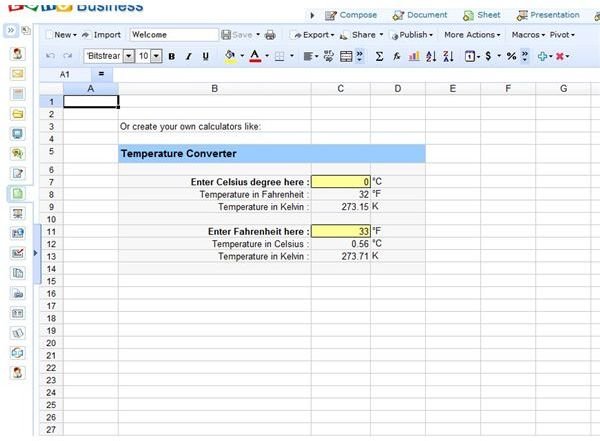 When it comes to applications in Google Docs and Zoho, one of the biggest differences is in appearance. Google Docs may have some pretty advanced features, but the interface itself is definitely lacking. Basically, Google Docs looks like a rudimentary office suite that was thrown inside a web browser. Zoho, on the other hand has a more pleasant interface – one that actually resembles standard desktop office suites and has a navigational structure that is far more intuitive to desktop software users. So, if one of the things that is keeping you away from Google Docs is how different and clunky it feels compared to MS Office, you should give Zoho a try. The transition should be much easier.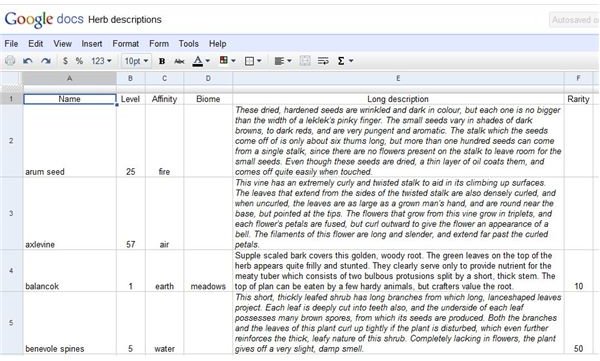 Even without the nicer interface, the functionality of Zoho's applications seems more complete and thought-out. Seemingly simple tasks like sorting and color-coding can often be a hassle in Google Docs, and these capabilities work much more smoothly in Zoho. Admittedly, I've still run into a few quirks when using these features in Zoho, but far less often than when trying to format something in Google Docs.
All else aside, since they are actually online already, online office suites should excel at file sharing and instant web publishing. For the most part, both Zoho and Google Docs do a good job in this regard, but Zoho is decidedly better. With a single click, you can decide how you want to share or publish a file in Zoho, and the facilities for sharing a file privately are straightforward and simple. With Google Docs, these capabilities aren't terrible, but they could still use a bit of work. When trying to share files in Google Docs, I've often had trouble with lagging menus and unexecuted requests in addition to reports of it taking hours for the recipient to receive notification on file changes. With Zoho, no such problems have been encountered, and file sharing has been almost instantaneous.
Now that Google Docs has come out with a business version (Google Apps Premier), it might be better to make the comparison between this version and Zoho. However, unlike the standard version of Docs, Google Apps Premier isn't free – costs for the service start at $50 per user per year. However, Zoho has a free version available for all of its applications, both for the standard office apps and the more full-featured business tools. Then, as you find that you need more space or additional tools, you can add on as needed and only pay for what you need. Prices vary depending on which options you choose.
This post is part of the series: Zoho Online Office and Business Software Solutions
This series of articles examines the online offerings of Zoho, a collection of office and business applications operating under the SaaS model. Is Zoho a nice, free alternative to your existing software solutions? Even if you're happy with current products, would Zoho be a good supplement?