Top Windows Vista Gadgets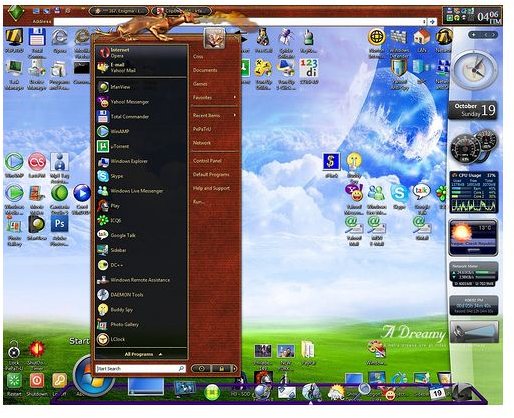 Vista Sidebar was introduced with Windows Vista. It is a sidebar placed on the side of the desktop where you can attach various gadgets capable of performing various tasks such as displaying CPU usage. Let's have a look at some very useful and most widely used Vista gadgets.
Staying updated
WeatherBug is a Vista sidebar gadget that displays live weather conditions anywhere in the world. The details include forecasts, radar, weather cameras, weather alerts etc. It has enough customizable options that let you set degrees (Fahrenheit or centigrade) you want to view the temperature in, location etc. You can set your location by searching with city, state or even zip code.
Another useful Vista gadget! Atom/RSS News Reader is a tiny feed reader that fits in the Windows sidebar, helping you to always stay in touch and updated with the latest content you care about. It supports both RSS and Atom feeds and also features stylish themes (skins). You can even import subscribed feeds from Internet Explorer 7.
It's basically a RSS feed reader but it actually reads the feeds aloud after downloading them. You can add feeds of your choice and also have the ability to control various settings like speech volume and speed, delay between feeds etc.
This Vista sidebar gadget displays live sports scores for MLB, NBA, NFL, NHL, NCAA Basketball, and NCAA Football. A must have for those sports fan who follow these games!
Fidelity Market Monitor gadget helps you keep track of the stock market. You can personalize your watch list by adding stocks, mutual funds entities you want to watch. The gadget is also capable of showing details like day high, day low, %change, historical charts, and news on a particular scrip etc.
Utilities
Handy Vista gadget that lets you launch applications quickly from the sidebar with a single click! The gadget is highly customizable and you can add or remove an application from the launcher easily from the options menu, you can also customize the style and layout of the launcher, add special links.
Drive Meter visualizes your computers physical disk activity. It utilizes the performance monitor data and displays %active time and bytes read and written per second to the disk. It can automatically reconfigure if disk are added or removed, groups logical partitions on the same disk and also allows you to exclude certain drive letter from the visualization.
This useful gadget displays the current status of your wireless network and also details such as connection status, SSID, signal strength etc. The gadget actually displays the SSID and Signal Strength when opened. But you can click on the SSID to view other network details.
Screen Snaper is a screen capture utility that allows you to capture your desktop screen. You also have an option of capturing the full screen, or windows or even and object in the screen. It can automatically save the captured images and support seven different image file formats (bmp/emf, gif, jpg, png, tiff, wmf).
SuperClipBoard is a nifty Windows vista gadget that makes managing the clipboard an easy task. It records a history of previous clipboards and is also capable of recovering, previewing and deleting previous clipboards.
Security & Privacy
File Shredder Utility is an essential tool for those working with sensitive files every day.
File Shredder Utility destroys such files permanently by overwriting them with special sequences of data that makes it impossible to recover the data.
Keep forgetting your passwords? This Vista gadget can help you. It stores multiple passwords in an encrypted file (uses 128-bit AES encryption), has a search option to quickly find any password you want, allows you to copy password and erases the clipboard automatically after 30 seconds.
DESlock+ is a Vista gadget that provides quick access to 256bit AES encryption. To encrypt a file all you need to do is to drag the file on the gadget and enter a password. You can also encrypt/decrypt your clipboard.
Multimedia
Watch YouTube videos right in the sidebar. This gadget shows up to 18x25 videos with the selection changing every 30 seconds (or refreshes every time you click the YouTube logo). You can click on the video image to start the YouTube player and click on the image again to close the player.
Digital Frame shows a slideshow of images on the sidebar and integrates with flickr, facebook photos and images from local folder. It features multiple photo frames and transitions and the usual slideshow control like pause, fast forward, rewind etc. It has many configurable options like photo size, interval, and transitions and also keeps track and displays stats like how many photos has been displayed in total and on an average.
It displays beautiful wallpapers on the sidebar that you can use on your desktop. Each day a new wallpaper is selected from the database and displayed that you can set up as desktop wallpaper if you want to.
Use Winamp as you main media player? Then you may want to install this gadget. It let your control Winamp from the sidebar itself performing basic tasks like play/pause, enquence etc. It also supports drag and drop of files and folders to enqueue them in WinAmp.
Miscellaneous
If you find it difficult to keep your files and folder organized, then this gadget can help you. This is how it works - you drag a file to the gadget and it will check the file extension and place the file in the appropriate folder. For example, document files will be placed under document folder, image files will be placed under pictures folder etc. You can even configure where the files should go.
This one is for the Twitter addicts! Keep track of your friend's statuses and update your own status right from the Vista sidebar. Doesn't have much of an option to be customized, just set it up with your twitter user name and password and you are ready to go. It will chirp when a new tweet arrives.
GMail Reader checks your GMail account for new emails and notifies you with a sound alert. It also summarizes last 20 emails from your inbox. The authentication of your GMail identity is done using Google Accounts API and the GMail Atom feed is used to fetch the inbox items.
An ever useful and necessary gadget! Look up definitions and synonyms of input words. It doesn't have any configurable options and is very easy to use. Just type in your query in the input box and hit enter, the result page (meaning of the word) will be displayed in a fly out pane.
This sleekly designed alarm clock gadget supports multiple parallel alarms. The alarm sound can be customized and it is capable of playing various sound formats like mp3, wma, wav and midi. It also comes preloaded with the Linkin Parks Transformers 2 Theme New Divide midi, a classical piece of music midi and beep alarm mp3. It saves its state over a restart so you don't have to configure your alarm every time you start your system.
References
"Make Windows and Windows Live your own" https://gallery.live.com/
Image courtesy of Criss.AC @ FlickR, https://www.flickr.com/photos/mr_acfreeman/2955044564/sizes/m/in/photostream/