Setting Up MS Outlook for Vista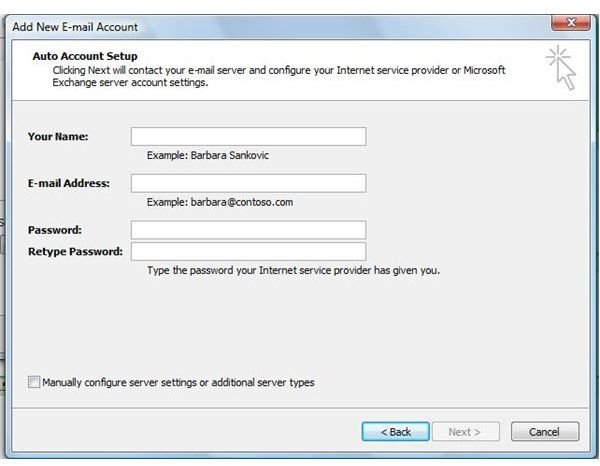 Installation
To install MS Outlook 2007, first you will want to make sure all programs you are running have closed. Part of the reason you want to do this is to ensure that you have enough RAM to carry out the task without glitches. The other reason is that sometimes installation software will clash with running programs. Once you've done this, follow these steps.
Insert the Outlook disk into your CD-Rom Drive. If you do not have a CD-Rom (either because you have a lightweight laptop or a netbook, there are a few ways to solve this problem. One is to share a drive over a network, the other is to use the Microsoft Office online website to download the program to your computer with a purchased key.)
Follow the prompts given to you during the Installation process. Select either "Standard," "Custom," or "Upgrade" when asked about the type of installation you are doing.
Restart your computer - you should always reboot after installing programs.
Setting Up Your Email Address(es)
Once you've restarted your computer and started MS Outlook 2007, open the program by clicking either on the shortcut on your desktop or on the quick-start button at the bottom left side of your screen. When Outlook opens, it will prompt you to set up your program. The first time you run Outlook, it will ask you for information such as your name, your email address, your password and more. Sometimes simply filling out this information is sufficient and Outlook will set up your email automatically for you. Other times, with email clients such as Gmail or your own web-hosted address, you will need to do a little more tweaking to get the program to work. If this is the case, the best practice is to view the website's instructions for setting up your email.
As a further note, Yahoo does not allow you to set up a Pop3 account (an account to download your email) unless you install special software or you pay for the premium service.
Setting Up Other Things in Outlook
Chances are, you will not want to use Outlook as-is. And that's a fine thing. I suggest the first thing you do is set up folders for the different types of e-mail you receive. The second thing you will want to do is to set up your categories. There are several different ways to do this. You can categorize by project, by work vs. home, by action type - this is really up to you. Take the time to do it, because it will help you to glance at your computer and know just what's going on at any given time.
Finally, enter in your contacts. You can do this as people email you, but it's worth it to take the time to enter each one in. A tip: In the notes field, type in where you met the person and the date of last contact. This can help you to figure out who you need to follow up with in the future.
You are now ready to begin using Microsoft Outlook in Windows Vista.