Do We Need A Windows XP Registry Repair?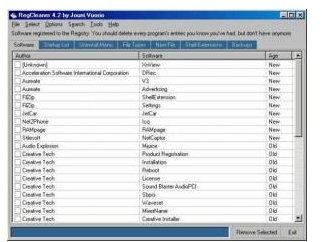 What is Windows Registry – How Registry Tools Help?
Among the installation tasks, Windows creates a system registry. The use of Windows registry is to store information that serves as a reference to different hardware and software for proper functioning. For example, your system registry contains full details of all the hardware installed. If you are setting up an Internet connection, the software will look up the Windows registry to find details about the network cards and modems on the computer. Accordingly, it configures your connection. Similarly, when you click on the desktop icon for MS Word, it goes through the registry to find the default locations of different relevant (DLL) files so that it functions properly.
For ease of use, the Windows registry is divided into five parts. To look at them, click Start, and then Run. In the Run dialog box, type Regedit and hit Enter. You can see the registry with two panes. The left pane contains keys or pointers that are looked upon by the different applications on your computer. The right pane contains data pertaining to a certain key. You can notice that even though there are only five main keys to the left, when you expand them – they seem endless with sub-keys and more keys within the sub-keys. Even for a perfect Windows XP registry, it is normal to have a huge size.
As you install more and more programs on your computer, the Windows XP registry grows much more in size. This causes delay in loading applications as the application has to parse through the many keys/pointers in the left pane to find data it needs. For each un-installation too, the registry is scanned to get the required data. Very often, most of the keys, and thereby data, is left back even after you uninstall a program. If an installation fails, and you run it again without using Windows Installer Cleaner Utility, chances are that you are creating duplicate keys. These duplicate keys and broken links may lead to problems operating individual applications and may even lead to Windows Crash.
These problems compel people to look for proper registry tools that can fix Windows XP registry and optimize XP registry so that the system keeps on running smoothly.
NOTE: Windows Installer Cleaner Utility claims to clean up files and registry entries for any failed installations, especially Windows Applications. To the date of the article, I do not have any solid evidence proving that it really works.
Windows XP Registry Optimizers versus Windows XP Registry Cleaners
Search for Windows Registry Cleaner an you will get thousands of products each claiming to be the best. There is a slight difference between Windows XP registry cleaner and Windows XP registry optimizer. A Windows XP registry cleaner checks for broken links, dead, duplicate keys, and installation leftovers - to fix your registry. On the contrary, "Windows XP registry optimizer" claims not only to perform the above tasks but also to arrange the keys in a fashion that your applications can parse registry keys easily to load faster (sort of defragmenting the Windows XP registry). However, I never found such claims supported by any kind of evidence or whitepapers – so in effect, both seem to be the same thing. The Windows XP registry cleaners can be assessed on how deep they go to locate unwanted keys. Most of the programs do not touch more than three to four layers and thus are not of much use.
Throughout my life with Windows, I could find only few reliable, best Windows XP registry cleaners. And the best news is that all of them are free system cleaners. Check them out on the next page.
RegCleaner – Easiest Registry Cleaner
RegCleaner is one of the oldest Windows Registry Cleaners I have come across. It was the one I was using until I found CCleaner. The early versions of Registry Cleaner worked well on Windows 98, Windows ME, and Windows 2000 too. I even used it on Windows XP – as it came into the market.
Simply built, with no cluttered menus, the RegCleaner (download link) is now available in version 2009. I took a look at the interface – it remains as simple as it was when I was using it with Windows 98. The interface allows you to opt for manual or automatic registry cleaning. It automatically creates a backup of what all entries it removed: dead keys, incorrect and duplicate keys, etc.
Other than simply cleaning the Windows XP Registry, RegCleaner also helps you sort out unused file extensions and unwanted startup programs. A simple yet effective Windows Registry Cleaner for people who do not like to click their mouse buttons again and again!
RegCleaner- Serving Users Since Windows 95
Comodo System Cleaner - Cleans and Optmizes your Computer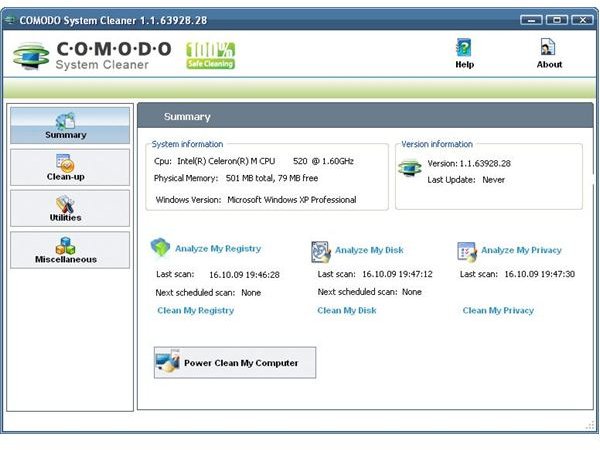 Comodo Registry Cleaner became Comodo System Cleaner in the early months of 2009. Instead of a standalone Windows XP registry cleaner, the Comodo System Cleaner (review link) analyzes your registry to clear off the clutter, goes on to clean your disk for unwanted and leftover files, and then cleans off all your browsing traces (affects IE, Firefox, and Yahoo).
You can use all three services with a single click on the button named PowerClean My Computer or you can click on the individual modules to run just the privacy cleaner, registry cleaner, or the disk cleanup. Clicking on each link separately will open up a new window where you can configure the way these three modules work. You can even ask the Comodo System Cleaner to create a system restore point before removing registry keys, files, or parts thereof.
The most interesting feature with Comodo System Cleaner (download link) is that it offers you an option of Safe Deletion. If you select the option, instead of deleting the files or keys, the program marks them for deletion and restarts. If you find that your system is working properly, you can go ahead and click the button to remove all marked entries/files. The only thing I do not like with this process is the restart process. Hence, I choose to create a system restore point rather than going for Safe Deletion.
CCleaner - Windows Registry Cleaner, Junk Cleaner, or Both?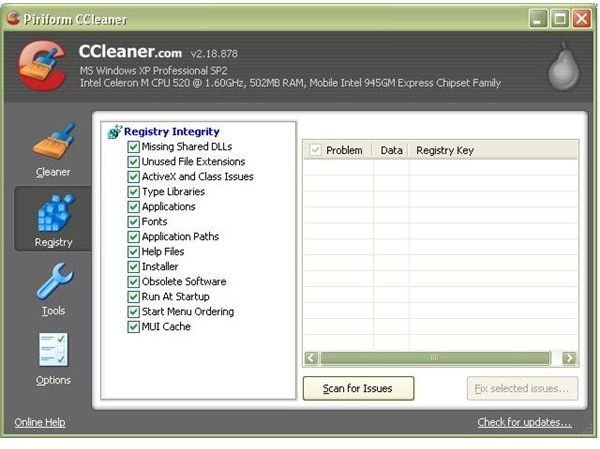 Though Comodo System Cleaner is effective, I found some features missing – like not being able to clean up Yahoo IM's or Twitter's data. Hence, in my search for yet another cleaner, I found CCleaner. I now have both Comodo Registry Cleaner and CCleaner installed on my machines. When I need to clean my computer fully, I run Comodo Registry Cleaner and then CCleaner (review link).
CCleaner is thought of as a best junk cleaner. It is a good registry cleaner too. Unlike Comodo System Cleaner, it won't ask you to create a system restore point before cleaning. I recommend you create one yourself using the System Restore Dialog (Start - All Programs – Accessories – System Tools). It first analyzes your system registry and presents you with the results. You can select what all keys to delete and which ones to keep – that is – if you know about the system registry. For others, they can always hit the Fix Selected button to go ahead without bothering that their registry may become corrupt. So far, I never had to rollback.
Other than being a Free Windows Registry Cleaner, CCleaner (free download link) offers to clean up junk (you can see the locations for your Yahoo IM data and Twitter data listed in the analyzed results). For a complete cleaning experience (registry, junk, and privacy traces), I recommend using both Comodo System Cleaner and CCleaner in succession. You can also take control of your startup programs while also uninstalling programs through CCleaner.
There must be several other best Windows XP registry cleaners or best Windows XP registry optimizers, as they are called, which I missed in this article. If you came across any such effective registry program, please do drop in a note in the comments section so that I too can check out the review of best Windows registry cleaner.