Useful Windows Movie Maker Add Ons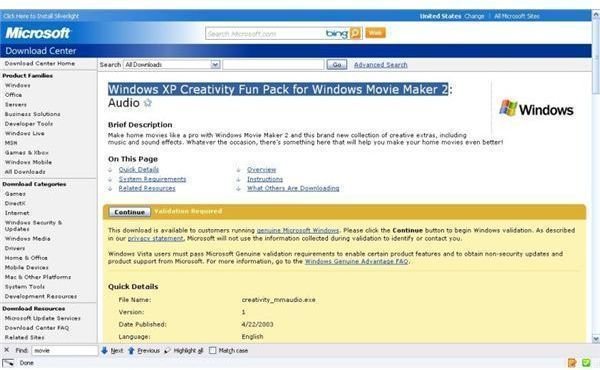 What is Windows Movie Maker?
Many people seem unaware that Windows XP comes with a built in video editing suite that is perfect for beginners to use to edit together video clips that might have been filmed on a mobile phone or digital camera.
Windows Movie Maker features all of the usual computer-based video editing tools such as a timeline to add your clips to, the opportunity to replace or enhance your sound track and various effects, transitions, capture and preview tools.
Some of the included transitions include the ability to "age" your movie to make the footage appear to be a lot older than it is, although generally these transitions are limited in scope.
Luckily, there are various add-ons available on line, not least from Microsoft themselves.
Requirements and Sources
Windows Movie Maker comes included with in Microsoft Windows XP- however you really should be using the more recent Windows Movie Maker 2, which is available via Service Pack 2.
Service Pack 2 is available via Windows Update or by ordering a CD- visit Microsoft.com for more information and system requirements.
Some add-ons for Windows Movie Maker are available for purchase from websites like www.windowsmoviemakers.net. Here you will find a range of transitions and effects, from tools to give your video recordings a "filmic" effect to various professional quality fades, dissolves, and other superb methods of mixing visuals.
However Microsoft themselves offer "Fun Pack" of sound effects, titles and credits that can be added to your home movies.
Fun Pack
The Microsoft Windows Movie Maker 2 Fun Pack can be downloaded in three ways – either the 24.83 MB option which includes all of the enhancements available in the release can be downloaded or you can choose from the two smaller downloads of Partial Fun Pack 1: Titles and Credits which is 7.39 MB and Partial Fun Pack 2: Music and Sound Effects which is 18.37 MB.
Splitting the download into two categories is a useful provision by Microsoft – not all users will want the visual options, and not all users will necessary want the audio options. Interestingly the sounds and music in the Microsoft Windows Movie Maker 2 Fun Pack are provided by Sounddogs.com, and Academy Award winning outfit who have delivered sound FX for over 60 movies!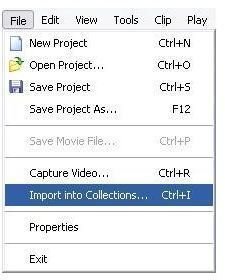 Once downloaded, the sound, music, titles and credits Movie Maker items will be saved in c:\My Documents\My Videos\Creativity Fun Packs – you will need to manually import these into Movie Maker. You can do this in Movie Maker by going to File > Import into Collections… and browsing for the sound and visual effects. Some will need to be imported in groups, others individually.
As soon as they're imported, these new add ons will be available to incorporate into your movies. Music and sound effects in particular are very useful for conversions of old cine films that you might be editing, while any movie or collection of related clips will benefit from titles and credits.