Cannot Access Folder Options in XP – Troubleshooting Folders in Windows XP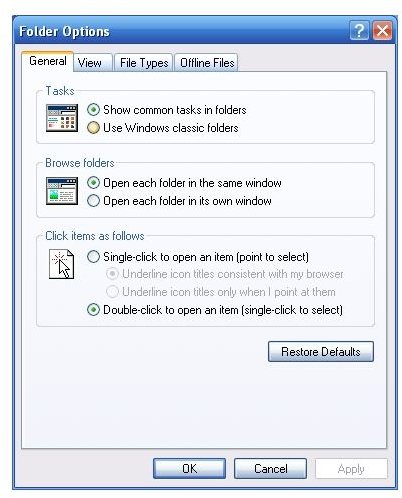 Folder Options are Useful
The Folder Options window in Microsoft Windows is an incredibly useful screen that offers a wealth of options.
Available in Windows Explorer via the Tools menu, it is used to apply viewing and file type options to all or some folders and can be used to both improve the general Explorer experience as well as improve the overall Windows XP user experience.
You could for instance use Folder Options to set a particular file type to open with a particular program if you've inadvertently let a different application apply itself as the default options for that type of file.
Folder Options can also be used to view hidden system files and folders as well as changing how you click on folders and files.
But what happens when you can't find Folder Options?
Why is it Missing?
First of all, you need to identify why this particularly vital option is missing – there could be various reasons for this.
For instance you might be connected to a corporate network, and a group policy might be restricting your access to the Folder Options menu item in Windows Explorer. If this is the case, you might need to speak to your IT department. It may also be that you have earlier been connected to a corporate network, had such a group policy applied to your PC or laptop and have now been disconnected. If this is the case, you can try changing the Group Policy to allow access to the Folder Options view.
However there is a much more sinister reason why Folder Options is missing – your system might have been exposed to a virus or some other malicious software such as spyware.
Before proceeding, run a scan using your virus checking software, and scan for spyware with a suitable free spyware scanner such as Ad-Aware or AVG Anti-Spyware Free Edition.
How to Restore the Folder Options Menu Item

There are a number of ways in which the Folder Options Menu item can be restored. To begin, you should check your System Registry – this can be done following these steps:
• Go to Start > Run and at the insertion point enter REGEDIT.
• Expand the HKEY_CURRENT_USER section, and then expand (by clicking the "+" symbol) the following sections:
Software > Microsoft > Windows > CurrentVersion > Policies > Explorer
• In the right pane you'll see the list of values that are configured by Windows. You may see a DWORD value named NoFolderOptions. If none is present however, you'll need to create one. To do this, right-click in the empty space on the right panel and choose New > DWORD Value.
• Name this new DWORD NoFolderOptions.
• Right-click the new entry, select Modify and set the value to 0.
• You should now be able to go to Windows Explorer and find the Folder Options entry in the Tools menu. If not, try restarting your PC.
If this option doesn't work and you have completed a virus scan which has detected no issues or repaired those that it did find, you might want to check your Group Policy.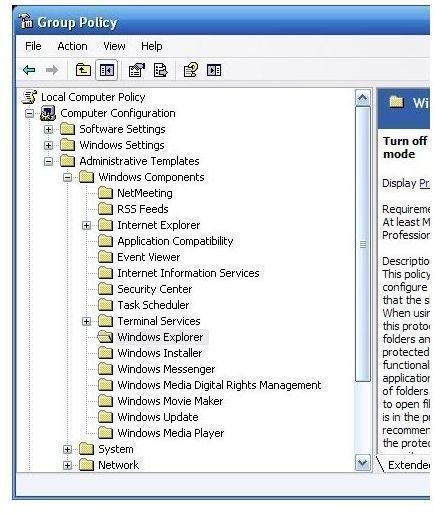 To restore the Folder Options menu item via Group Policy:
• Go to Start > Run and at the insertion point enter gpedit.msc.
• In the Group Policy window, expand User Configuration and find Administrative Templates > Windows Components > Windows Explorer.
• In the right pane, look for the entry Remove the folder option menu items from the tools menu. Double click to show the Properties screen, and set it to Not Configured.
• Click OK to confirm and close the Group Policy screen. Restart your PC.
Following these steps, you should have successfully restored the Folder Options menu item.
Note that a failure to restore the menu item using any of the methods described here may point to a more severe underlying issue with your Windows XP installation.