How to Insert a PDF Document into Microsoft Word? Three Ways Explained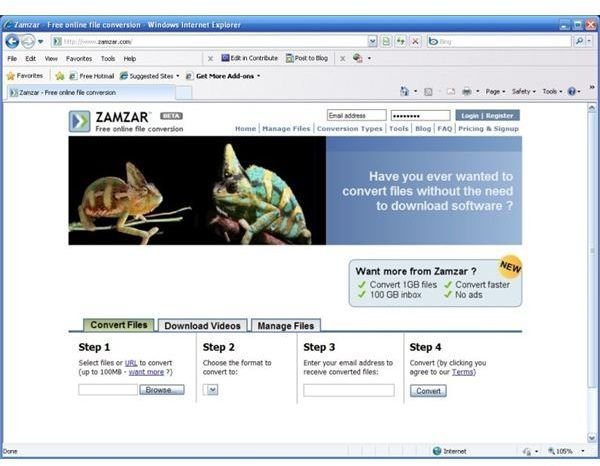 Chalk and Cheese
Despite being the two most popular portable document file formats, Adobe Acrobat PDF and Microsoft Word DOC files can't easily be mixed. Word documents can simply be converted into PDF, but the reverse isn't necessarily true, or easy.
Often, the best bet can be to try and get a copy of the source document that was used to create the PDF document – but where this isn't possible, an alternative must be found.
There are however a few ways around this:
• Copy and Paste
• File Conversion
• Link
We'll take a look at each of these methods in turn.
Copy and Paste
The most obvious solution is to copy and paste the contents of a PDF file into Microsoft Word – however this isn't always possible.
Certainly as far as text content goes, Adobe have spent a lot of time developing algorithms to encode the contents of PDF files to make it a successful portable and secure format that cannot be edited or plagiarized.
Older versions of Adobe Acrobat and Reader allowed users to copy text to the Windows clipboard, and this could then be pasted into a Microsoft Word document, but this is no longer the case. Later releases prevent the copying of almost all content, except images.
If your requirement is to simply paste an image from a PDF document into Word, this can easily be done using the Snapshot Tool. This is a function in the most recent version of Adobe Reader (available for free from Adobe.com) that can be found either on the toolbar or in the Tools menu. Simply open your PDF file and use this function to select the contents you require. Adobe Reader will automatically copy the contents to your Windows clipboard, making them available to be pasted into Microsoft Word.
Note that the most success using this method is in copying images from PDF files; text content may copy, however it may lose formatting or order.
File Conversion
Alternatively, you might have a vast PDF document that requires converting into Microsoft Word format. This can be done via the ZamZar file conversion website, for free!
To use this process, visit www.zamzar.com – all you need to do is upload a file of your choice and choose your conversion type. You could convert your PDF to Word, or you might prefer to convert it into an image such as JPEG or GIF in order to paste the file directly into a Word document.
Note that ZamZar will also ask for an email address to return your converted document to you.
Link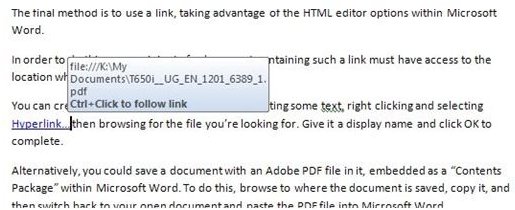 The final method is to use a link, taking advantage of the HTML editor options within Microsoft Word.
In order to do this, any recipient of a document containing such a link must have access to the location where the PDF file is saved.
You can create a link in a Word document by selecting some text, right clicking and selecting Hyperlink… then browsing for the file you're looking for. Give it a display name and click OK to complete.
Alternatively, you could save a document with an Adobe PDF file in it, embedded as a "Contents Package" within Microsoft Word. To do this, browse to where the document is saved, copy it, and then switch back to your open document and paste the PDF file into Microsoft Word.
That's it - three great ways to feature a PDF document within a Microsoft Word document!