Remove Windows Media Player in XP and Vista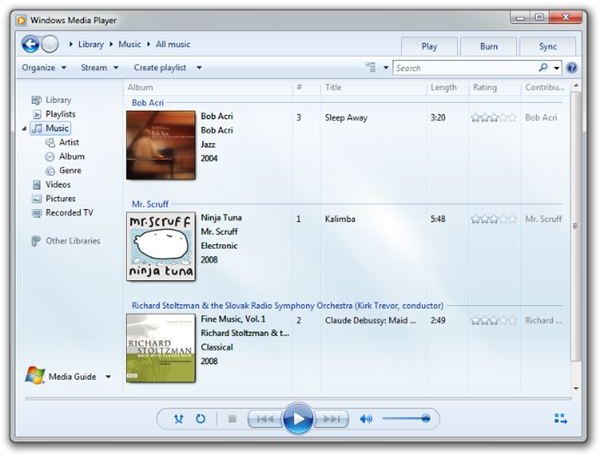 How to Uninstall Windows Media Player in XP
Windows Media Player can sometimes be disruptive on your computer. Or, perhaps it is not playing properly, and you want to reinstall it. If you do not want it, you will have to uninstall it and prevent it from being automatically installed by the system. To do this for XP-based systems, follow the steps outlined here.
Start the computer in safe mode. To do this, you have to restart your computer and press F8 while the computer is restarting. Then, click on Safe Mode, and press the Enter key on your keyboard.
Next, click on Start and then on Run, and type in appwiz.cpl. After this, click on OK. Now click on Windows Media Player 11 and then on Remove.
After this, the going is easy. You just have to follow the prompts and restart your computer when prompted to do so.
Sometimes, the steps outlined above do not work. In such cases, try the steps outlined below.
Click on Start and then on Run. Now type in %windir%\$ntUninstallwmp11$\spuninst\spuninst.exe, and then click on OK. After that, you have to click on Next and then on Finish.
You are not done yet. You now have to prevent Windows Update from downloading Windows Media Player again.
For this, do the following:
Click on Start, point to All Programs, and then click on Windows Update
Click on Custom, and then click on Software, Optional in the Microsoft Update Home pane
Expand Windows Media Player 11. Then, click to select the Don't show this update again check box.
However, sometimes the Don't show this update again check box is unavailable or dimmed. In such cases, click to clear the Windows Media Player 11 check box, and then click again to select the Don't show this update again check box. Lastly, click on the Review and Install updates to save the setting.
Uninstalling Windows Media Player in Vista
Uninstalling Windows Media Player from Vista is different as here it is in the main part of the operating system platform. However, it can be done. The steps below should help you do it.
First, click on your Windows button. Next double click on the Control Panel. Now cick on Programs and Drivers. After this, scroll down to Windows Media Player, and click on Uninstall. At this point, Windows will ask you if you are sure. Just click on OK, then wait for Windows to complete the task.
If this does not work and you are facing a problem with the Player, you can reinstall it by downloading the same or updated version. For this, your computer will have to pass validation from Microsoft. Another option is to find a different player such as Winamp and associate all your files to play on that instead.
The steps given above should help solve most problems with Windows Media Player. It is easier to uninstall it from XP. In Vista, since the Windows Media Player is part of the main operating system, you have to be more cautious. Try the steps given above. If that does not work, try the options given. This will ensure that your problem is solved even if Windows Media Player is still installed in your system. Ensure that it does not become the default player again though.
For this, go to the Control Panel, and click on the Default Programs icon. Click on the Set programs access and defaults link. Next, click on continue in the UAC prompt. Now dot Custom and click on the drop down arrow to the right of it to expand Custom. Now, scroll down to the Choose a default media player section. To the right of Windows Media Player, uncheck the Enable access to this program box. Click on OK. This should do the trick.
Image Credits