Easy Tips on How to Burn a Disc Using Windows Media Player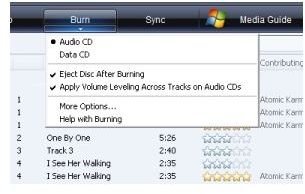 Burn CDs With Windows Media Player
If you're looking for ways to burn audio tracks to CD, Windows XP comes ready made with an excellent tool - Windows Media Player. As long as you have a blank CD-R and a CD or DVD drive with disc burning functionality, making your own music CD is simple!
Windows Media Player is a great addition to the Windows XP operating system that allows you to listen to audio and view video files of many different types, as well as organising them into libraries and views, and allowing the generation of "Playlists" - selections of favourite tunes and tracks that can be saved and replayed at will.
Windows XP's native MP3 player is also perfect for burning these favourites - giving you control over the number of tracks you add and in what order they appear, It really is as simple as selecting the tracks and clicking "Burn."
Burning Tracks to CD
Burning tracks to CD is simple - the rest of this guide assumes you have tracks on your PC already that you play through Windows Media Player, but if this isn't the case try inserting a favourite CD and clicking on the Rip button.
Click on the Burn button on your Windows Media Player toolbar to display the Burn List. With a selection of tunes you wish to burn displayed in the track listing window, you can now choose the ones you want and drag them to the Burn List. If you require the whole album, simply left-click and drag the album art or album title to the Burn List; similarly, if you use Playlists, you can also drag these into the Burn List area.
Use the Burn options to force the disc to be ejected when burning is complete - you may also want to use the Volume Levelling option to avoid fiddling with the volume controls on your CD player when listening to your new disc!
Once you're happy with your tracklisting (you can drag tracks up and down in the Burn List in order to order them how you want) insert a blank CD-R. When ready, the Start Burn button in Windows Media Player will change from greyed out to active, meaning you can click on it to start the disc burning process!
Track Listing and Burn List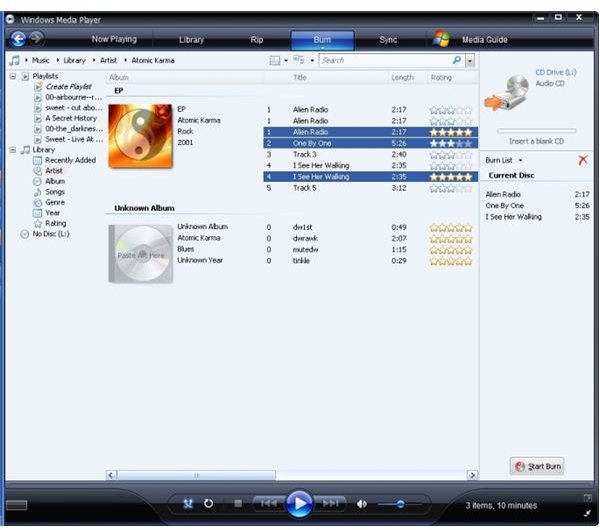 Completing the CD Burn Process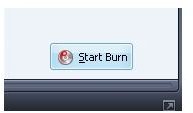 Windows Media Player will manage the burning process using Windows XP's built in disc burning technology. Depending on the number of tracks to be burnt, this might complete quickly or may take a while. Note that you cannot fit more than 74 minutes (650 MB) of MP3 data onto a standard CD-ROM that is to be played back in a standard CD or DVD player, so you'll probably find you're restricted to around 15 tracks. There are higher capacity discs available up to 900 MB, but burning to these depends on your CD burning device (and they may not play back in your car or portable CD player).
Once complete, your freshly burnt CD-ROM will eject from the drive, ready to be played!