Internet Explorer Not Responding? Solving this Common Problem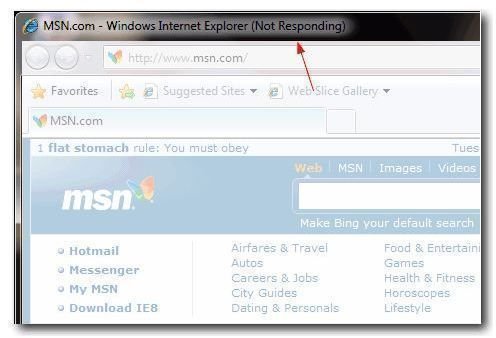 Probable Scenarios
If you leave your computer idle for few minutes and suddenly try to click on it, you may see that the IE bar gets frozen and it displays the message "Internet Explorer Not Responding". Even if you try to close the browser window, it will show "this program is not responding"; please click "end task" to terminate the program.
Immediately after, the IE will crash, and you'll be given an option to "report this problem" to Microsoft or simply cancel it.
Sometimes, when you visit a particular site, you may find that the IE suddenly freezes and goes into a "not responding" state. It may come back to its normal state in few seconds, but more often than not, it will continue to remain in the "not responding" state indefinitely.
More Miseries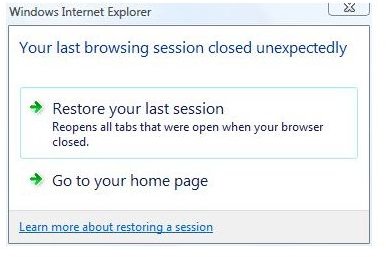 No only does IE crash, but in IE6 and earlier versions, there's no option to even restore the last session, although Mozilla Firefox and Opera have always had this option on the cards.
After Microsoft realized that they should have done this long ago, "restore last session" in the IE7 and IE8 versions allowed the users to restore the page they were viewing when IE crashed.
However, there are several new bugs in the IE7 and IE8 versions, though they're currently beyond the scope of this discussion.
So, let us look at "Internet Explorer Not Responding" bug and look at the possible remedies for what we can affect.
Possible Reasons
The IE may be forced to go to the "not responding" state, for some well known reasons. The "Internet Explorer Not Responding" bug is reported to be most profound in the IE6 version. Looking at the possible causes, in many cases this bug will occur due to certain problems with Windows registry entries.
On the other hand, a particular website may have certain Active Scripts or other components which are responsible for this behavior of Internet Explorer.
End to the Misery
The problem can be fixed in most cases by simply deleting some of the bad registry entries. To do so, you need to perform the following steps -
You must create a back-up of the registry entries before you make any changes. This will allow you to undo the changes at a later stage (if required).
Click on Start -> Run -> type "regedit"
Go to the path
HKEY_LOCAL_MACHINE\Software\Microsoft\Windows\CurrentVersion\explorer\BrowserHelper Objects
You should be able to see a few alphanumeric keys that look almost like folders. Only one of the sub-folders should say "NoExplorer", while the rest will have no more sub-folders.
You need to delete the entries which don't have any sub-folder named "NoExplorer".
System Restore
You may also try to perform System Restore to get rid of this problem -
Note: You need to close all open files and running programs.
Click Start -> All Programs -> Accessories -> System Tools -> System Restore.
Upon clicking this option, the System Restore user interface will appear.
Click Next and out of the available restore points, select the appropriate restore point before the problem started occurring, then -> click Next.
After this, you click Next again. The system restore process will start, causing your system to reboot.
Advanced Options
If the same problem persists even after performing system restore, you can try the following options –
- Try to Run IE with No Add-ons
- Reset IE
- Run Windows in Safe Mode
- Start Windows in Clean Boot mode
We will not cover the last two options in detail because they're more specific to Windows Operating System troubleshooting and they'll be covered separately as individual articles. So, for now let's take a look at the steps involved with the first two methods.
Run IE with No Add-ons
This is quite simple to do: you click on Start, copy paste the Internet Explorer (No Add-ons) into Start Search box and then hit the Enter key. You should be able to find the IE setting without any add-ons. Now, clear cookies, and close all browser windows.
Relaunch IE and check if it is running properly. If it works fine, you need to selectively turn-on add-ons and check the particular add-on that is causing IE to crash repeatedly. However, if the problem persists even after running IE without any add-ons, try the next step.
Reset IE
Note: These steps are for the IE7 browser version, so there could be minor changes in the steps for IE6 or IE8.
Click Start -> Control Panel -> change to Classic View (on left pane) -> double-click Internet Options option.
Go to the Security tab -> Under the "Select a zone to view or change security settings" option -> click Default level button for each icon
Now, Click Programs tab -> click "Make default" button (assuming it's not grayed out)
Next, you need to Click on Advanced tab -> Under Setting area, click on Restore advanced settings button.
Finally, in the Reset Internet Explorer settings area, you need to Click on Reset button -> Click OK, and you're done!
Click Apply, and click OK, for the changes to take effect.
Note: If this doesn't help, you may temporarily disable/uninstall all Anti-Virus programs and firewalls to see if they are causing the problem. If they are causing problems, then you need to contact the corresponding vendor(s) for a solution to the problem.