How Do I Install Windows Live Messenger?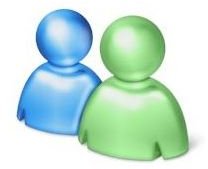 System Requirements
Before answering how to install Windows Live Messenger? It is a good idea to make sure your computer meets the requirements for the application to run properly. You will need to have Windows XP with Service Pack 2 or higher as your operating system with a processor of at least 1 GHz for Windows Vista or 800 MHz for Windows XP. You will also need 128 MB of RAM for Windows XP or 512 MB for Windows Vista, a minimum resolution of 1024 x 768 and of course internet access. If your computer meets the minimum system requirements, you can begin taking the necessary steps to install Windows Live Messenger.
Download Windows Live Messenger.
When you are ready to install Windows Live Messenger, head to the Windows Live Messenger download site and click the Download button. On the File Download dialog box that appears, you may be asked to choose between Run and Save or Cancel and Allow. Depending on which message appears, select either Run or Allow. Clear the Close This Dialog Box When Download Completes check box, and wait for the Windows Live Messenger installation software to download. This may take several minutes, depending on your computer and your internet connection.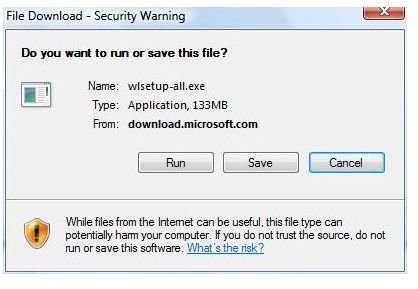 Once the Windows Live Messenger software has finished downloading, click Run on the Security Warning dialog box. If the dialog box does not appear automatically, click the Open button on the Download dialog box and then click Run.
Install Windows Live Messenger
Read the Windows Live Messenger Service Agreemenet. Provided you agree to the terms and conditions, click Accept. Select all of the Windows Live programs you want to install. Your options include Windows Live Messenger, Windows Live Mail, Windows Live Toolbar and more. If there are any programs you do not want to install, make sure those check boxes are clear. When you are ready to proceed, click the Install button.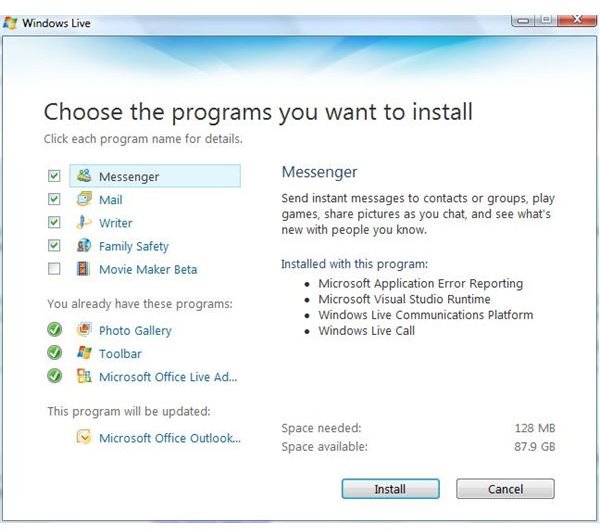 Windows Live will scan your computer for any conflicting programs that are currently open, such as Microsoft Office applications or Internet Explorer. You can close these programs yourself, allow Windows Live to close them for you, or ignore the open windows and continue. If you choose to ignore the open programs, you may be required to restart your computer after you have installed Windows Live Messenger.
Wait while Windows Live Messenger is installed on your computer. Depending on free space and other factors, this may take several minutes. When the installation is complete, you will be given several options such as setting Bing as your search provider, setting MSN as your default browser's home page and allowing MIcrosoft to collect information about how you use Windows Live Messenger. Select or clear any of these check boxes and click Continue. A welcome screen will appear, asking whether you want to sign in with your existing Windows Live ID, if you have one, or sign up for a new Windows Live ID.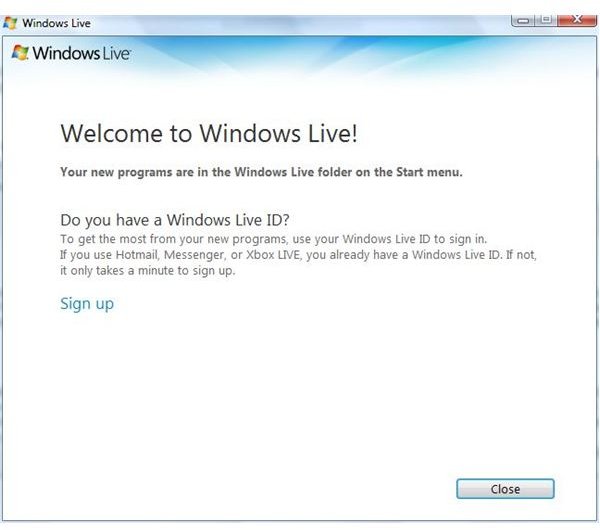 Related Articles
This simple step by step guide should answer the question 'How do I install Windows Live Messenger?'. For more in this genre be sure to check out other Bright Hub articles for help and how to tips on Windows Live Messenger, such as Windows Live Messenger – All You Need to Know to Get Started and Completely Uninstalling Windows Live Messenger.