What's New in Office 2010? Top New Features in Microsoft Office 2010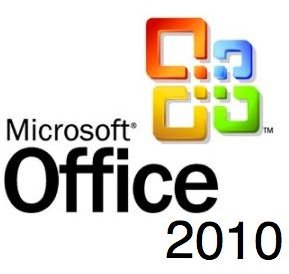 Office 2010 is coming! Office 2010 is here!
Microsoft's official release date for Office 2010 is June 15, 2010.
Office 2010 New Features
New versions of an office suite don't get quite the same media exposure as those of a new operating system, but Microsoft has promised some rather interesting fresh features in the upcoming release of Office 2010.
Not all of these features – such as the highly anticipated Office Web Apps - have been incorporated into the Technical Preview yet, but enough are present to get an excellent idea of just how advanced the new office software will be. Here, I'll take a look at some of my favorites.
Paste Preview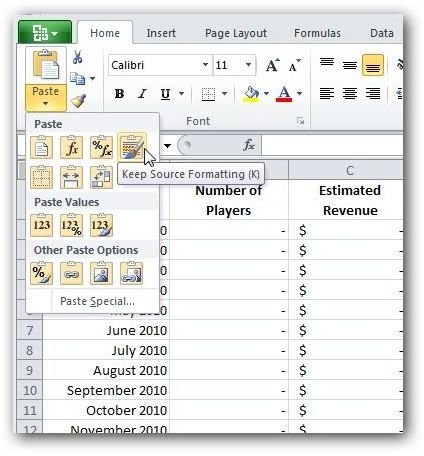 The Paste Preview functionality in Office 2010 is one of those sort of features that you've probably always wanted without even realizing it – at least, that is how I felt about it when I first saw it. Have you ever tried to cut and paste something from one Office document to another, especially in Excel, and mouthed a silent "Ack!" because of unexpected formatting or other issues? If so, then you've also probably experienced the "after effects" in which you keep undoing the paste and trying again with different options until you finally get something that's closer to what you envisioned.
The Paste Preview function does exactly what it's name applies – it allows you to hover over a variety of different pasting options and preview how the pasted selection will look in your document before actually applying the action. (Click on the screenshot to the left for a larger view.)
In addition, depending on which Office application you're working in, you'll have several new pasting options that could make your life a lot easier. For example, if you're using Excel, you can choose the option to paste the selection as a transpose and switch your columns into rows, or you can select the option to automatically change the column widths in the new spreadsheet so that they match those in the source file. Even though I'm not the type to usually upgrade to a new version of Office as soon as it's released, this feature alone has made me eager for the full release of Office 2010.
Ribbon Customization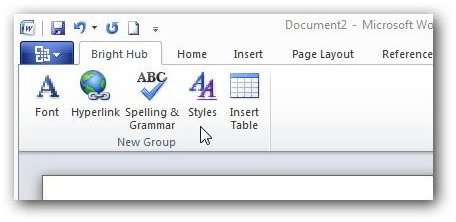 One capability that people have been asking for since the release of Office 2007 is the ability to customize and add tabs to the ribbon in Office applications. Thankfully, this functionality has been added to Office 2010. For information on how this works, see this more detailed article on ribbon customization options in Office 2010.
This feature is particularly useful to people who create the same types of documents, spreadsheets, or presentations over and over again since it allows them to create a custom ribbon tab that contains all of their most used commands. It's also a great tool for those of us who habitually use commands that aren't found on the standard Office ribbon. In Office 2007, you could add these commands to the Quick Access toolbar, but that can get cluttered up pretty quickly. Customizing the ribbon is a much more attractive option.
Screenshot Capabilities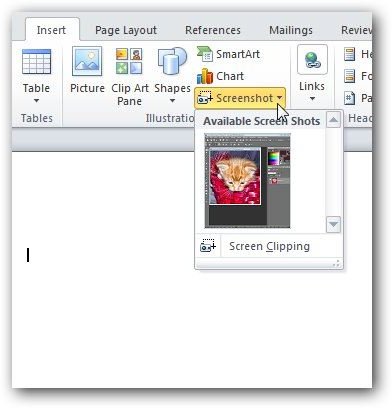 In previous versions of Microsoft Office, if you wanted to include a screenshot in your document, you would have to use some other application like the Windows Snipping Tool or WinSnap to take the screenshot and save it as an image file. After that you could insert the image as a picture, but you would still have to go back to the screenshot software if you didn't like the results and wanted to take a different screenshot.
With the new screenshot capabilities in Office 2010, no other software is needed. All you have to do is go to the Insert tab, select Screenshot and you'll be presented with a variety of options. Afterwards, you can use the image editing tools in Office to clean up the screenshot without ever leaving your document.
Granted, the screenshot functionality found in Office 2010 is not as robust as that found in standalone utilities, but it's all that most people will need for many projects. It's definitely not going to replace WinSnap on my desktop, but it's still a very handy tool that can be used to quickly grab a screenshot when one is needed for a document, presentation, or even an Excel file.
PowerPoint Video Embedding and Editing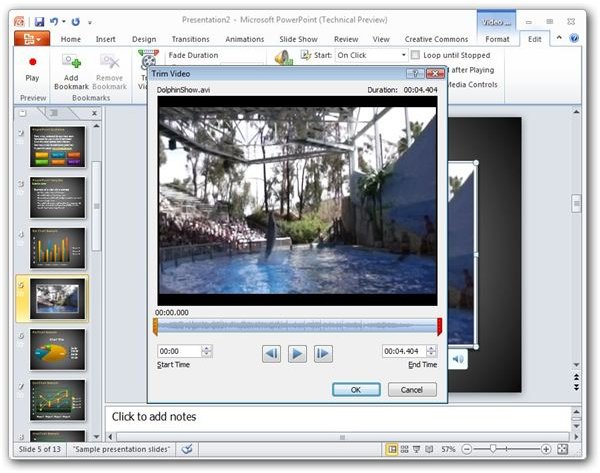 One of the areas in which prior versions of PowerPoint was sorely lacking was in the video department. Even though it is possible to embed videos in PowerPoint 2007, there aren't many tools available to enhance these embeddings and there's certainly nothing that allows you to edit them. This has changed in PowerPoint 2010 – not only is it easier to embed videos and dress them up a little, but you can also perform basic video editing without the need for any other software product.
Just like I mentioned with the screenshot functionality, this capability is not going to replace the need for some other dedicated video editing application if you find yourself editing a number of movies. However, it does handle basic editing functions pretty decently, and it sure beats having to load up Adobe Premiere Elements or something similar every time you want to make a little tweak to your show.
Excel Sparklines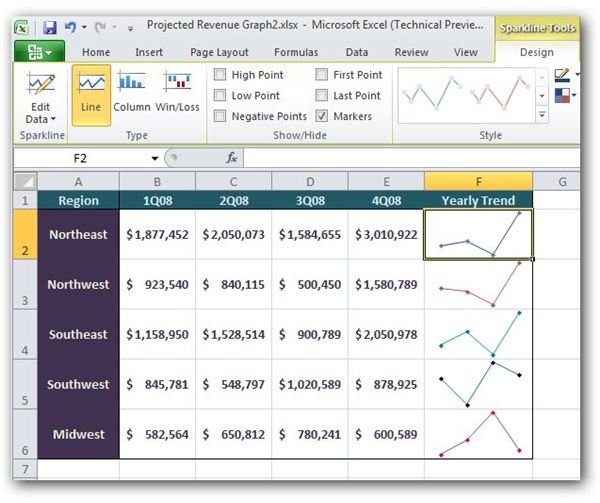 Another new feature that I'm quickly growing to love is the set of Sparkline tools found in Excel 2010. This neat little graphical utility allows you to depict the trend of a group of data within one spreadsheet cell. This is especially nice if you don't want to take the time or use the spreadsheet space to create a chart in Excel, but you still want to give a visual representation of your data.
There are three basic representations that you can use for sparklines in Excel 2010 – a line that shows the general trend (as pictured in the image to the left), a column chart, and a win-loss structure that allows you to see with a glance when data goes from positive to negative or vice-versa. These single-cell graphs can be formatted using many of the same formatting options as full-size Excel charts so you have some decent control over their appearance and style.
More Features to Come
This listing is, by no means, a complete rundown of the new features that will be found in Office 2010. As the Technical Preview progresses, Bright Hub will continue to review some of the other interesting developments in the office suite, including the new mail features in Outlook 2010.