How to Get More Windows 7 Themes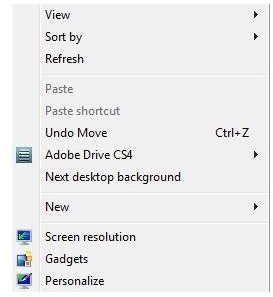 Windows 7 desktop themes work much the same as in Windows XP or Vista. They are an attempt to allow you to beautify and personalize your workspace o your own liking. Theme is maybe a grandiose way of saying you can change the desktop wallpaper and color of the tasks, menu bars and windows. Nevertheless, changing the theme is often the first step many users take when they have a new machine or installation.
With the ubiquitous Aero theme much improved, offering the Aero Shake and Peek options, the desktop has moved on from the rather utilitarian offering of previous versions. The desktop feels more interactive, responsive and is much more pleasurable to work with. Another improvement in the theme management is that whatever theme you choose is implemented across applications. For example if you open up Word or Excel, you will see the theme applied to the window borders in each. The same is true for non-Microsoft applications too. This is a nice little touch and adds to the integrated feel of the operating system.
You are free to either stick to the default themes or download others from the internet. There are already many websites offering theme packages for Windows 7 free of charge. There is also a hack that enables some hidden themes built into Windows which will be described at the end of the article.
Change Windows Theme
To access themes in Windows 7, right click on the desktop and choose personalize.
Here you should find the My Themes window. In the main display you will see the currently accessible themes. Taking a look through them you can see there are a few to choose from, many more than Vista shipped with. If you choose to download themes and open with the themepackfile option they will automatically appear in this box.
Clicking on one of them will activate it, and you should see your desktop change instantly. The desktop works much better in Windows 7 than in Vista. Changes are quick, the effects are good, and HD wallpapers and screensavers look High Definition.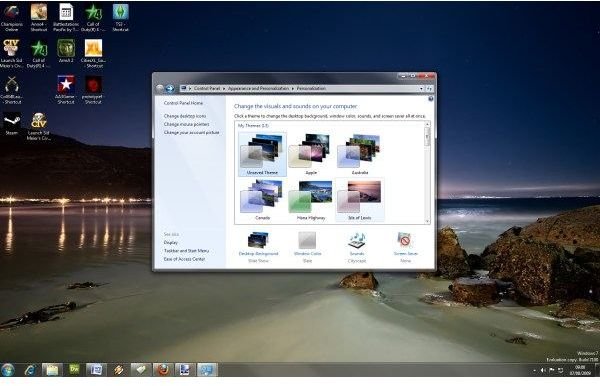 You don't have to select a default theme. The Desktop Background and Window Color options enable you to customize your desktop as much as you like. Everything from the wallpaper to the color intensity of the windows and menu bars.
If you have the Windows 7 RC version there are hidden themes that can be easily enabled to allow a few more display options. To enable them you will need to have the option to Show Hidden Folders enabled. To do this, open Explorer, select Organize in the top left, Folder Options, the View tab, then select Show hidden files, folders, and drives.
Next, navigate to C:\Windows|Globalization\MCT, assuming Windows is on your C: drive. Here you will see a list of folders beginning MCT. These are the folders that contain region specific information. Double clicking on one will display a Theme folder, double clicking on that will present a Windows Theme File for the region. Depending on what version of Windows 7 you are using, these options may differ. For example, MCT-AU is for Australia, the Theme file contains a Windows Theme File with Australian related desktop themes. Double clicking the theme file will install it for you to use, whatever your region, and you can do this for all the MCT region files you have. They are mainly variations on a theme but do contain some good wallpapers.
If you have the Windows 7 RTM or retail version you can follow this link to download these themes to your machine. Choose to open with the themepackfile to automatically add them to your theme choice menu.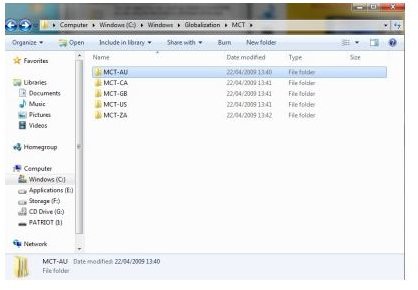 So as you can see, it is much easier to spend hours configuring your workspace to look just how you like it. Although the process is much more streamlined and effective, you now have many more excuses not do to any work!
References
Windows: Using themes, https://windows.microsoft.com/en-US/windows7/Using-themes
Windows: Create a theme, https://windows.microsoft.com/en-US/windows7/create-a-theme