Can I Upgrade to Windows 7? Upgrade Pricing and Anytime Update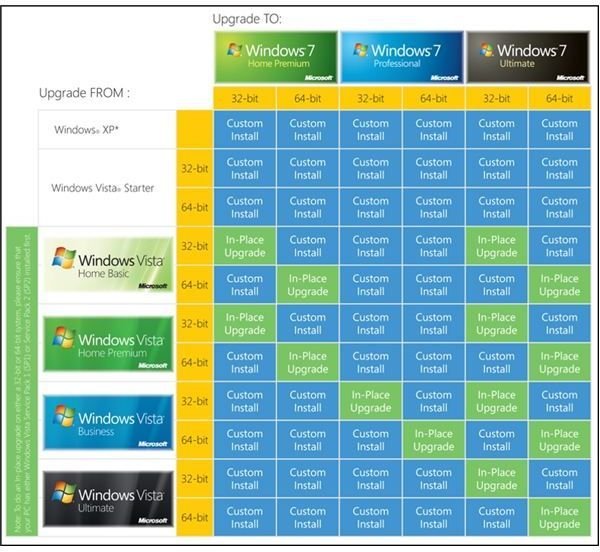 There's a common item of regional humor in many parts of the U.S. that starts when anybody asks how to get to another place. The response is, "You can't get there from here."
As we saw in the previous article, some versions of Windows 7 can be upgraded to without removing the existing Vista version. Mainly this is like-to-like, such as Vista Home Premium to Windows 7 Home Premium.
Upgrade and Full-Package Versions and Pricing for Windows 7
According to the Windows Team blog, the upgrade and full-package pricing at release date (October 22, 2009) is currently estimated to be:
Windows 7 Home Premium Upgrade $119.99
Windows 7 Home Premium Full Package $199.99
Windows 7 Professional Upgrade $199.99
Windows 7 Professional Full Package $319.95
Windows 7 Ultimate Upgrade $219.99
Windows 7 Ultimate Full Package $319.99
Windows 7 Anytime Upgrade Pricing
Windows 7 Anytime Upgrade will also be available starting on the general release date. Anytime Upgrade is used for non-like-to-like Windows 7 upgrades such as Windows 7 Home Premium to Windows 7 Professional or Ultimate.
Here's the pricing information that was recently leaked to the web:
Windows 7 Home Premium to Professional $89.99
Windows 7 Home Premium to Ultimate $139.99
In-line Upgrade plus Anytime Update
If Microsoft keeps to their Vista practice, any full package purchase of Windows 7 will be able to do an in-line upgrade as well as a complete fresh install.
The upgrade paths that will require both an in-line upgrade and an Anytime Upgrade involve moving from Vista Home Basic or Vista Home Premium to Windows 7 Professional.
To go from Vista Home Basic to Windows 7 Home Premium (in-line) would be $119.99 and then to Windows 7 Professional (Anytime Upgrade) another $89.99.
For a couple of reasons, I don't think this will be a popular choice. For one thing, computers running Vista Home Basic are probably running it because they couldn't run Aero in the other Vista versions. It's unlikely that these folks are going to want to upgrade to Windows 7 at all, much less to the Professional version. For another reason, which I didn't really mention before, some netbooks will come with the Basic version of Windows 7 (which is not to be sold at retail). Not many people will be upgrading these to Windows 7 Professional, either.
So this leaves us with what might be the more popular choice - Vista Home Premium to Windows 7 Professional (which is the equivalent of the Business version of Vista) for a computer capable of running either version. It's the same deal. Vista Home Premium to Windows 7 Home Premium (in-line) is $119.99 and the Anytime Upgrade is $89.99. This is only a $10 ding from not having Vista Business to upgrade from! (And Vista Business is still $299.95. Any way we look at it, Windows 7 is more reasonably priced than Vista was.)
Conclusion
I hope this pair of articles has made you aware of the options and cost associated with the different types of upgrades from Windows XP and Windows Vista to Windows 7.
Recently, Walt Mossberg, a technology columnist at the Wall Street Journal, was sent a chart that would explain "all about" the upgrade options involved with Windows 7. It was a bit more complicated than some people expected. This series was designed to decant the essential information from that chart and examine the question "Can I upgrade to Windows 7?" in a more understandable way.
However, for your enjoyment, here's a portion of the original chart.
Image: Microsoft via the Wall Street Journal via ComputerWorld
Related Reading
Is a Laptop and a Notebook the Same Thing? - Netbook, Notebook, Laptop… What's in a name? By now, we have a pretty good idea about what the difference between a netbook and a notebook is, but is there really a difference between a laptop, a notebook, and an ultralarge? For an answer, let's look back at the beginnings of portable computing.
Windows 7 and Laptop Run Time - Windows 7 is intended to improve battery performance and decrease system overhead in several different ways that benefit mobile users. Here we'll look at how they are doing it and how to get a detailed report of the system's current power status and possible suggestions for improvement.