How Do I Block a Website in Internet Explorer?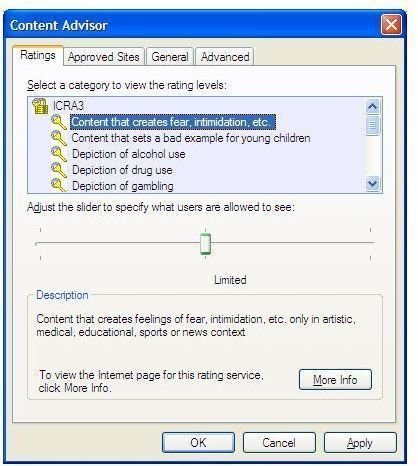 Blocking Website on Internet Explorer – How to Block Individual Websites
To block a particular website, you need to know its URL. Once you find out its URL (or web address), use the following steps to block website in Internet Explorer.
1. Open Internet Options from Control Panel.
2. Go to the Security tab and click on Restricted Sites.
3. Click on the button named sites.
4. In the dialog box you get, type in the URL of the website that you wish to block.
5. Click Add and then OK.
This method should help you in blocking individual websites. If you want further protection, you may use third party websites such as NetNanny.
This method answers the question, "How do I block a website in Internet Explorer?" Though it is effective, it lets you block only a single website at a time. For blocking several similar websites at a time, you need to know how to use the Content Advisor. The following section explains using Content Advisor in IE to block websites in Internet Explorer 5.5 and above
How do I Block a Website on Internet Explorer – Using Content Advisor to block Websites
Content Advisor is a feature in the Internet Explorer that determines the contents of a website and takes the necessary action as instructed by you. You can block most of the websites containing pornography, violence, and other things that you do not want your kids to view.
To access the Content Advisor in IE, open Internet Explorer. Click on Tools and select Internet Options. From there, instead of selecting the Privacy tab, select the Content tab. You can see the Content Advisor option on the top of the window.
1. Click on the Enable button to get a new dialog from where you can configure settings for blocking website on Internet Explorer.
2. The dialog box (see figure below; click to expand) gives you several options to control what your kids can view on Internet Explorer.
The Ratings tab offers you with a slider so that you can set the type of content that can be viewed on the Internet Explorer.

The Approved Sites tab is similar to the above section. It allows you to allow or restrict different websites. Note that the information in this section overrides the information you filled in using the above method (Section 1).

The General tab allows you to create a supervisor password or change password. When there is no password, you will get a button that says Create Password. Once the password is created, the same button is labeled Change Password.
Finally, the Advanced tab allows you to select bureau recommendations based on which, the Content Advisor determines how to block a website in Internet Explorer.
Once you successfully apply the settings, you can change them anytime using the Settings button on the Content tab of the Internet Options dialog. You can also choose to disable the settings using the Disable button on the same page. The button that was labeled Enable (see step 1 above), is changed to Disable when you apply the settings.
Note: Though the above mentioned methods on how to block website in Internet Explorer should be sufficient, if you concerned more about how your computer is used, I recommend that you install some Key-Logger software that reveals the history of browsing even if it is deleted from the computer using cleaning tools or Delete Browsing History in Internet Explorer, Tools Menu. This way, you can further keep a check on the websites that are being used. If you find it offensive or dangerous, you can always block it as you now know how to block a website in Internet Explorer!
More Resources
For more help with Internet Explorer, read How to Restore Lost Favorites in Internet Explorer, How to Find and Check History on Internet Explorer and How to Enable Internet Explorer Quick Tabs.