How to Completely Remove Windows Live Messenger

Windows Live Messenger
As we all know, Windows Live Messenger is Microsoft's successor to the widely used MSN Messenger. It has an updated interface, and it allows versatility with many different e-mail addresses; you are no longer required to have a Hotmail or MSN account to use it. Nonetheless, if you don't use the program, or don't like it, then there's no sense in keeping it. Understandably, a lot of users tend to have a hard time finding the program so it can be uninstalled. This is a step-by-step process to help you completely uninstall the application.
Control Panel
To uninstall programs, we first need to access the control panel. From there, we can uninstall this program.
From Start, click on Control Panel.
Next Step
In Windows XP, you'll want to choose Add or Remove Programs; for Vista users, under the category Programs, select the sub-category: Uninstall a Program (Control Panel Home view) or Programs and Features (Classic View) .
From here, you may have to wait a while for Windows to gather all programs installed on your computer.
Windows Live Essentials
As soon as your list has finished populating, you'll want to scroll down until you find the program entitled Windows Live Essentials. Every program is listed alphabetically, so it could be close towards the bottom of your installed programs.
At this point you'll be given the option to Repair or to Uninstall. As we're looking to getting rid of Windows Live Messenger, you'll want Uninstall. Afterwards, we'll be shown the list of Windows Live components that we want to get rid of.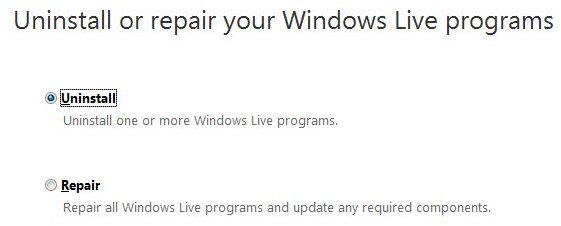 Next you'll be given a list of the Windows Live components you wish to remove. To remove Windows Live Messenger, put a check box next to it, as well as next to other Windows Live programs you wish to remove as well. Once you've finished, click Continue.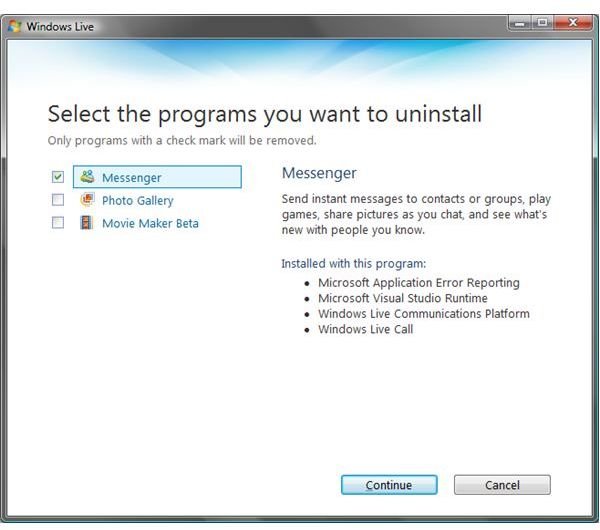 Confirmation
After your files have been removed, you will receive a confirmation message stating that you've completely uninstalled Windows Live Messenger. You can repeat this process if you have other Windows Live programs that you wish to remove, or even have components repaired if some of the programs aren't working the way you know they could.