How to Make a Disc Image of Windows XP - Setup and Tools

Why Use a Boot Disc
Even with the best security software on our PCs, malicious software can still break through our blocking attempts. WIth anti-virus, anti-spyware, firewalls and up to date browser versions - not to mention Windows Updates - all attempting to maintain system integrity, prevention can often be as difficult as curing.
If an attack has been successful and a reinstall of Windows XP is deemed necessary - or your installation has developed a system file fault - there are a couple of ways to overcome that drawn out reinstallation process.
Windows XP with all service packs takes around 45 minutes tops to complete installation - given that further drivers then need to be installed on most systems it can take at least 2 hours and as many as 6 hours (depending on your CD/DVD drive speed) to completely reinstall Windows.
This time can be considerably reduced by utilising either a bootable Windows XP disc to repair the attack or by employing a full disc image of your Windows XP partition!
Is This Fix For You?
Before continuing, it's important to note exactly what this task entails.
Creating this bootable image of Windows XP will involve taking the files off your existing XP disc and preparing them to be copied to a new CD which will be bootable thanks to an additional file. This disc can then be used to both resolve errors and quickly reinstall XP.
However the reinstall won't include your motherboard and other hardware drivers, it won't include any software you've installed and crucially won't include anything downloaded by Windows Update, such as the various bug fixes and Service Packs (Windows XP currently has 3 Service Packs). You also need to be absolutely aware of the version of Windows XP you're using.
As such if the fix outlined here is the path you choose to take to resolve the issue you're having, be aware that although the installation of Windows will be quicker than normal, further time will need to be spent in fine tuning your PC, applying updates, etc.
Preparation - Tools and Folders
By employing a bootable disc image of Windows XP, you can restore Windows to its previous state in around 15 minutes. If you've purchased a PC with Windows preinstalled, you may have found it ships with a "restore disc" that resets your installation to the "factory settings". Such a disc is simple to make, and can be done based on your current system state (probably across several discs) or with your own post-install settings and drivers.
We're going to concentrate on a basic bootable Windows XP image for CD here however - for this, you need:
An original Windows CD/DVD or ISO.
A copy of the Boot Files (available here)
At least 1GB free hard disk space for a CD .
At least 5GB of available hard disk space for a DVD.
Proceed by creating on your C:\ drive (any permanent with enough space will suffice) a folder called OS, and within this two subfolders, BOOT and ROOT.
Next, insert your Windows XP CD into the drive and copy the contents into the folder ROOT.
While copying the files across, download the Boot Files from the link above. This is a very small file, so when complete extract the file boot.ima into the BOOT folder you created earlier.
Configuring the CD Burning Session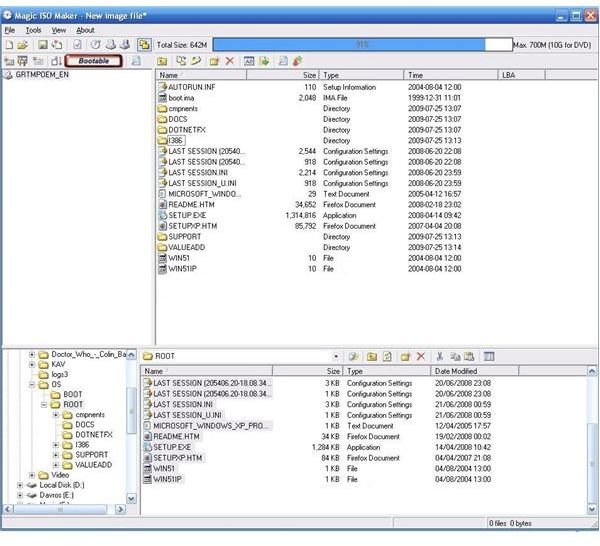 The next step can be tricky, and depends on your disc burning software. The screenshots here show the process completed with MagicISO, although any disc image burning tool should suffice.
First of all, start a new Data burning project. If you're given the option of a CD ROM Boot disc, choose this.
Next, copy the contents - every single file - from C:\OS\ROOT and C:\OS\BOOT. It's now time to find the settings for this particular disc burning project.
You need to apply the following settings to the various options on the disc:
File name length should be set to Max. of 31 chars (ISO Level 2)
Your Format should be Mode 1
The Character Set must be ISO 9660 (standard ISO CD-ROM)
A "Use ISO 9660 for Joliet Format" check box might be present - uncheck this
Relax all ISO Restrictions
Finally, any check box for allowing over 64 characters for Joliet format names should be marked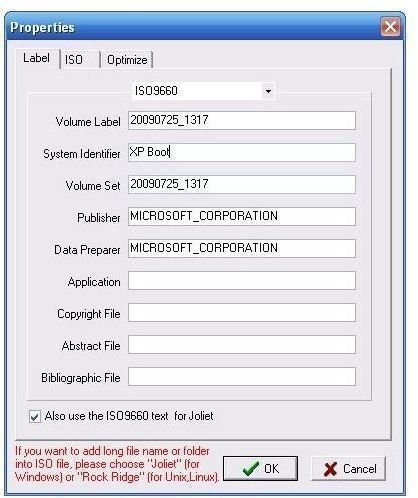 These settings ensure that the Windows XP boot disc will run successfully in the DOS pre-boot environment of your PC
You may also have an Advanced tab - check these settings are as follows:
Kind of emulation: No Emulation
Load segment of sectors (hex!): 0000
Number of loaded sectors: 4
Platform identifier: Intel x86 compatible
Once all done, You need to set the labels of your boot disc. The example in the screen shots uses the disc label of GRTMPOEM_EN - this is the official Microsoft disc label for the version of vWindows XP Professional used here; the correct label needs to be used depending on which version of Windows you have on your original disc. A quick Google search should throw these up, and www.tacktech.com has a good index.
With the labels entered - separate labels for ISO 9660 and Joliet - you should be all ready to burn the disc.
Using the WIndows XP Boot Image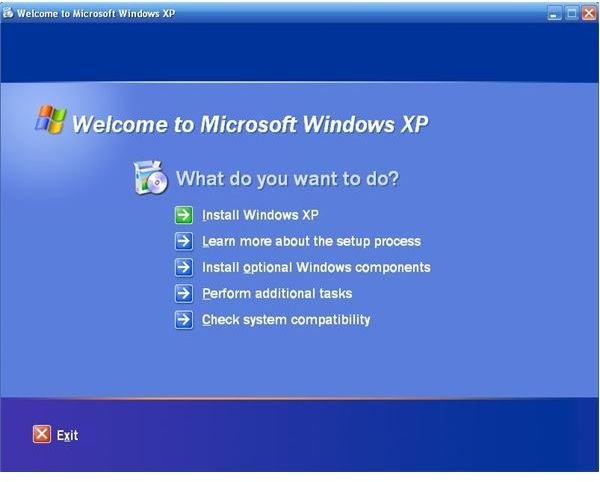 Once the burn has completed, close your burning software, eject the disc and replace - you can quickly check that the burn has been a success by waiting for the drive to autoread the disc, at which point you should see a Windows XP splash screen.
If you see this then the project has been a success - the next step is to insert the disc into a PC that you wish to quickly install Windows XP on.
With just the bare bones Windows XP drivers - no hardware-specific software - and the boot loader file, you should now have a fully working bootable Windows XP image with which you can repair faults with the installation or even replace entirely with a fresh install in just a matter of minutes!