Microsoft Publisher Tutorials: Saving a Publication as a PDF or XPS file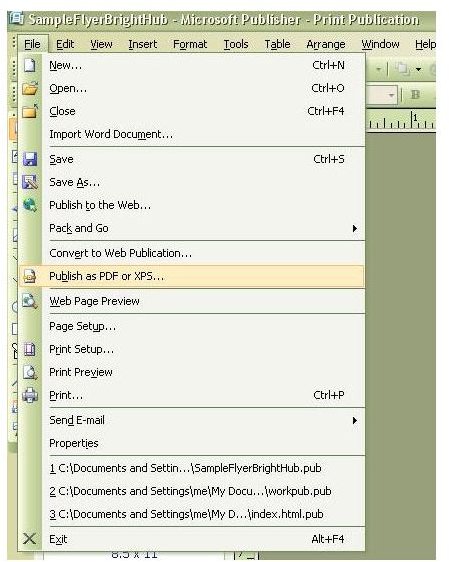 PDF and XPS Files
A new feature available in the 2007 version of Microsoft Publisher is the ability to save any publication as a PDF or XPS file. Not only does this greatly broaden the range of people that will be able to view your publication, but it also allows the option of having the file professionally printed by a commercial press.
Download the Microsoft Add-In
To begin, download the 2007 Microsoft Office Add-In that allows you to save objects as a PDF or XPS file. If you have not already validated your copy of Microsoft Publisher 2007, you will be asked to do that before you can download the add-in. After downloading, follow the instructions from Microsoft to finish installation of the add-in. This whole process should take less than five minutes.
If you have to perform the validation first, there is one thing to note. At the end of the validation, you may not be returned to the web page where you can download the add-in. If this happens, just click on the link for the add-in again. You won't be asked to validate a second time.
Saving the Publication as a PDF or XPS File
Once the add-in from Microsoft has been installed, you should see a new option under the File menu on your toolbar called Publish as PDF or XPS. See Figure 1 at the end of this tutorial for a screenshot of where this option is located. Note that this option will only be available if you have already opened the publication that you want to save.
Choose this option when you are ready to save your file. A dialog box like the one shown in Figure 2 will appear where you can choose between the PDF and XPS options. You can also designate a new file name for your publication here.
This is also the place to choose what print quality you would like the PDF or XPS file to have. If you plan on having the publication printed by a commercial press, it's best to publish as a PDF and choose to optimize the printing for such. To do this, click the Change button located under the Save as type dropdown and pick Commercial Press. See Figure 3.
If you'd like to take a look at the PDF or XPS file immediately after saving, just put a check in the box preceding the text "Open file after publishing". Make sure you have the appropriate viewer before doing so. If you don't have one on your system, there are a variety of free PDF and XPS viewers you can download from the Internet.
Screenshots for Saving a Microsoft Publisher 2007 Publication as a PDF or XPS File