How to Validate my Windows for Updates?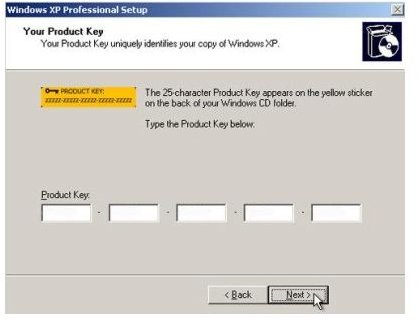 Ever since the Internet really took off and file sharing became popular, Microsoft has added an extra layer of security to its products in an attempt to reduce piracy. Since the release of Windows XP, the Windows Genuine Advantage program has restricted some updates and patches for unregistered copies of Windows. This is an attempt to dissuade people from using copied software. Essential security updates are made available to all, but none of the enhancements and bug fixes are released to unregistered copies.
If you have a genuine copy of Windows with an intact key, validating Windows takes moments. It can either be done during install for XP, or during install or later in Vista or Windows 7.
In Windows XP you have to enter your CD key during installation.
Once the key is input, setup continues. It is easier to allow Windows to activate automatically, as well as download updates the same way. It takes the hassle out of keeping your system up to date.
You should see this dialog box during the setup process. Enter your product key here and set Windows to update automatically when prompted.
Windows Vista and 7 are very similar. You can either enter the key during setup, which is the preferred method, as above, or add it later. You then get thirty days of use before having to activate. A word of warning though, if you leave it to the last minute to activate, Windows will lock you out until you enter a valid code.
You can see from the two images below that the product key screens of Vista (first image) and Windows 7 (second image) are remarkably similar.
The difference is that you can just click Next here to bypass this screen and do it later. This is a good idea when trying out the operating system on a new machine. You can fiddle, change, or abandon it altogether without having to worry about activation and licensing.
Once your copy is licensed you can enjoy all of the updates, patches, and fixes Microsoft has to offer, and there are plenty!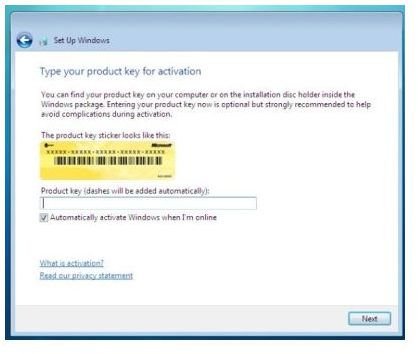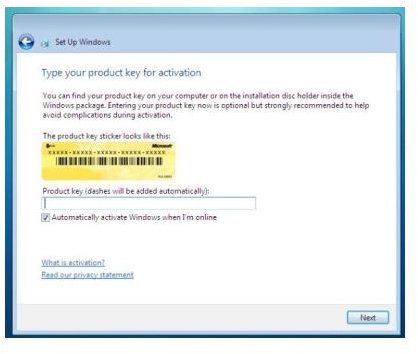 Occasionally there are issues with activation in any version of Windows. Microsoft acknowledged this and created a tool as part of the Genuine Advantage Program. There is a downloadable authentication tool which can troubleshoot activation problems available from the WGA site. There is a button on the left called "Validate Windows." This downloads another tool which will check certain files and the product key and validate your copy for you. This tool can also be accessed via Automatic Updates when trying to download an optional update.
Whichever method you choose, it is definitely worthwhile validating your copy of Windows. If nothing else, it stops the system nagging you and locking you out after thirty days!