Windows Server Virtual Machine Appliance Guide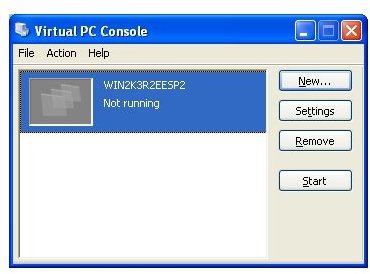 Overview
In an effort to better compete with VMWare's Workstation and server products, Microsoft created Virtual PC and Virtual Server. Virtual PC allows you to run a virtual hard disk (VHD) on your PC similar to VMWare Workstation. This is primarily used for single user environments. If you want the VHD to be shared amongst other users, you can use Virtual Server to host the VHD. This article will cover installing and loading a Windows 2003 Server VHD using Virtual PC 2007.
Install Virtual PC
The first step is to download and install Virtual PC 2007 (VPC). Microsoft released VPC 2007 as a free tool to utilize VHDs so you don't need to worry about purchasing anything!
Download Microsoft Virtual PC 2007 from Microsoft's download site - here
Run setup.
Click "I Accept…" on the license agreement page, then click Next.
Enter a username and organization. The product key should already be filled in. Click Next.
Enter the desired installation location and click Install to being the installation.
Click Finish when the installation is done..
Download and Load Server Image
Microsoft has many of its server products available for evaluation in pre-built VHDs. This step shows you where to download the VHD for Windows Server 2003 and how to load it in VPC.
Download Microsoft Windows Server 2003 VHD from Microsoft's download site - here
Extract the files by double clicking on the first part and clicking install.
Start Virtual PC by going to Start, Programs, Microsoft Virtual PC.
If this is the first time starting Virtual PC, you will be presented with the "New Virtual Machine Wizard". Click Next.
On the Options window, select "Add and existing virtual machine" and click Next.
Browse to the location where you installed the Server VHD. In that folder you will find a VMC file. Select the VMC file and click Open. Click Next to continue.
On the "Completing the New Virtual Machine Wizard", click Finish.
The Virtual PC console will begin with your new Virtual Server present. Click on the server and click Start to start up the server (Figure 1).
Your server will start loading now (Figure 2).
Note that you may get a warning that some settings may be affected by the hardware present on your PC. You can check the option to ignore this in the future and click OK. After a few minutes, your server will be up and running.
Also – refer to the Readme.htm file in the directory where you installed the VHD for the username and password to log into the server. The server will run in evaluation mode for 30 days (Figure 3).
Now that you have a functioning server, you may want to play around with some of the features of Windows 2003. As an example of how to set up your server as a file server, you can read this article on Configuring a Windows Server 2003 File Server.
Images